Bitcoin flies again to new heights
Thursday, November 19, 2020 - 04:54
Point Trader Group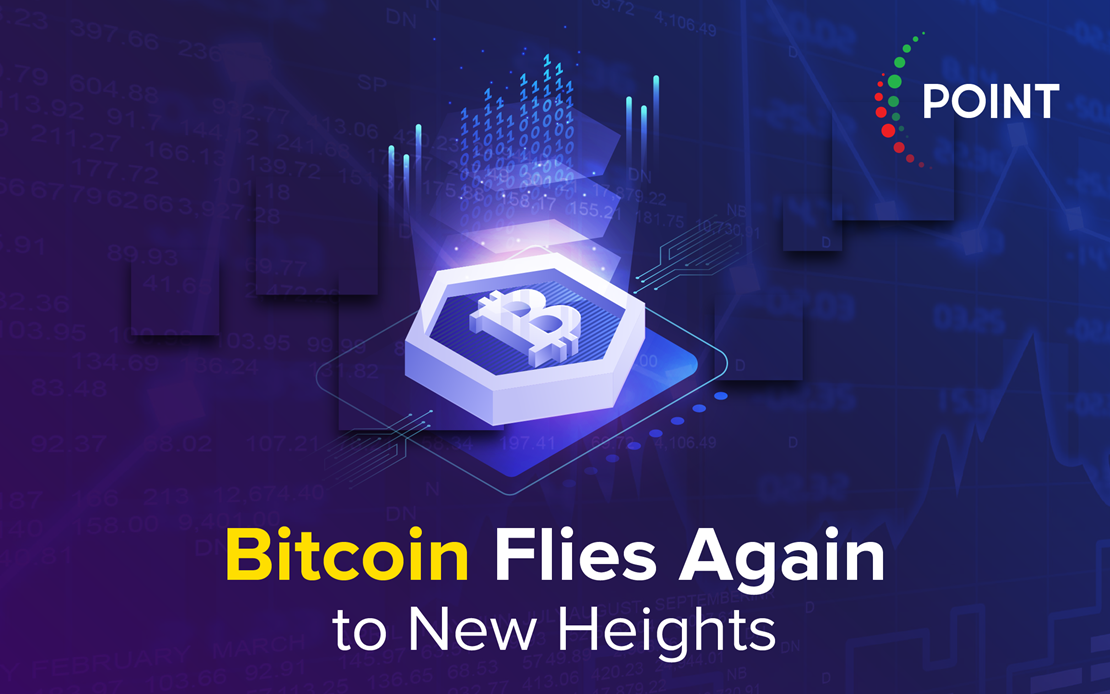 ---
The most recent phase of Bitcoin (BTC) recent rally saw its market value soar above $ 330 billion for the first time ever as prices spiked above $ 17,750 in late November 17th.
According to CoinGecko, Bitcoin's previous record capitalization of $ 329.3 billion was published on December 16, 2017, amid an all-time price hike in the market to test $ 20,000.
There is a simple explanation for this - the oversupply of Bitcoin. While approximately 16.746 million Bitcoins were present on December 16, 2017, more than 1.8 million coins have been mined since then, which equates to a 10.75% expansion in supply. This means that Bitcoin is able to have a higher market cap despite the price of BTC dropping today.
The combined capitalization of all cryptocurrencies has also driven over $ 500 billion for the first time since February 2018.
According to the World Bank, Bitcoin's market capitalization exceeds those listed on the combined exchange in countries such as Belgium, Iran, Norway, Sweden and the Philippines respectively, and is more than double that of Denmark, Qatar, Vietnam, Colombia and Poland. .
Compared to the S&P 500-listed companies, Bitcoin has close to $ 13 billion in market capitalization behind Procter and Gamble at 11th, and above Nvidia and JP Morgan. However, some would argue that comparing Bitcoin to companies is not very helpful and that it should be likened to commodities or some other asset class.
Despite the huge achievement ever, some analysts point to a lack of mainstream media coverage of Bitcoin's recent gains.
However, according to data shared by LunarCRUSH, a company that tracks social media sentiment regarding cryptocurrencies, the volume of news related to Bitcoin has risen dramatically since early November.
The company tweeted on a graph indicating that the volume of daily media coverage of Bitcoin has increased five times over the past two weeks.
According to Google Trends, search volume for the keyword "Bitcoin" during the month of November was nearly 15 percent from its peak in 2017, indicating a relative lack of retail interest in BTC compared to when the market was soaring to equivalent highs.
In fact, search volume reached its fourth highest level for 2020 only, behind spikes in interest that coincided with the collapse of "Black Thursday" in March, the bitcoin block reward halved in May, and BTC surpassed $ 10,000 in May.
Conclusion
Some other important factors indicate the reasons for this huge rise in Bitcoin prices, as the high percentage of Bitcoin holders showed great investor confidence in this digital currency, in addition to the fact that the buying deals were more than the selling deals and also some statistics showed a decrease in bitcoin reserves in the trading platforms, which means Lots of withdrawals to keep Bitcoin for the future. Bitcoin's resilience, especially as it consistently outperforms gold, has become the most compelling store of value for institutions throughout the year.