The most important economic events this week from May 23 to 27, 2022
Tuesday, May 24, 2022 - 15:40
Point Trader Group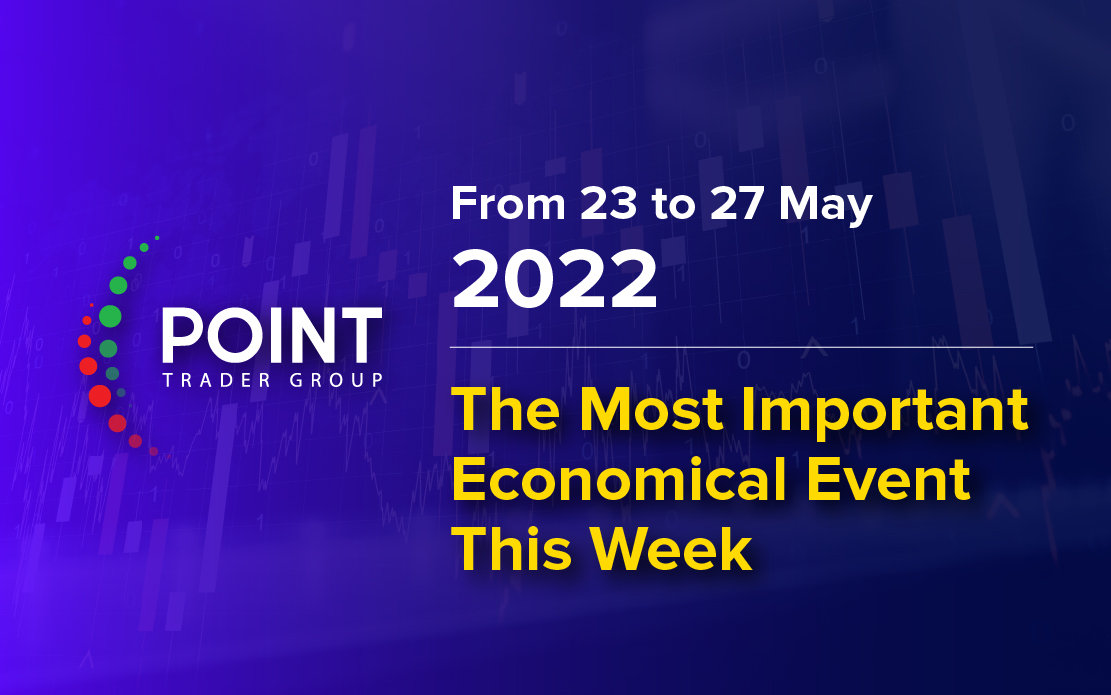 ---
The most important data expected this week
United State
New Home Sales (April) - Tuesday (4:00 pm)
US new home sales fell 16.6% month-on-month to a seasonally adjusted annual rate of 591,000 in April of 2022, the lowest since April 2020 and well below expectations of 750,000, as rising construction and mortgage costs weigh on buyers' affordability. . Sales declined in all regions: the South (-19.8%), the Midwest (-15.1%), the West (-13.8%) and the Northeast (-5.9%). Meanwhile, the median sale price of new homes sold last month was $450,600, much higher than the previous year's $376,600, while the median sale price was $570,300, up from $434,800. There are now 8.3 months of supply in stock, nearly twice as much as 4.3 months in the previous year.
Core Durable Goods Orders (MoM) (April) - Wednesday (02:30 PM)
New orders for durable goods manufactured in the US rose 0.8% month over month in March 2022, rebounding from a downwardly revised 1.7% drop the previous month, but below market expectations for a 1% increase. Excluding transportation, new orders rose 1.1 percent (versus -0.5 percent in February); Excluding defense, new orders advanced 1.2% (versus -2.1%). Computers and electronic products, up two months from the past three months, led the increase by $0.7 billion, or 2.6 percent, to $26.3 billion. Meanwhile, orders for non-defense capital goods excluding aircraft, a closely watched proxy for business spending plans, rose 1 percent, rebounding from a 0.3 percent decline in February and exceeding market expectations for a 0.5 percent increase.
FOMC Meeting Minutes - Wednesday (08:00 pm)
President Powell said during an interview with the Wall Street Journal that the Federal Reserve will not hesitate to continue raising interest rates until inflation drops in a clear and convincing manner. Powell added that "if that involves exceeding widely understood neutral levels, we will not hesitate at all to do so" and noted that the US economy is strong and well-positioned to withstand the less accommodative monetary policy and the tighter monetary policy. The Federal Reserve raised the target for the federal funds rate by half a point to 0.75%-1% during its May 2022 meeting, the second consecutive rate hike and the largest increase in borrowing costs since 2000, with the aim of addressing spiraling inflation. The central bank added that continued increases in the target range would be appropriate, with President Powell indicating a 50 basis point increase in the next two meetings.
Unemployment Claims Rates - Thursday (2:30 pm)
The number of Americans applying for new unemployment benefits rose by 21,000 to 218,000 in the week ended May 14, from a revised 197,000 in the previous period and above market estimates of 200,000. It is the highest reading since the week ending January 22. On a non-seasonally adjusted basis, initial claims increased by 12,811 from the previous week to 198,711, with notable increases in Kentucky (+6,728), California (+3,315), Pennsylvania (+2,102) and Illinois (+1,827). ). The 4-week moving average, which removes weekly volatility, was 19,900, an increase of 8,250 over the previous week's revised average.
GDP (Quarterly) (Q1) - Thursday (02:30 PM)
The US economy contracted at an annual rate of 1.4% on a quarterly basis in the first three months of 2022, well below market expectations of a 1.1% expansion and after 6.9% growth in the fourth quarter of 2021, mainly due to a record trade deficit and a drop in Invest in inventory. Exports decreased 5.9% (from 22.4% in the fourth quarter), while imports increased by 17.7% (from 17.9% in the fourth quarter). Meanwhile, private GDP growth slowed sharply (2.3% vs. 36.7%). Moreover, government spending fell even more (-2.7% vs. -2.6%). On the other hand, consumer spending (2.7% vs. 2.5%) and fixed investment (7.3% vs. 2.7%), especially non-residential ones, contributed positively to GDP.
Pending Home Sales Index (MoM) (April) - Thursday (04:00 PM)
The number of signed contracts to purchase existing homes in the United States fell 1.2 percent in March of 2022, after an average decline of 4.1 percent in February, but without the market consensus for a 1.6 percent decline. It was the fourth consecutive monthly decline and pushed contracts to their lowest level since May 2020 as rising mortgage rates and home prices began to weigh on demand. Pending home sales fell in the South, Midwest and West but rose in the Northeast.
United kingdom
Composite PMI - Tuesday (10:30 am)
The S&P Global/CIPS UK Composite PMI registered 51.8 in May, down sharply from 58.2 in April, to indicate the slowest rise in business activity since the current phase of recovery began in March 2021. Moreover, it lost momentum on a monthly basis in May (-6.4 index points) It was the fourth largest on record and surpassed anything seen before the pandemic. UK private sector firms indicated a sharp slowdown in business growth during May as mounting inflationary pressures and rising geopolitical uncertainty constrained customer demand. The latest data pointed to the fastest rise in operating expenses since this indicator began in January 1998. Concerns about shrinking profit margins and weak order books have led to a significant decline in business expectations for the year ahead. This indicator indicated the lowest growth forecast for the private sector since May 2020.
Europe
ECB Governor Lagarde's Speech - Wednesday (10:00 a.m.)
Eurozone annual inflation rose to a new record high of 7.5% in April of 2022 from 7.4% in March, mostly in line with market expectations, as the war in Ukraine and sanctions against Russia continue to drive commodity prices. Top, preliminary estimates showed. Inflation is now three times higher than the European Central Bank's 2% target. Prices of food, alcohol and tobacco rose faster (6.4% vs. 5.0% in March), non-energy industrial goods (3.8% vs. 3.4%) and services (3.3% vs. 2.7%). Meanwhile, energy prices slowed but remained very high (38% vs. 44.4%). Excluding energy, inflation also rose to 4.2% from 3.4% and excluding energy, food, alcohol and tobacco, it rose to 3.5% from 2.9%.
Germany
German GDP (QoQ) (Q1) - Wednesday (08:00 am)
Germany's gross domestic product expanded 0.2% on a quarterly basis in the first three months of 2022, recovering from a 0.3% contraction in the previous period and above market expectations of 0.1% growth, preliminary estimates showed. This was mainly attributed to the rise in capital formation, while the balance of exports and imports had a bearish effect on economic growth. The economic consequences of the war in Ukraine have had an increasing impact on short-term economic development since late February. On an annual basis, the economy grew by 3.7 percent, also exceeding expectations of 3.6 percent.
Canada
Retail Sales (MoM) (March) - Thursday (02:30 PM)
Preliminary estimates showed that retail sales in Canada increased 1.4% month over month in March 2022. Looking at February, retail sales were up 0.1 percent from the previous month, compared to preliminary estimates of a 0.5 percent decrease and an upwardly revised 3.3 percent increase from Previous Month. Sales were up in 6 of the 11 sub-sectors, with the main upward pressure coming from apparel and accessory stores (15.1 percent), largely due to a recovery in apparel stores (19.1 percent) and shoe stores (12.4 percent). Meanwhile, sales at petrol stations also rebounded (6.2 percent), supported by a 6.9 percent increase in gasoline prices amid supply chain uncertainty due to geopolitical concerns in Ukraine. On the other hand, auto sales and parts dealers decreased by 5.1%. On an annual basis, retail trade rose 7.4% in February.
New Zealand
RBNZ Rate Decision - Wednesday (4:00 am)
The Reserve Bank of New Zealand raised its official cash rate (OCR) by 50 basis points to 1.5% during the April meeting, compared to expectations for a 25 basis point increase. This was the fourth consecutive rate increase, amid a steady rise in inflation. The board stated that annual CPI is expected to peak around 7% in the first half of 2022, and that the "less regrettable route" is to increase OCR more now, rather than later, to avoid rising inflation expectations. Policy makers added that they will remain focused on ensuring that higher consumer prices do not become an integral part of the long-term outlook. Globally, economic activity continues to generate inflationary pressures, amid ongoing supply issues driven by COVID-19. The Russian invasion of Ukraine added to these challenges, driving up commodity and energy prices. The Board noted that OCR is a catalyst at its current level. In terms of housing prices, they are off their recent highs and are moving towards a more sustainable level.
Turkey
Interest Rate - Thursday (1:00 pm)
Turkey's central bank left its one-week key repo rate steady at 14% as expected during its April 2022 meeting saying the recent increase in inflation was driven by rising energy costs from geopolitical developments, and the temporary effects of pricing formations. Unsupported by economic fundamentals, strong negative supply shocks stemming from higher global energy, food and agricultural prices. The Committee expects that the process of reducing inflation will begin against the background of the measures taken and follow-up decisively to achieve sustainable price and financial stability, along with the decrease in inflation due to the primary impact and the resolution of the ongoing regional conflict. The Central Bank of Turkey will continue to decisively use all available tools within the lira strategy until strong indicators point to a permanent reduction in inflation and the 5 percent target is achieved over the medium term in pursuit of the primary objective of price stability.
All times are +1GMT