The most important expected economic data for this week, from April 24 to 28, 2023
Tuesday, April 25, 2023 - 15:59
Point Trader Group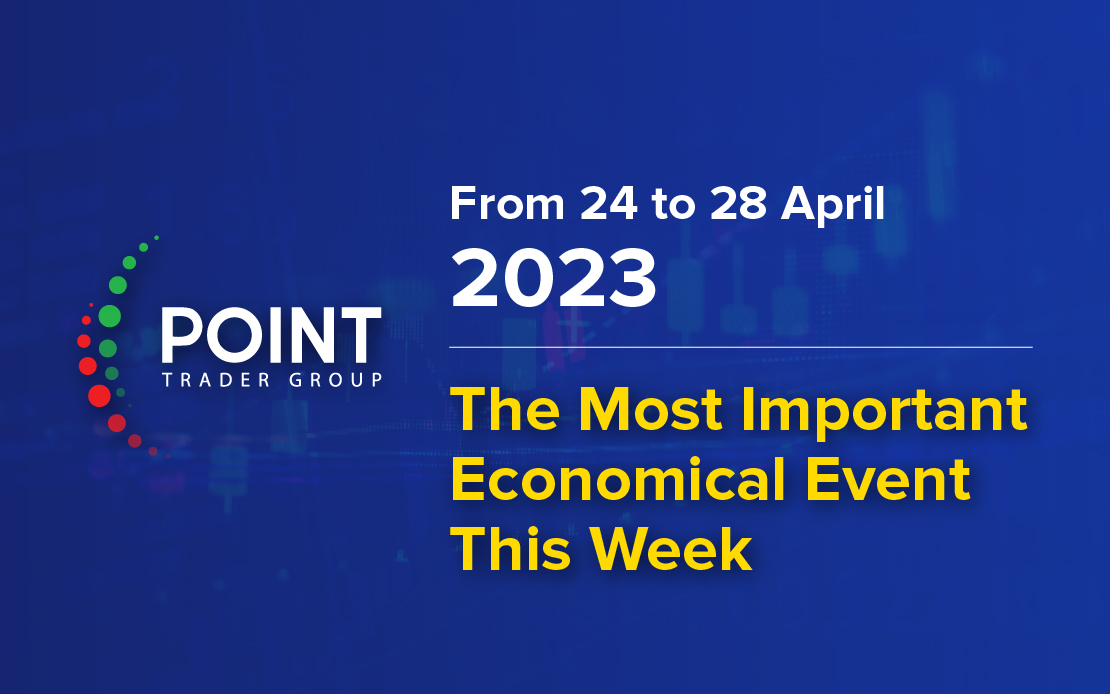 ---
The most important data expected this week
United State
New Home Sales (March) - Tuesday (04:00 PM)
New Homes in America rose 1.1% m/m to 640K (adjusted annual basis), the most since August 2022 and below expectations of 650K. The next figure is expected to be between 640-630 thousand.
Core Durable Goods Orders (MoM) (March) - Wednesday (02:30 PM)
Durable goods orders fell by 1% in February. This came after a 5% drop in the preceding month (compared to market expectations of 0.6%). Forecasts indicate that durable goods orders may rise by 0.6% - 0.7% in the next release.
US Crude Oil Inventories - Wednesday (04:30 PM)
Oil inventories fell by 4.58 million barrels on the 14th of April which is more than the market expected after an increase of 0.597 million barrels. US inventories are expected to continue declining around -1.66: -4.58 million barrels.
Unemployment Claims Rates - Thursday (02:30 PM)
Unemployment Claims increased by 5K to 245K in the week ending April 15, 2023. This is the highest number in two months and beat market expectations of 240K. The next release is expected to be around 248-249 thousand requests.
Pending Home Sales Index (MoM) (March) - Thursday (04:00 PM)
Home sales in the US rose last month by 0.8% (February) after a sharp rise in January to 8%, crushing market expectations of a 2.3% decline. This is the third month in a row of positive numbers which is a sign that the housing sector is expanding and may be coming to an end! Expectations indicate that the upcoming figures may be centered around 0.3-0.5%.
Core PCE Price Index (MoM) (March) - Friday (02:30pm)
Consumer expenditures rose 0.2% in February after a revised 2% rise last period and just below market expectations of 0.3%. The recent rise indicates spending of nearly $25.8 billion on services and nearly $2.0 million on goods. A rise in this indicator indicates growth, but on the other hand, it is considered one of the inflationary pressures that the US Federal Reserve is trying to control. The next release is expected negative around -0.2% / 0.1%.
Germany
German Unemployment Rate Change (Apr) - Fri (09:55 AM)
The German Unemployment Rate rose for the first time in almost 20 months to 5.6%, slightly above market expectations of 5.5%. Forecasts indicate that the next release may be around 5.6%.
German CPI (MoM) (April) - Friday (02:00 PM)
The German inflation rate fell to 7.4% from 8.7%, the lowest figure since September 2022. Low inflation rates are important for controlling a strong economy. The next release is expected to decline by 0.1% at 7.3%.
Türkiye
The interest rate on the Turkish lira during the week (repo) (April) - Thursday (01:00 pm)
The Central Bank of Turkey fixed the interest rate at 8.5% at its meeting in March, as expected. This followed a 50 basis point cut in the past months in response to the catastrophic earthquake events. The Bank of Türkiye is expected to continue fixing the interest rate at 8.5%.
GMT +2