The most important expected economic data for this week, from 06 to 10 March 2023
Wednesday, March 08, 2023 - 12:08
Point Trader Group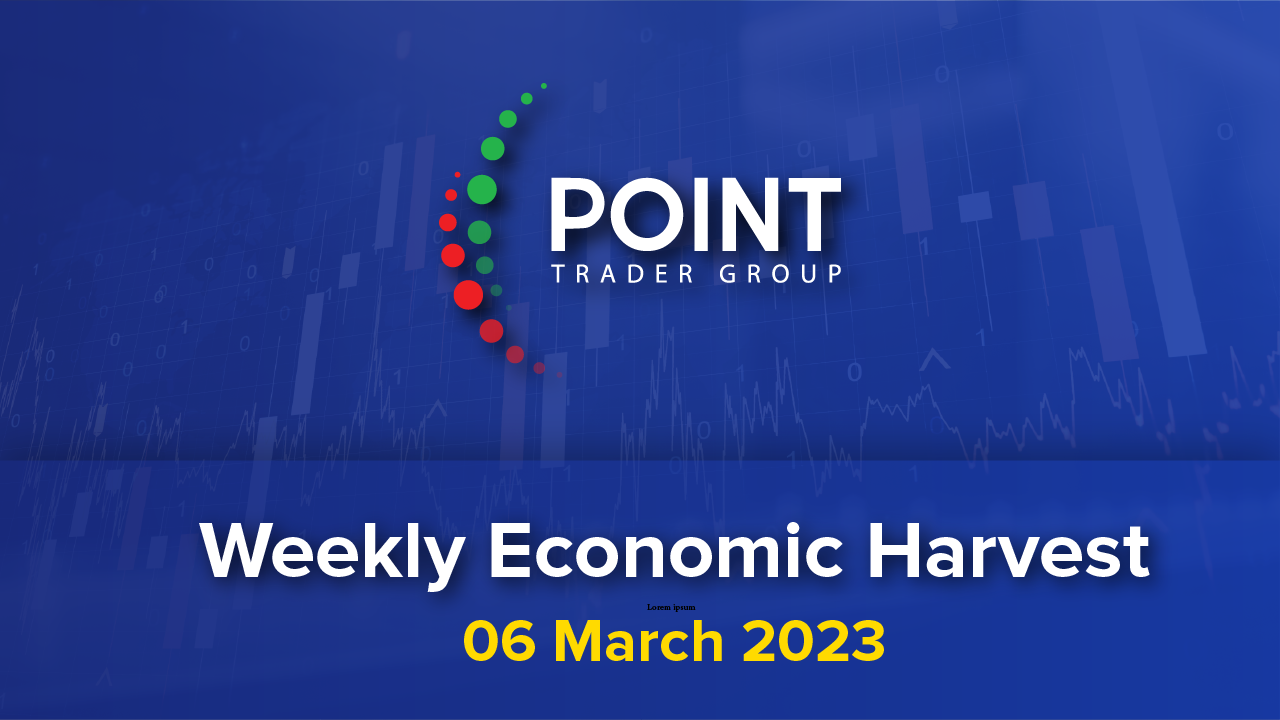 ---
The most important data expected this week
United State
Fed Chair Powell Testimony - Tuesday (05:00 PM)
The Fed's first meeting in 2023 showed a consensus of most of its members to raise the interest rate by 25 basis points, and a few of them preferred to raise it by 50 basis points. It is clear that the Fed members needed more clear signs that inflation is on its way down to its target around 2% which is likely to take some time. Fed members mentioned that the recent data showed a decline in prices but it is important that this decline includes a large sector of goods and services to make sure that inflation is indeed on its way down. Finally, the US Federal Reserve raised interest rates by 25 basis points to 4.5% - 4.75% at its last meeting in February, which is the largest hike since 2007.
ADP Non-Farm Employment Change (Feb) - Wed (15:03 PM)
The Private Employment sector added 106 thousand jobs to the US economy in January 2023. This number is lower than expectations around 178 thousand jobs and also the previous number around 253 thousand jobs in December. This is the lowest reading since January 2021. The next release is expected to be around 191-200K.
Job Opportunities (JOLTs) (January) - Wednesday (05:00 PM)
Job opportunities rose to 11 million in December 2022, the highest in 5 months, and higher than market expectations of 10.25 million jobs. The next release is expected to drop slightly around 10.6 million to 10.5 million.
US Crude Oil Inventories - Wednesday (05:30 PM)
US inventories rose by 1.166 million barrels to 850 million in the week ending February 24, 2023, the highest since September 2022. In the next issue, inventories are expected to decrease by 308 thousand barrels.
Unemployment Claims Rates - Thursday (03:30 PM)
Unemployment claims decreased by 2,000 from the previous week to 190,000, lower than the market expectation of 195,000. The next release is expected to be around 192-195 thousand requests.
Private Sector Employment Report (February) - Friday (03:30 PM)
This report is one of the most important reports that we are eagerly awaiting. The US economy unexpectedly added about 517,000 jobs last January, the most since July 2022 and significantly higher than the monthly average of about 401 jobs. This number is also significantly higher than market expectations, as expectations were for only 185,000 jobs. The next version is expected to be around 210-200 thousand jobs.
Unemployment Rate (Feb) - Friday (03:30 PM)
Unemployment rates declined significantly in the United States as the January 2023 figures indicated a continuation of this decline to 3.4%, the fourth consecutive month in a series of declines that began since October 2022. This figure is also the lowest since 1969 and below market expectations of 3.6%. The next release is expected to be around 3.4%.
Britain
GDP (MoM) (Jan) - Friday (09:00 AM)
The UK economy contracted slightly in December 2022, its first decline in 3 months and significantly below market expectations of a 0.3% decline. The next figure is expected to be in the range of 0.0% to 0.1%.
Euro-zone
ECB Governor Lagarde Speech - Wednesday (12:00 PM)
Unanimous decision makers in the European Central Bank that monetary tightening must continue to fight inflation. The latest figures for inflation indicate further decline and this may continue for the coming period, but we need more low figures for inflation in the Eurozone.
Germany
German CPI (YoY) (Feb) - Fri (09:00 AM)
German inflation numbers have not changed in almost two months, but they are lower than the figures for November and October 2022. The inflation number in Germany remains high and far from the European Central's target of around 2%. The next release is expected to be around 8.7%.
Canada
BoC Interest Decision - Wednesday (05:00 PM)
The Bank of Canada raised interest rates by 25 basis points to 4.5% at its first meeting in 2023. The next release is expected to be around 4.5% given inflation figures fell from 8.1% in June to 6.3% in December.
GMT +2