The most important expected economic data for this week, from 20 to 24 February 2023
Tuesday, February 21, 2023 - 13:17
Point Trader Group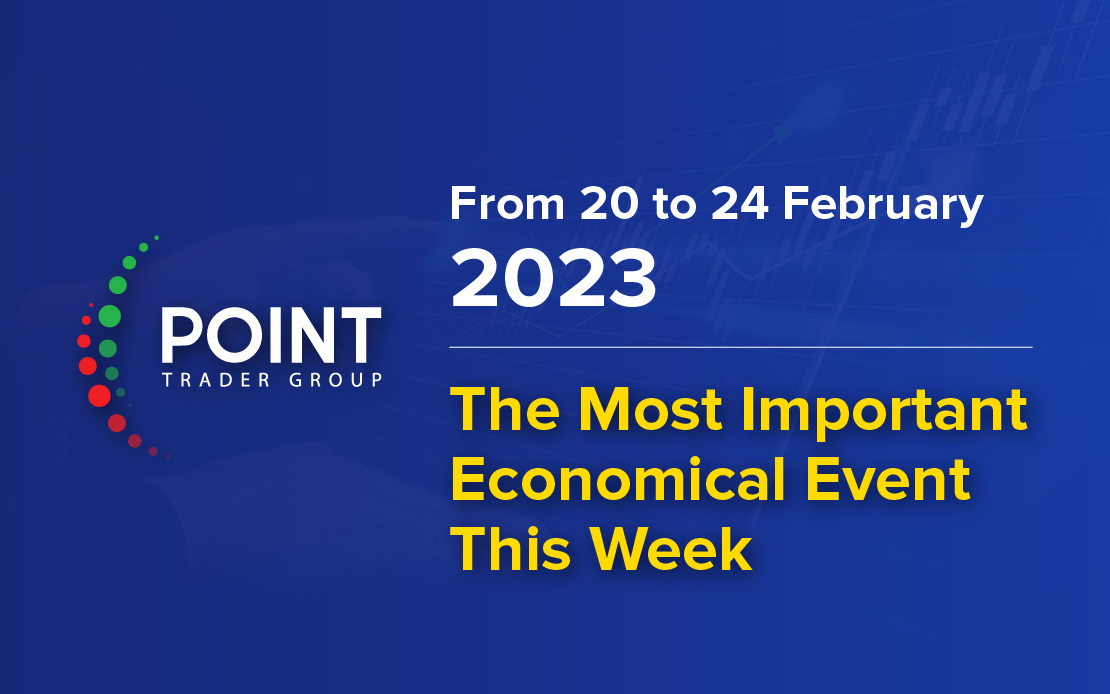 ---
The most important data expected this week
United State
Existing Home Sales (Jan) - Tuesday (05:00 PM)
Existing home sales fell to 1.5% (4.02 million) in December 2022 after a consecutive series of declines, reflecting a significant decline in the purchasing power of homes in the United States. The next release is expected to hold a slight increase to 4.1 million.
FOMC Meeting Minutes - Wednesday (09:00 PM)
Jerome Powell commented that inflation has already started to decline especially in the goods sector and that the Fed has the capacity and tools to bring inflation down to its target around 2%. He also added that the strong labor market numbers will not change the Fed's decision to raise rates if necessary. The US Federal Reserve raised interest rates by 25 basis points to 4.5% - 4.75% in February 2023, which is the next consecutive meeting in which interest rates are raised to their highest levels since 2007.
GDP (QoQ) (Q4) - Thursday (03:30 PM)
The US GDP rose to 3.5% (129,380 points), making the fourth quarter positive as well. This increase is in line with market expectations
Unemployment Claims Rates - Thursday (03:30 PM)
Unemployment Claims increased to 189.5K in the week ending February 11th from 189K in the previous issue, which is the lowest since April 2022. The next issue is expected to increase slightly to 192.25K.
US Crude Oil Inventories - Thursday (06:00 PM)
US inventories rose by about 16 million barrels to 842 barrels in the week ending February 10, 2022, the highest since October. Inventory numbers are highly variable due to the large price fluctuations affecting the movement of oil prices.
Core PCE Price Index (MoM) (Jan) - Friday (03:30pm)
US consumption decreased by 0.2% in December 2022 (worse than market expectations of 0.1%). It is clear that the high interest rates and inflation have greatly affected the spending of the American citizen. The next issue number is expected to rise to 1.1% - 1.3%.
New Home Sales (Jan) - Friday (05:00 PM)
Home sales in America increased by 2.3% to 616 thousand in December 2022, which is the largest number in 4 months, compared to market expectations of 617 thousand. The next release is expected to be around 615-620 thousand.
Britain
Services PMI - Tuesday (11:30 AM)
The index fell to 48 points in January 2023 from 49.9 points in December 2022 but the number was revised to 48.7 points (it also remains below the previous figure and the core number of 50 points).
Euro-zone
CPI (YoY) (Jan) - Thursday (12:00 PM)
The inflation rate in the Eurozone fell to 8.5%, the lowest in 8 months, contrary to market expectations of around 9% (below market expectations). Looking at the previous figures, we find that the inflation rate is clearly declining, but inflation remains above the European Central Bank's target of around 2%. The next release is expected to be around 8.5% - 8.6%.
Canada
Core CPI (MoM) (Jan) - Tuesday (03:30 PM)
Canada's monthly inflation index decreased by 0.60 percent in December of 2022 compared to the previous month. The next release is expected to be around 0.7% - 0.5%.
GMT +2