The most important expected economic data for this week, from 06 to 10 February 2023
Tuesday, February 07, 2023 - 09:56
Point Trader Group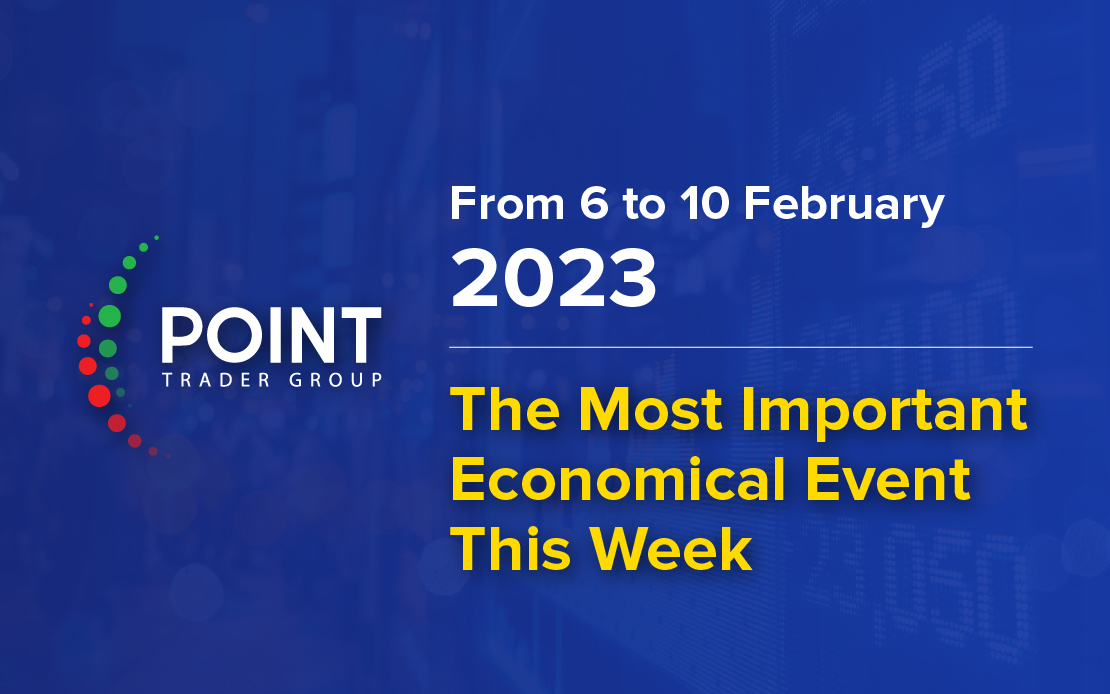 ---
The most important data expected this week
United State
US Energy Information Administration Short Term Energy Outlook - Tuesday (07:00 PM)
The US Energy Information Administration's Short-Term Energy Outlook report provides a near-term view of energy markets; Each month, the report presents forecasts extending to the end of the following year on the consumption of the main fuels, their supply, volume of trade, and prices. The report also provides an in-depth analysis of the crude oil, petroleum products, and natural gas markets. While the focus of the report is on US energy markets, it also includes forecasts for international markets for certain liquid fuels.
Fed Chair Powell Speech - Tuesday (07:40 PM)
The US Federal Reserve raised its target range for interest rates by 25 basis points to 4.5% - 4.75% at its meeting in February 2023. The US Federal Reserve continues to push interest rates to record levels since 2007. It is clear that the US Federal Reserve is on its way to raising rates above the set targets if necessary This is in order to control inflation rates and return them within the safe range.
US Crude Oil Inventories - Wednesday (05:30 PM)
Inventories rose by 4.14 million barrels in the week ending January 27 which was higher than market expectations by 0.376 million barrels. Stocks are expected to decrease in the next report by 2.15 million barrels.
Unemployment Claims Rates - Thursday (03:30 PM)
The number of unemployment claims decreased by 3,000 from the previous week to 183,000 in the week ending January 28, 2023, the lowest number since April. A slight increase in complaints is expected, to 189-190 thousand.
Britain
GDP (YoY) (Q4) - Friday (09:00 AM)
The British economy added a new expansion on an annual basis to 1.9% in the third quarter of 2022, which is below market expectations, which were around 2.4%. This reading is the lowest since the first quarter of 2021. Growth is expected to be limited in the fourth quarter of 2022 between 0.4% and 0.2%.
Manufacturing Production Index (MoM) - Friday (09:00 AM)
UK Manufacturing Production fell by 0.5% in November 2022 compared to the market expectation of 0.2%. This was the first month in 3 months for the index to fall. The negative numbers are expected to continue in the next release around -0.2%.
Canada
Employment Change (Jan) - Friday (03:30 PM)
Canada's employment rate was 5% in December 2022, the lowest since July 2022 (4.9%), down from 5.1% in the previous month. The next issue is expected to rise slightly to 5.1% - 5.2%.
Germany
German CPI (YoY) (Jan) - Thursday (03:00 PM)
The German inflation rate fell in December 2022 to 8.6%, the lowest in 4 months. This figure matches expectations but is well above the ECB's target of around 2%. The next release is expected to rise to 8.9-9.1%.
GMT +2