The most important economic events this week from May 31 to June the 3rd 2022
Tuesday, May 31, 2022 - 12:09
Point Trader Group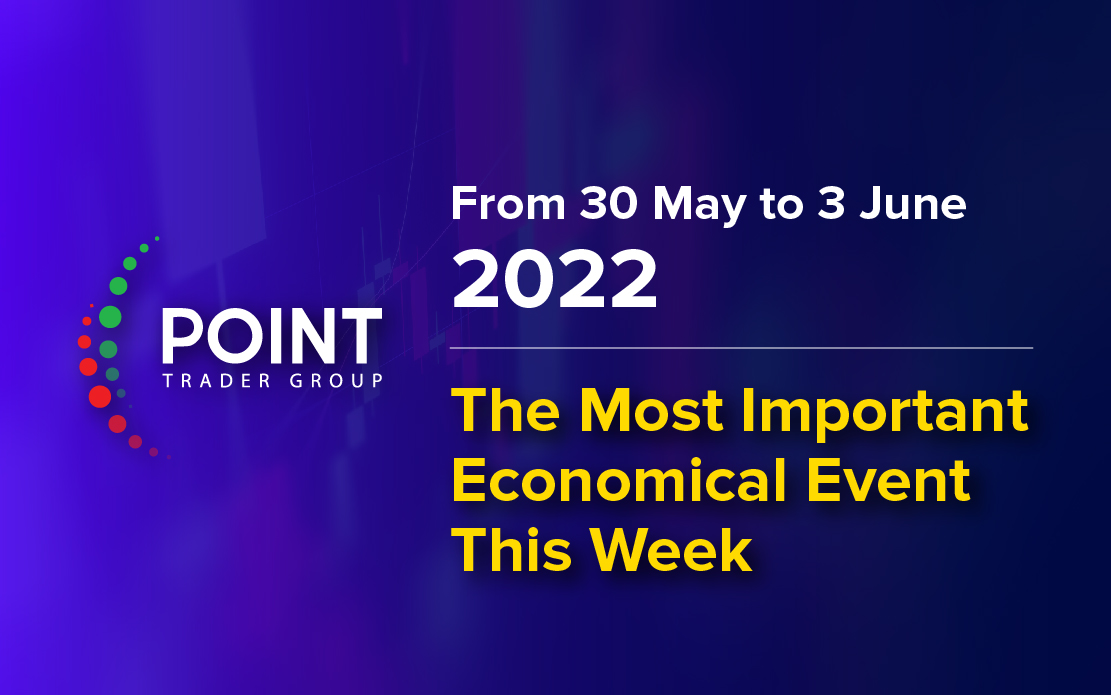 ---
The most important data expected this week
United State
Institute of Supply Management (ISM) Manufacturing PMI (May) - Wednesday (04:00 PM)
The US ISM manufacturing PMI fell for the second month in a row to 55.4 in April of 2022 from 57.1 in March and compared to market expectations of 57.6. It was the lowest reading since July 2020, as a slowdown was observed in production (53.6 vs 54.5 in March), new orders (53.5 vs 53.8) and employment (50.9 vs 56.3). At the same time, price pressures eased (84.6 vs. 87.1) while order backlog decreased (56 vs. 60). "The US manufacturing sector remains in a demand-driven supply chain constrained environment. In April, progress in solving labor shortage problems at all levels of the supply chain slowed."
Job Opportunities (JOLTs) (April) - Wednesday (4:00 pm)
The number of job vacancies in the United States rose by 205,000 from the previous month to a series high of 11.549 million in March of 2022, above market expectations of 11 million, as the job shortage continued. Jobs increased in retail trade (+155,000) and in manufacturing of durable goods (+50,000). Decreased job vacancies in transportation, warehousing and utilities (-69000); State and local government education (-43,000); and the federal government (-20,000). Increasing job opportunities in the south. Meanwhile, 4.5 million Americans quit their jobs at a record level, with the quit rate rising to 3%.
Unemployment Claims Rate (Weekly) - Thursday (02:30 pm)
The number of Americans filing new claims for unemployment benefits fell by 8,000 to 210,000 in the week to May 21, from the previous week's unadjusted level of 218K and above market estimates of 215K. On a non-seasonally adjusted basis, initial claims were down 14,534 from the previous week to 183,927, with notable declines in California (--5,316), Illinois (-4,059), Kentucky (-3,564) and New York (- 1,409). The 4-week moving average, which removes weekly volatility, was 206,750, 7,250 more than the previous week's unrevised average of 19,500.
US Crude Oil Inventories - Thursday (05:00 PM)
US crude oil inventories fell by 1.019 million barrels in the week ending May 20, after a decrease of 3.394 million barrels in the previous week and compared to market expectations for a decrease of 0.737 million. Crude stocks at the delivery hub in Cushing, Oklahoma, also fell by 1.061 million barrels, after a decrease of 2.403 million barrels. Meanwhile, gasoline inventories shrank by 0.482 million barrels, less than expectations for a decline of 0.634 million barrels. While stocks of distilled fuel, which include diesel and heating oil, rose 1.657 million barrels.
ADP Nonfarm Private Sector Payroll Change (May) - Thursday (02:15pm)
Private companies in the United States hired 247 thousand workers in April of 2022, the lowest number since April 2020 and well below expectations of 395 thousand. The service production sector added 202 thousand jobs, mainly in the leisure and hospitality sector (77 thousand), professionals and business (50 thousand), and education and health (48 thousand). Meanwhile, the goods production industry added 46 thousand payrolls, mainly due to manufacturing (25 thousand) and construction (16 thousand). In April, the labor market recovery showed signs of slowing as the economy neared full employment. While demand for employment remains strong, labor shortages have dented job gains for both producers of goods and providers of services. With the labor market tightening, small businesses, with fewer than 50 employees, are struggling with competition for wages amid rising costs," said Nella Richardson, ADP's chief economist.
Employment report in the private sector (May) - Friday (02:30 pm)
The US economy added 428,000 jobs in April of 2022, the same number that was revised down by 428 thousand in March and above expectations of 391 thousand. It marks the 12th consecutive month of job gains above 400K but is pulling back from February's gain of 714K amid an increasingly tight job market. Employment increased in all sectors, with the largest gains in leisure and hospitality (78 thousand), ie food and drinking services (44 thousand) and accommodation (22 thousand); manufacturing (55 thousand), mainly durable goods (31 thousand); Transport and storage (52K). However, this leaves the economy 1.2 million lower than its pre-pandemic level with entertainment and hospitality (1.44 million), local government (-596 thousand), education and health services (-409 thousand) remaining well below March 2020 levels. Economists believe that the labor market It may begin to slow soon as the economy approaches full employment, which will provide some relief to hot wage growth at a time when inflation is running at levels not seen since 1981.
Unemployment Rate (May) - Fri (2:30 pm)
The US unemployment rate was unchanged at 3.6 percent in April of 2022, remaining the lowest since February 2020 and compared to market expectations of 3.5 percent. The number of unemployed decreased by 11 thousand to 5.941 million, while employment levels decreased by 353 thousand to 158.105 million. Meanwhile, the labor force participation rate fell to a 3-month low of 62.2% in April, from 62.4% in March.
Institute of Supply Management (ISM) Non-Manufacturing PMI (May) - Fri (04:00 pm)
The US ISM Services PMI fell to 57.1 in April of 2022 from 58.3 in March and missed expectations of 58.5, mostly due to the restrictive labor pool causing employment to decline (49.5 vs. 54) and slowing new orders growth (54.6 ) vs. 60.1). Meanwhile, price pressures intensified (84.6 vs. 83.8), order backlog declined (59.4 vs. 64.5), supplier deliveries grew at a slower pace (65.1 vs. 63.4) and production rose faster (59.1 vs. 55.5). Although "trade activity remains robust, high inflation rates, capacity constraints and logistical challenges pose impediments, and the war between Russia and Ukraine continues to affect material costs, most notably fuel and chemicals."
United kingdom
Manufacturing PMI (May) - Wednesday (10:30 am)
UK S&P Global/CIPS Flash Manufacturing PMI fell to a 16-month low of 54.6 in May 2022 from 55.8 in April, below market expectations of 55. Output growth slowed (51.8 vs. 54.3) and the latest increase in volumes was Production is the weakest joint since October 2021, due to supply chain turmoil, the war in Ukraine and high inflation. Also, export orders have fallen the most since June 2020, with some companies citing Brexit-related trade frictions as the main obstacle, particularly regarding new customs rules, additional documentation requirements and other complications with EU trade. Incomplete work volumes have decreased, due to the shift in raw material availability, as evidenced by the rise in the Supplier Delivery Times Index to its highest levels since October 2020.
Europe
CPI (MoM) (May) - Tuesday (11:00 AM)
The annual inflation rate in the eurozone was revised down slightly to 7.4% in April 2022 from an initial 7.5%, but remained at a record high. It compares to a rate of 7.4% in March. The highest increase still came from energy (37.5% vs. 44.3% in March), followed by services (3.3% vs. 2.7%), food, alcohol and tobacco (6.3% vs. 5%) and non-energy industrial goods (3.8%). against 3.4%). Inflation is now more than three times above the European Central Bank's 2% target and is not expected to return to the target soon as the energy crisis exacerbated by Russia's invasion of Ukraine as demand rises and supply and logistics constraints persist due to the coronavirus pandemic has led to an overall rise in consumer prices. . The European Commission expects inflation to reach 6.1% in 2022, before declining to 2.7% in 2023.
Unemployment Rate - Wednesday (11:00 am)
The eurozone unemployment rate fell to a record low of 6.8% in March 2022 from an upwardly revised 6.9% in February and from 8.2% in March 2021, slightly above market expectations of 6.7%. There were 11.274 million unemployed people, down 76 thousand from February. Youth unemployment also fell by 17,000 to 2.098 million, sending the rate down to 13.9% from 14% in February. Among the largest economies in the Eurozone, a decrease in the unemployment rate is observed in Germany (2.9% vs. 3%), Italy (8.3% vs. 8.5%) while the unemployment rate has stabilized at 7.4% in France.
Germany
German Unemployment Change (May) - Tuesday (09:55 am)
Germany's seasonally adjusted unemployment rate remained unchanged at pre-pandemic levels of 5% in April of 2022, the same as in March and in line with expectations. The arrival of spring and the relaxation of coronavirus measures support the continued recovery of the labor market. The head of the Federal Labor Agency, Detlev Scheel, said that the development was slowed down by the Russian war against Ukraine.
German Manufacturing PMI (May) - Wednesday (09:55 am)
The German S&P Global Manufacturing PMI rose to 54.7 in May 2022 from 54.6 in April, better than market expectations of 54, and indicating continued growth in the manufacturing sector. Factory production increased, albeit only slightly, after last month's decline and a recovery in employment. On the other hand, new orders fell the most in nearly two years, as demand began to come under pressure from market uncertainty, rising prices and supply issues, and factory work rose at least since July 2020. Input price inflation was the lowest in Three months ago, there were signs of a slight easing of supply chain delays. The business outlook was increasingly pessimistic in May due to concerns about price hikes, supply bottlenecks and rising uncertainty.
All times are KSA