The most important economic events this week from the 21st to the 25th of Feb 2022
Wednesday, February 23, 2022 - 02:11
Point Trader Group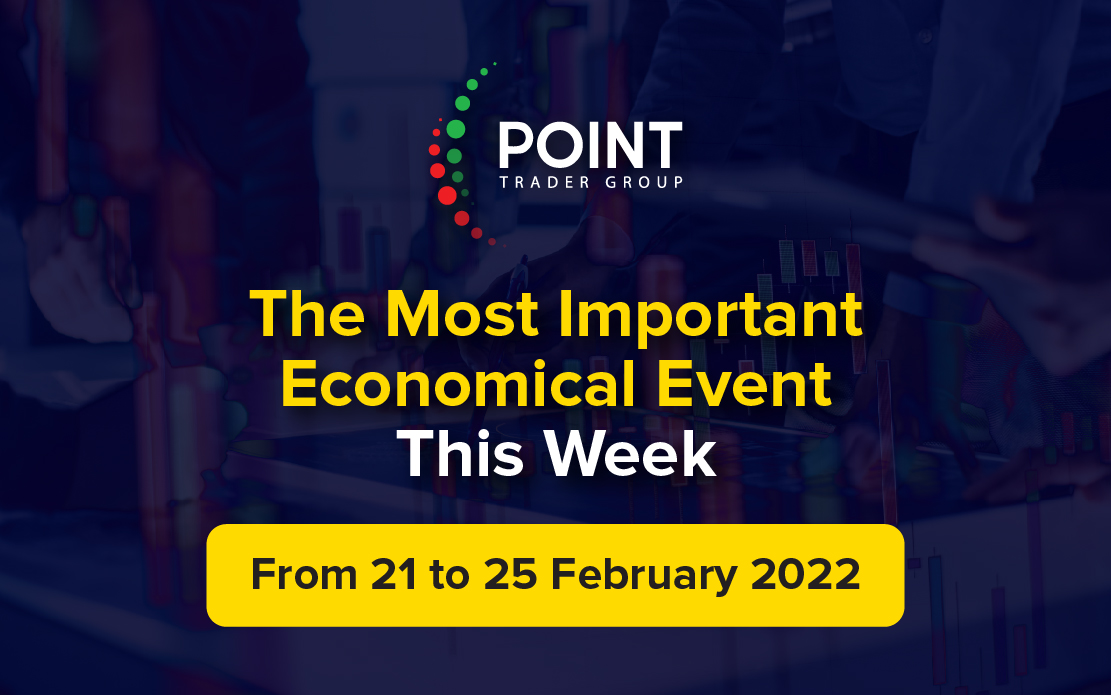 ---
Germany
German Manufacturing PMI (Feb) - Monday (10:30 am)
Germany's IHS Markit Manufacturing PMI fell to 58.5 in February 2022 from 59.8 in January, missing market expectations of 59.5, preliminary estimates showed, as staff absences due to the COVID-19 infection offset strong demand growth and ease supply chain bottlenecks. On the price front, the rate of increase in manufacturing purchase prices fell to a 12-month low while industrial production price inflation remained unchanged in January and the fourth highest on record.
German Ifo Business Climate (Feb) - Tuesday (11 am)
The Ifo business climate index for Germany jumped to 98.9 in February of 2022, the highest level in 5 months, from an upwardly revised 96 in January and exceeded market expectations of 96.5. Both current conditions (98.6 vs 96.2) and expectations (99.2 vs 95.8) have improved sharply but bottlenecks remain a problem. Price expectations have risen in the industrial and retail sectors as more companies want to raise their prices. The German economy is anticipating the end of the coronavirus crisis although higher energy prices as a result of the tensions in Europe will certainly be a drag on business. Also, the February results were not affected by the crisis in Ukraine although it remains a risk factor.
German GDP (QoQ) (Q4) - Friday (9 am)
The German economy contracted 0.7% on a quarterly basis in the final three months of 2021, much worse than market expectations for a 0.3% decline, as tightening restrictions to slow the spread of the omicron coronavirus affected household spending and construction investment while increasing public spending. . Preliminary estimates showed that this is the first decline in three quarters. Looking at the whole of 2021, the economy advanced by 2.8%, slightly above the initial growth figure of 2.7%. The government lowered its growth forecast for 2022 to 3.6% from 4.1%. The Ministry of Economy said in a report that the beginning of the year "will remain calm due to the Corona virus pandemic, especially in the service sectors."
Britain
Bank of England Governor Bailey Speech - Thursday (3:15 pm)
The Bank of England raised the bank's key interest rate by 25 basis points to 0.5% during its February 2022 meeting, in line with expectations. It's the first consecutive increase since 2004, which pushed borrowing costs to a two-year high even though four policymakers voted to raise the rate by 50 basis points. The committee also voted to begin reducing the stockpile of UK government bond purchases, financed through the issuance of central bank reserves, by stopping the reinvestment of maturing assets. The central bank expects inflation to rise further in the coming months, approaching 6% in February and March, before peaking at around 7.25% in April, but easing back slightly to just over the 2% target in two years. Policy makers also indicated that further tightening would be appropriate in the coming months if the economy broadly develops in line with current expectations.
United State
GDP (QoQ) (Q4) - Thursday (3:30 pm)
The US economy expanded at an annualized rate of 6.9% on a quarterly basis in the fourth quarter of 2021, well above the 2.3% in the third quarter and well above expectations of 5.5%. It is the strongest GDP growth in five quarters with the largest upward contribution coming from private inventories (4.9 percentage points), i.e. auto dealers where companies have been withdrawing their shares since the beginning of 2021. Personal consumption increased 3.3%, driven upward by a 4.7% increase. In spending on services, specifically health care, entertainment, and transportation. Fixed investment rebounded 1.3%, led by intellectual property products partially offset by a decline in structures. However, residential investment continued to decline and fell by 0.8%. Meanwhile, net trade did not contribute to the growth as exports jumped 24.5% led by consumer goods, industrial supplies, food and travel. Imports rose 17.7%. Taking into account the whole of 2021, the economy advanced 5.7%, the most since 1984.
Unemployment Claims Rate - Thursday (3:30 pm)
The number of Americans filing new claims for unemployment benefits rose by 23K to 248K in the week ended February 12, compared to market expectations of 219K. This was the first hike in 3 weeks where Missouri, Ohio and Kentucky contributed the most to the jump. However, the level of claims is still well below the 3-month high of 290K reached in mid-January, as Omicron infections eased after a spike across the US. The four-week moving average that removes weekly volatility was 243.25K, down 10.5K, and continuing claims were 1.593 million.
New Home Sales (Jan) - Thursday (5pm)
New home sales in the United States rose 11.9 percent from the previous month to a seasonally adjusted annual rate of 811 thousand in December 2021, after a similar increase in November and easily exceeding market expectations of 760 thousand. Home sales hit their highest level since March, with the largest increase recorded in the Midwest (56.4 percent to 86K), the South (14.9 percent to 456K) and the West (0.4% to 242K). On the other hand, sales of new homes in the Northeast fell 15.6 percent to 27 thousand. The median sale price of new homes sold last month was $377,700, up 3.4 percent from the previous year's average home price, while the median sale price was $457,300, up 13.8 percent year on year. The supply of new homes for sale fell 9.1 percent between November and December, equal to six months of supply.
US Crude Oil Inventories - Thursday (6 pm)
Data from the State of Petroleum report issued by the Energy Information Administration showed that US crude oil inventories rose by 1.121 million barrels to 411.5 million barrels in the week ending February 11, after a decrease of 4.756 million in the previous period and compared to market expectations of a decrease of 1.572 million barrels. . However, crude stocks at the delivery hub in Cushing, Oklahoma, fell by 1.9 million to 25.8 million barrels, the lowest level since September 2018, and gasoline stocks fell by 1.331 million barrels, versus market expectations for an increase of 0.55 million barrels. Meanwhile, distillate stocks, which include diesel and heating oil, fell 1.552 million barrels, more than expectations for a 1.463 million barrel decline.
Core Durable Goods Orders (MoM) (January) - Friday (3:30 PM)
New orders for US manufactured durable goods fell 0.9% month over month in December of 2021, after an upwardly revised 3.2% advance in November and compared to market expectations for a 0.5% decline. Excluding defense, new orders rose 0.1 percent, and excluding transportation rose 0.4 percent, with the latter matching market expectations. The main downside pressure came from transportation equipment (-3.9 percent vs. 8.9 percent in November), non-defense aircraft. Demands for computers and electronic products also declined (-2.8% vs. 4.1%), as demand for communications equipment weakened. Meanwhile, orders for non-defense capital goods excluding aircraft, a closely watched proxy for business spending plans, were unchanged from November, missing expectations for an increase of 0.4 percent.
Pending Home Sales Index (MoM) (JAN) - Fri (5 PM)
US pre-owned home purchases fell 3.8% in December of 2021, following an upwardly revised 2.3% decline in November and far worse than market expectations of a 0.2% decline. It's the biggest drop in pending home sales in 8 months, as a diminishing supply of housing has left consumers with very little choice. The four major regions of the United States recorded a decline in contract activity. NAR reports that existing home sales are expected to decline by 2.8% in 2022, and home prices are expected to rise by 5.1% due to an ongoing housing shortage, even as builders ramp up production.
Federal Reserve Monetary Policy Committee report - Friday
Fed policymakers emphasized that it would soon be appropriate to raise the target range for the federal funds rate and most participants suggested that a faster pace of increases than in the post-2015 period is likely to be warranted, should the economy generally develop in line with expectations, Minutes showed. From the last meeting of the Federal Open Market Committee. The Fed stressed that the appropriate course of policy will depend on economic and financial developments and their implications for the outlook and risks surrounding the outlook, and appropriate preparation of the policy position will be evaluated at each meeting. However, if inflation does not fall as expected, it would be appropriate to tighten monetary policy at a faster pace. The Fed will also continue to reduce the monthly pace of net asset purchases, ending it in early March.
New Zealand
RBNZ Rate Decision - Wednesday (3am)
The Reserve Bank of New Zealand raised its official cash rate (OCR) by 25 basis points to 0.75% at this year's final policy meeting. This was the second consecutive increase in interest rates, amid mounting inflationary pressures, the easing of COVID-19 restrictions and rising home prices. The Board stated that further monetary policy stimulus is expected to be removed over time given the medium-term outlook for inflation and employment. Inflation is expected to exceed 5% for the next three quarters, peaking at 5.7% in the first quarter, due to higher oil prices, higher transportation costs and supply shortages. In the third quarter, the country's consumer prices rose 4.9% year-on-year, well above the central bank's target of 1%-3%. "The committee expected that the OCR would need to be gradually increased, and provided the economy develops as expected, it is likely to need to be raised above its neutral rate," she added. The central bank indicated that the liquidity rate will reach 2.6% by the end of 2023 and rise by December 2024.
Euro-zone
CPI (Annual) - Wednesday (12 pm)
Eurozone annual inflation rose to a new record high of 5.1% in January 2022 from 5% in December, while markets had expected it to slow to 4.4%. Energy continues to register the largest increase in prices (28.6% vs. 25.9% in December), followed by food, alcohol and tobacco (3.6% vs. 3.2%), services (2.4%, as in December) and non-energy industrial goods. (2.3% vs. 2.9%), preliminary estimates. But core inflation, which excludes prices for energy, food, alcohol and tobacco, eased to a 3-month low of 2.3%. Inflation remains well above the European Central Bank's 2% target amid Europe's energy crisis that has driven up the cost of natural gas, coal and electricity sharply while improving demand and supply constraints linked to the pandemic continue to pressure prices.