Inflation data week October 10-14, 2022
Monday, October 10, 2022 - 23:44
Point Trader Group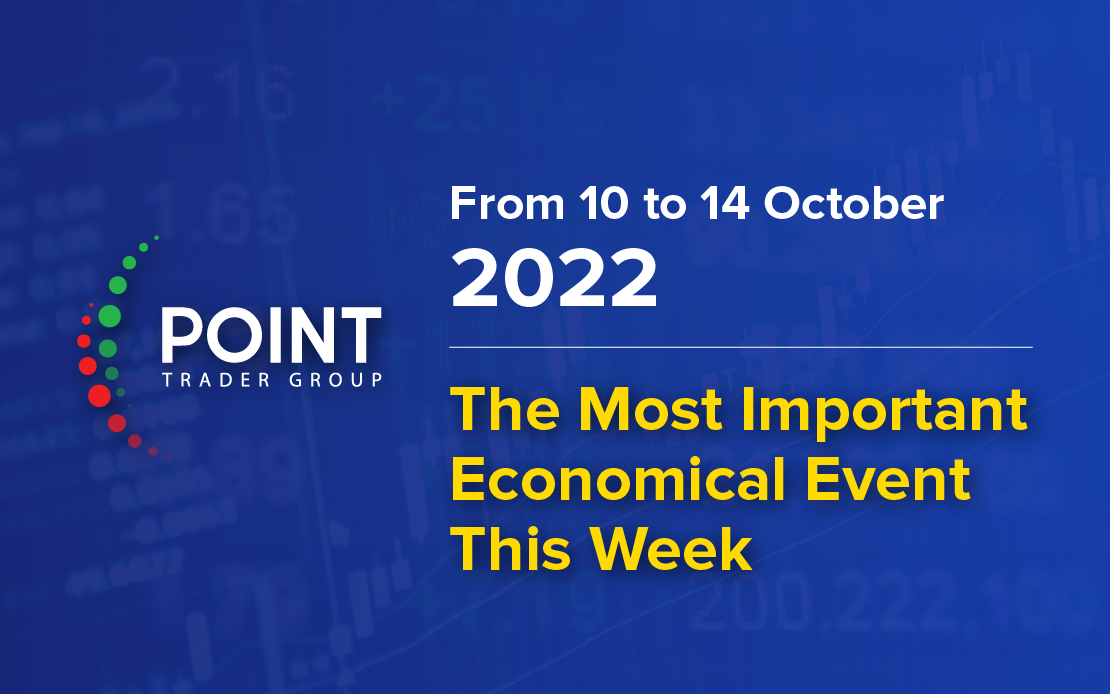 ---
The most important data expected this week
United State
Producer Price Index (MoM) (September) - Wednesday (02:30 PM)
The producer price index for final demand in the US declined 0.1% month over month in August of 2022, after a 0.4% decline in July and in line with expectations. Commodity prices fell 1.2%, driven by a 12.7% drop in the cost of gasoline. Prices of diesel fuel, jet fuel, chicken eggs, basic organic chemicals and home heating oils also fell. In contrast, services prices rose 0.4%, which is the fourth consecutive rise, mainly due to fuel and lubricant sales margins (14.2%). On an annual basis, producer prices rose 8.7%, the lowest in a year and down from 9.8% in July. The core index rose 0.4% in the month and 7.3% over the year.
FOMC Meeting Minutes - Wednesday (08:00 pm)
The Federal Reserve raised the federal funds rate by 75 basis points to the 3%-3.25% range during its September meeting, its third consecutive increase of three-quarters of a point and pushing borrowing costs to their highest levels since 2008. Policy makers also expect increases Continuing in the appropriate scope goal reinforced by President Powell during the press conference. We have to keep inflation behind us. I wish there was a painless way to do this. There is no." The so-called dot plot showed interest rates were likely to reach 4.4% by December, above the 3.4% projected in June, and rise to 4.6% next year. Meanwhile, GDP growth forecasts were revised downward to show expansion By 0.2% this year, compared to 1.7% in June and 1.2% in 2023, down from 1.7% in June. Inflation as measured by PCE is expected to reach 5.4% in 2022 (5.2% expected in June) and 2.8 % in 2023 (versus 2.6%) The unemployment rate was also revised slightly higher to 3.8% (versus 3.7%) this year and 4.4% (versus 3.9%) next year.
Core CPI (September) - Thursday (2:30 PM)
The annual US inflation rate fell for the second month in a row to 8.3% in August of 2022, the lowest level in 4 months, from 8.5% in July but above market expectations of 8.1%. The Energy Index rose 23.8%, below 32.9% in July. Smaller increases in costs for gasoline (25.6% vs. 44%) and fuel oil (68.8% vs. 75.6%) were reported while inflation accelerated for natural gas (33% vs. 30.5%) and electricity (15.8%, highest since August 1981). On the other hand, inflation increased in food (11.4%, the largest since 1979), shelter (6.2%, the highest since 1984), and used cars and trucks (7.8%). Compared to the previous month, consumer prices rose 0.1%, after a flat reading in July and compared to expectations for a 0.1% decrease. Meanwhile, the core CPI, which strips out volatile energy and food prices, rose 6.3% year on year, the most since March, and rose notably from 5.9% in June and July.
Unemployment Claims Rates - Thursday (2:30 pm)
The number of Americans filing new claims for unemployment benefits rose by 29,000 to 219,000 in the week that ended October 1, jumping from a five-month low the previous week and sharply above expectations at 203,000, suggesting some slackening in market conditions. the work. On a seasonally unadjusted basis, initial claims rose by 13,254 to 167,083, with notable increases in Puerto Rico (+3,914) and Missouri (+3,749). The 4-week moving average, which removes weekly volatility, is up slightly by 250 from the previous week, to 206,500.
Core Retail Sales (MoM) (September) - Friday (2:30 PM)
US retail sales rose 0.3% in August compared to July, after declining 0.4% in the previous month and exceeding expectations for a flat reading. Falling gasoline prices allowed consumers to buy other goods, with spending on cars rising (2.8%); miscellaneous stores (1.6%); food services and drinking places (1.1%); building materials and garden equipment (1.1%); sporting goods, hobbies, musical instruments and books (0.5%); general merchandise stores (0.5%); food and beverage (0.5%); and clothing (0.4%). On the other hand, sales at petrol stations fell by 4.2%, and a decrease in sales in furniture stores (-1.3%) was also observed; Non-store retailers (-0.7%); health (-0.6%); and electronics (-0.1%). Excluding petrol stations, sales increased by 0.8%. Core retail sales that exclude cars, gasoline, building materials and food services are unchanged. Retail sales are not adjusted for inflation.
United kingdom
Unemployment Change (Sept) - Tuesday (08:00 AM)
The UK unemployment rate fell to 3.6% in the three months to July of 2022, the lowest level since 1974, from 3.8% in the previous period and compared to market expectations of 3.8% due to the number of people no longer looking for an increase in work. The alleged inactivity rate rose to 21.7%, the highest since 2017 driven by students or long-term patients. Meanwhile, the employment rate fell 0.2 percentage points to 75.4% and is still below epidemic levels, mainly due to the decline in part-time employment. The number of people unemployed for up to six months fell to a record low and the number of people unemployed for more than 12 months continued to decline. On the other hand, the number of unemployed people increased between 6 and 12 months. The number of job vacancies in the June-August 2022 period was 1,266,000, a decrease of 34,000 from the previous quarter and the largest quarterly decline from June to August 2020.
Bank of England Governor Bailey Speak - Tuesday (08:35 pm)
The Bank of England announced that it will conduct temporary purchases of long-term UK government bonds from September 28 to October 14 to restore orderly market conditions. These purchases will be strictly time-limited and are intended to address a specific problem in the long-term government bond market. The central bank also said that the MPC's annual goal of reducing inventory by 80 billion pounds was unaffected and unchanged. However, the bank's CEO has postponed the start of the gilt sale that was due to start next week until October 31 and moving forward after that. The central bank's move came after the British pound fell to record lows against its US counterpart and British bond prices collapsed in response to British Finance Minister Kwasi Quarting's mini-budget, which includes 45 billion pounds of unfunded tax cuts. Earlier in September, the Bank of England raised its key interest rate by 50 basis points to 2.25%, its seventh consecutive rate hike, and pushed borrowing costs to their highest since 2008.
GDP (MoM) - Wednesday (08:35 pm)
The British economy expanded 0.2% in July from June 2022, rebounding from a 0.6% decline the previous month, but less than market expectations of a 0.4% rise. Services (0.4%) were the main driver of expansion, specifically information and communications (1.5%). On the other hand, production decreased by 0.3%, with electricity, gas, steam and air conditioning supplies decreasing by 3.4%, specifically electric power generation, transmission and distribution (-4.4%), and gas manufacturing (-0.5%). Anecdotal evidence from the Department of Business, Energy and Industrial Strategy (BEIS), showed that electricity demand was 2.3% lower than it was in July 2021, which may have been affected by higher-than-normal temperatures and higher prices. The construction sector also decreased (-0.8%), specifically repair and maintenance (-2.6%). The British economy is now 1.1% higher than it was before the spread of the coronavirus in February of 2020. Looking at the three months to July, the economy has stalled.
euro
ECB Governor Lagarde's speech - Wednesday (3:30 p.m.)
European Central Bank policymakers have worried about price hikes across the region, saying that inflation will likely remain above the central bank's target for an extended period and that growth concerns should not prevent the needed increase in interest rates, calculates the central bank's policy meeting in September. show up. Officials also said the central bank's response to upward deviations from the ECB's target should be as strong as it was when inflation was very low, as inflationary pressures from the depreciation of the euro could increase further, while lower exchange rates were limited. Supporting economic activity in an environment of bottlenecks and a persistent shortage of global supply. The European Central Bank raised interest rates by 75 basis points more than expected in September and indicated that more increases should be delivered in the coming months, with market rates already rising by another 75 basis points in October.
Germany
German CPI (MoM) (Sept) - Thursday (08:00 AM)
A preliminary estimate showed that consumer price inflation in Germany jumped to 10 percent year-on-year in September 2022, an all-time high and well above market expectations of 9.4 percent. Consumer prices have risen in the wake of the worsening energy crisis in Europe's largest economy, as well as ongoing disruptions in the supply chain. Goods inflation rose to 17.2% from 14.7% in August, driven by higher energy costs (43.9% vs. 35.6%) and food (18.7% vs. 16.6%). Additionally, prices for services rose at a faster pace of 3.6%, compared to 2.2% in August, even as rental inflation eased to 1.7% from 1.8%. On a monthly basis, consumer prices rose 1.9 percent in September, the largest increase since March and near a record high of 2.5 percent.
ALL TIME +2 GMT