The most important economic data this week from 15 to 19 August 2022
Tuesday, August 16, 2022 - 12:09
Point Trader Group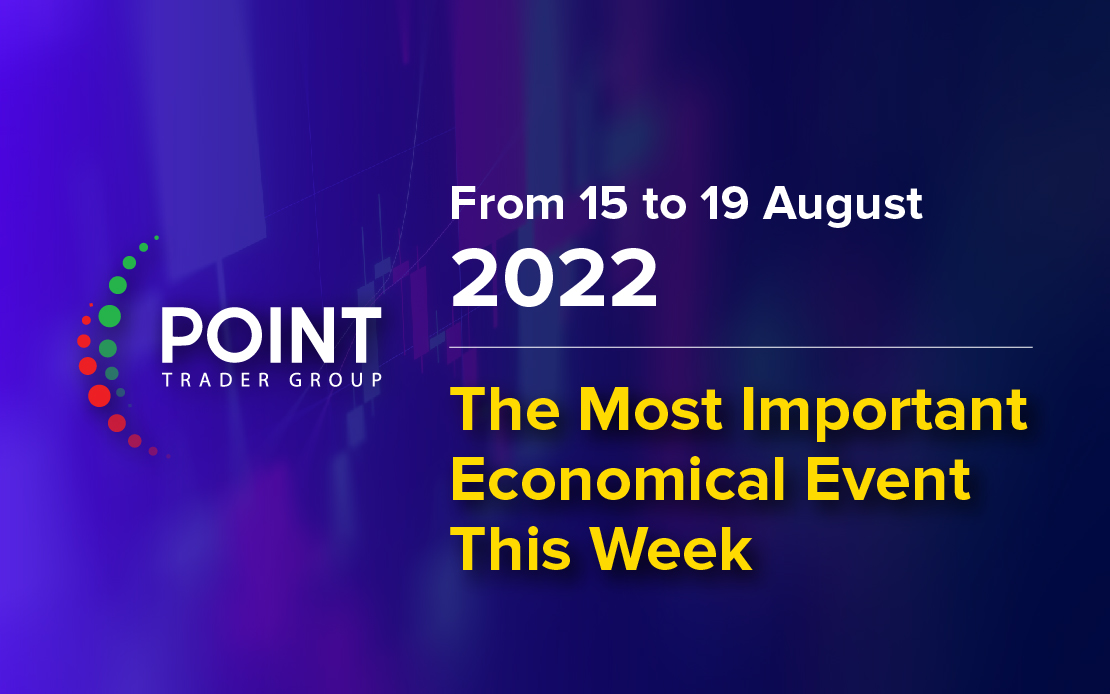 ---
The most important data expected this week
United State
Building Permits (July) - Tuesday (2:30 pm)
Building permits in the United States rose to an annual rate of 1,696,000 in June of 2022, well above the initial estimates of 1,685,000.
Retail Sales (July) - Wednesday (2:30 PM)
US retail sales jumped 1% per month in June of 2022, beating expectations for a 0.8% gain, and rebounding from a downwardly 0.1% rate decline in May. The figures showed that consumer spending remains strong but also reflects a general increase in the prices of goods and services. Retail sales are not adjusted for inflation. Sales at petrol stations registered the largest increase (3.6%), followed by non-store retail sales (2.2%); miscellaneous department store retailers (1.4%); furniture stores (1.4%); food services and drinking places (1%); auto and parts dealers (0.8%); and sporting goods, hobbies, music and libraries (0.8%). On the other hand, lower sales were recorded for building materials (-0.9%), clothing (-0.4%) and general stores (-0.2%). Excluding automobiles, gasoline, building materials and food services, so-called core retail sales rose 0.8% in June, after declining 0.3% in May.
FOMC Meeting Minutes - Wednesday (08:00 pm)
The Federal Reserve raised the target range for the federal funds rate by 75 basis points to 2.25%-2.5% during its July 2022 meeting, its fourth consecutive rate hike, and pushed borrowing costs to the highest level since 2019, in line with market expectations. The central bank said that continued increases in the target range would be appropriate and that it was ready to adjust the monetary policy stance if risks emerged that could impede the achievement of the committee's objectives. During his regular press conference, President Powell said that he cannot predict the scope of monetary policy for the coming year and that upcoming decisions will depend on the data. Powell also said the central bank will look for a moderately restricted level by the end of the year, which means a 3% to 3.5% level for the fed funds rate.
Existing Home Sales (July) - Thursday (4:00 PM)
US existing home sales fell 5.4% to a seasonally adjusted annual rate of 5.12 million in June of 2022, a new low since June 2020 and well below market expectations of 5.38 million. Sales fell for the fifth consecutive month as lower housing affordability continues to weigh on potential homebuyers. The median existing home price for all home types was $416,000, up 13.4% from June 2021, and total home inventory increased 9.6% from May to 1,260,000 units. Sales of family homes fell 4.8% to 4.57 million, and sales of existing condominiums and cooperatives fell 9.8% to 550,000 units.
Euro-zone
CPI (YoY) (July) - Thursday (11:00 AM)
Preliminary estimates showed that the annual inflation rate in the eurozone rose to a new record high of 8.9% in July 2022 from 8.6% in June. The figures beat market expectations at 8.6%, as food, alcohol and tobacco prices continued to accelerate (9.8% vs. 8.9% in June); Non-energy industrial goods (4.5% vs. 4.3%), and services (3.7% vs. 3.4%) but fell slightly for energy (39.7% vs. 42%). Excluding energy, inflation also rose to 5.4% from 4.9% and the core index, which excludes the cost of energy, food, alcohol and tobacco, rose to 4% from 3.7%. Compared to the previous month, consumer prices rose 0.1%.
Britain
Unemployment Change (July) - Tuesday (08:00 AM)
The UK unemployment rate held steady at 3.8% in the three months to May 2022, the same rate as the previous period and compared to expectations of 3.9%, indicating that the labor market remains strong despite higher prices putting pressure on the cost of living. The number of employed people rose by 296 thousand, the largest rise since the three months to August last year. The number of full-time employees has risen to a record level, as has the number of part-time employees. The number of economically inactive people also decreased by 144 thousand, the largest drop since the beginning of the Corona virus pandemic. At the same time, the number of job vacancies rose from April to June 2022 to 1,294,000 but the growth rate continued to slow. Growth in regular pay excluding bonuses rose slightly to 4.3% from 4.2% but including bonuses, it slowed to 6.2% from 6.8%.
CPI (YoY) (July) - Wednesday (08:00 AM)
The UK annual inflation rate rose to 9.4% in June 2022 which is the highest rate since 1982 and slightly above market expectations of 9.3%. The biggest price pressure came from the cost of motor fuel, which rose at a record rate of 42.3%, as average gasoline prices rose by 18.1 pence per liter in June 2022, the largest monthly rise recorded since at least 1990. 2.5 pence per liter a year ago. Food prices made up the second largest upward contribution (9.8%, the highest since March 2009 versus 8.6% in May), namely milk, cheese, eggs, vegetables and meat. Prices of housing and utilities also rose faster (19.6% vs. 19.4%). On the other hand, entertainment and culture prices rose at a slightly slower pace (4.8% vs. 5%) while downside contributions came from used cars (15.2% vs. 23.4%) and audiovisual equipment (-2.4% vs. 1.7). %). Compared to the previous month, consumer prices rose 0.8%, above 0.7% in May, and expectations of 0.7%.
Canada
Annual CPI (July) - Tuesday (2:30 pm)
Canada's annual inflation rate rose to 8.1% in June of 2022, the highest level since January 1983 but below market expectations of 8.4%. Prices rose at a faster rate for transportation (16.8% vs. 14.6% in May), as higher global energy demand pushed up gasoline prices (54.6% vs. 48%). The CPI also rose faster in entertainment, education and reading (6.3% vs. 5.4%). Meanwhile, inflation remained high for food (steady at 8.8%) and shelter (7.1% vs. 7.3%), buoyed by persistently high homeowner replacement costs (10% vs. 11.1%). Excluding gasoline, the CPI rose 6.5% annually, up from 6.3% in May. On a monthly basis, consumer prices rose 0.7%, missing expectations for a 0.9% increase and slowing from a 1.4% jump in May.
New Zealand
RBNZ Rate Decision - Wednesday (4:00 am)
The Reserve Bank of New Zealand raised its official cash rate (OCR) by 50 basis points to a level not since March 2016 at 2.5% during its July meeting, a half point rate hike, in line with market consensus. The board warned that it will continue to tighten policy until it is assured that monetary conditions are sufficient to calm inflation expectations and bring inflation within the target range of 1-3%. Wednesday's decision was the sixth consecutive rate hike, as the committee believes that higher food and energy costs and higher mortgage rates in New Zealand will lead to more discretionary household spending in the coming quarters. The resurgence of COVID-19 cases and the rise in other seasonal diseases also continue to restrict production capacity. Policy makers said they recognize that there are medium-term downside risks to economic activity, as the global economic outlook continues to weaken amid persistent supply problems, geopolitical tensions and health restrictions in China.
*All times are +2