The most important economic data this week from 28 to 30 Sep 2022
Wednesday, September 28, 2022 - 01:51
Point Trader Group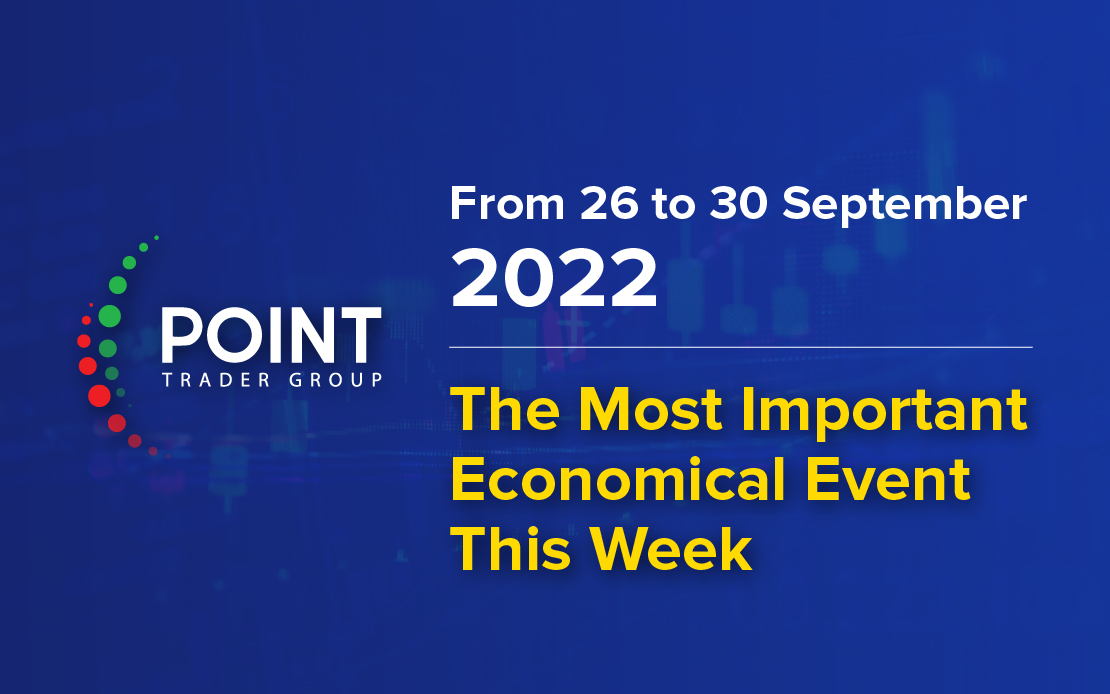 ---
The most important data expected this week
United State
Pending Home Sales Index (MoM) (August) - Wednesday (04:00 PM)
US pending home sales fell 1% month over month in July of 2022, after falling 8.9% in June, and well below market expectations for a 4% decline, reflecting the recent downturn in mortgage rates. Sales fell in the Midwest (-2.7%), the Northeast (-1.9%) and the South (-1.1%) but rose 2.2% in the West. "In terms of the current housing cycle, we may be at or close to the bottom in signing contracts. Inventories for homes are growing in the upper price ranges, but limited supply at lower price points is hampering transaction activity," said NAR's chief economist. Lawrence Yun. "Home prices are still rising double-digit year-over-year, but the annual rise in prices should moderate to the usual rate of 5% by the end of this year and into 2023. Mortgage rates are expected to stabilize near 6% along with Creating steady jobs, home sales should start rising by early next year," Yoon added.
Fed Chair Powell Speech - Wednesday (04:15 pm)
The Federal Reserve raised the federal funds rate by 75 basis points to the 3%-3.25% range during its September meeting, its third consecutive increase of three-quarters of a point and pushing borrowing costs to their highest levels since 2008. Policy makers also expect increases Continuing in the appropriate scope goal reinforced by President Powell during the press conference. We have to keep inflation behind us. I wish there was a painless way to do this. There is no." The so-called dot plot showed interest rates were likely to reach 4.4% by December, above the 3.4% projected in June, and rise to 4.6% next year. Meanwhile, GDP growth forecasts were revised downward to show expansion By 0.2% this year, compared to 1.7% in June and 1.2% in 2023, down from 1.7% in June. Inflation as measured by PCE is expected to reach 5.4% in 2022 (5.2% expected in June) and 2.8 % in 2023 (versus 2.6%) The unemployment rate was also revised slightly higher to 3.8% (versus 3.7%) this year and 4.4% (versus 3.9%) next year.
US Crude Oil Inventories - Wednesday (4:30 pm)
Data from the Energy Information Administration's weekly statistical bulletin showed that US crude stocks in Cushing, Oklahoma, rose 343,000 barrels in the week ending September 16, after falling 135,000 barrels in the previous period.
GDP (QoQ) (Q2) - Thursday (02:30 PM)
The US economy contracted 0.6% on a quarterly basis in the second quarter of 2022, less than the 0.9% decline in advance estimates, due to upward revisions to consumer spending and inventories. With that said, the economy technically entered a recession, after declining 1.6% in the first quarter. Personal consumption expenditures grew 1.5%, up from 1% in the advance estimate, led by food and accommodation services while spending on goods decreased 2.4% (versus -4.4% in the advance estimate), namely food and beverages. Also, investment in private inventory was revised higher although it remained a hindrance mainly due to retail trade. Also, net trade made a positive contribution for the first time in two years, with exports jumping 17.6% (vs 18%), led by industrial supplies, materials and travel while imports rose 2.8% (vs 3.1%). Meanwhile, residential investment is down 16.2% (versus -14% in the pre-estimate), mainly due to real estate brokers' commissions. Investment in structures (-13.2% vs. -11.7%) and equipment (-2.7%, as in the prior estimate) also declined.
Unemployment Claims Rates - Thursday (2:30 pm)
The number of Americans filing new claims for unemployment benefits rose by 5,000 to 213,000 in the week ended September 17, less than market expectations of 218 thousand. It represents a slight increase from the previous week's downwardly revised value, which was the lowest since May, and still indicates a tight labor market. On a seasonally unadjusted basis, initial claims rose by 19,385 to 17,562, with notable increases in Michigan (+6,167), Massachusetts (+2,559) and New York (+2,185). The 4-week moving average, which removes weekly volatility, is down 6,000 from the previous week, to 216,750.
Core PCE Price Index (MoM) (August) - Friday (2:30 PM)
US personal spending rose a meager 0.1% month over month in July of 2022, after jumping 1% in June, and below expectations of 0.4%. It is the weakest performer so far this year, as consumption increased for services, specifically housing and international travel, but decreased for commodities, particularly gasoline and other energy goods. Consumer spending was resilient despite higher inflation and interest rates, driven by summer travel, higher incomes, and higher savings. However, it may start to slow soon as the Fed continues to tighten monetary policy, energy costs remain high and inflation approaches 40-year highs, affecting consumers' affordability.
United kingdom
GDP (YoY) - Friday (08:00 am)
Preliminary estimates showed that the British economy contracted 0.1% on a quarterly basis in the three months to June 2022, marking the first contraction in more than a year and compared to market expectations of a 0.2% drop. Services decreased 0.4%, with the largest negative contribution from human health and social work activities, reflecting a decline in coronavirus activities. On the other hand, there were positive contributions from consumer-facing services, including travel agencies and tour operators as COVID-19 restrictions eased on the tourism industry, accommodation, food service activities, arts and leisure and leisure activities. On the consumer side, household spending fell 0.2%, with the impact of the cost of living crisis offsetting the positive contribution from net trade. Compared to the previous year, the economy advanced by 1.9%.
GDP (QoQ) - Friday (08:00 am)
The British economy expanded 2.9% year-on-year in the second quarter of 2022, the lowest rate since the contraction in the first quarter of 2021, and slightly above market expectations of 2.8% growth. Household spending slowed sharply (3.6% vs. 12.6% in the first quarter), with higher consumer prices weighing down while overall fixed capital formation remained strong (5.9% vs. 7.1%), specifically business investment (5% vs. 8.3%).
euro
ECB Governor Lagarde's Speech - Wednesday (09:15 a.m.)
The European Central Bank raised interest rates by an unprecedented 75 basis points at its September 2022 meeting, after raising rates by 50 basis points in July, matching expectations from most analysts. The principal refinancing rate is now at 1.25%, the marginal lending facility is at 1.5% and the first deposit facility is at 0.75%. Policy makers also said that interest rates should rise further over the next several meetings, aiming to dampen demand and guard against risks of a persistent upward shift in inflation expectations, but any changes will continue to be data dependent and will follow one meeting after another. meeting approach. During the press conference, President Lagarde said the ECB is far from the rate that will help bring inflation back to the 2% target. At the same time, the central bank has significantly revised inflation expectations to an average of 8.1% in 2022, 5.5% in 2023 and 2.3% in 2024, while growth has been revised to 3.1% in 2022, and 0.9% in 2023. , and 1.9% in 2024.
CPI (YoY) (September) - Friday (11:00 AM)
The annual inflation rate in the eurozone was confirmed at a record high of 9.1% in August of 2022, compared to 8.9% in July. The highest contribution came from energy again (38.6% vs. 39.6% in July), but the prices of food, alcohol and tobacco (10.6% vs. 9.8%), services (3.8% vs. 3.7%) and non-energy industrial goods (5.1) accelerated. % vs 4.5%). Excluding energy, food, alcohol and tobacco, core inflation rose to a record high of 4.3% from 4% in July, a sign of price pressures already spreading across all sectors of the economy. Compared to the previous month, consumer prices rose 0.6%, slightly higher than the initial reading of 0.5%.