The most important economic events this week from June 06 to 10, 2022
Monday, June 06, 2022 - 15:22
Point Trader Group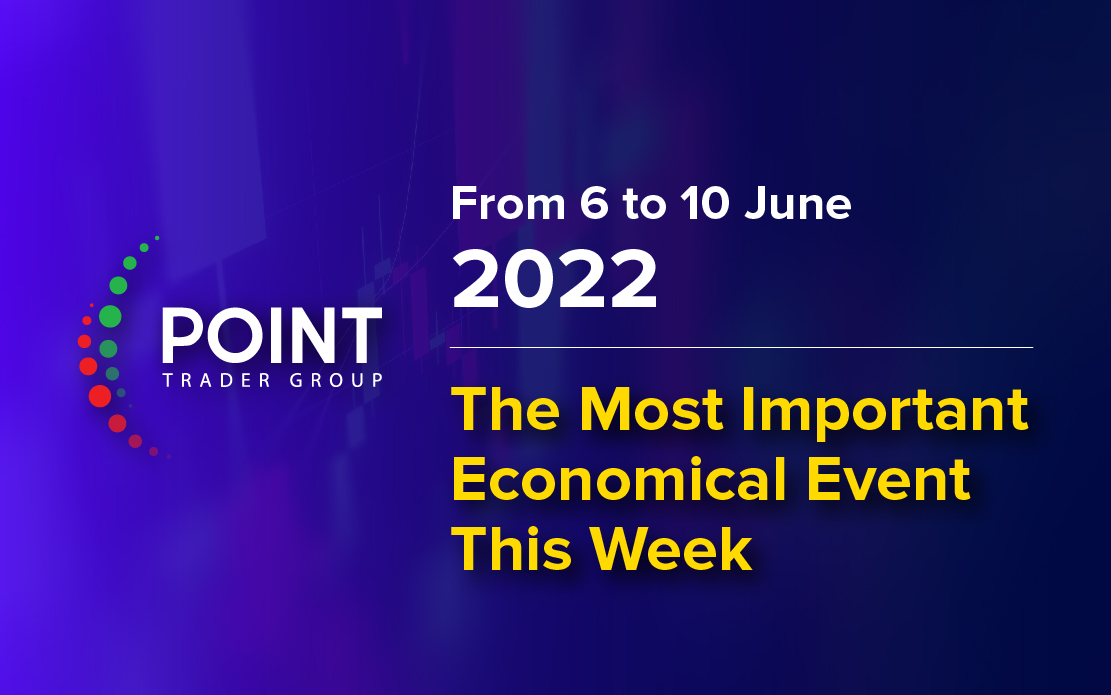 ---
The most important data expected this week
United State
US Crude Oil Inventories - Thursday (4:30 pm)
US crude oil inventories fell by 5.068 million barrels in the week ending May 27, after a decline of 1.019 million barrels in the previous week and compared to market expectations for a decline of 1.35 million. At the same time, gasoline stocks unexpectedly shrank by 0.711 million barrels, surprising analysts' expectations for a rise of 0.533 million barrels.
Inflation Rate (CPI) - Friday (02:30 pm)
The annual US inflation rate slowed to 8.3% in April from a 41-year high of 8.5% in March, but below market expectations of 8.1%. Energy prices are up 30.3%, down from 32% in March and are gasoline (43.6% vs. 48%) while fuel oil prices are up more (80.5% vs. 70.1%). On the other hand, food prices jumped 9.4%, the most since April 1981 and prices for shelter rose even faster (5.1% vs. 5%) and new vehicles (13.2% vs. 12.5%). On a monthly basis, consumer prices rose 0.3%, slightly above expectations of 0.2% but below a 16-year high of 1.2% in March. The gasoline index fell 6.1%, offsetting the increases in the indices of natural gas (3.1%) and electricity (0.7%). Despite a slowdown in April indicating that inflation has likely peaked, inflation is unlikely to dip to pre-pandemic levels anytime soon and will remain above the Fed's 2% target for an extended period as supply disruptions and energy prices persist and food.
United kingdom
Composite PMI (May) - Tuesday (10:30 am)
The S&P Global/CIPS UK Composite PMI registered 51.8 in May, down sharply from 58.2 in April, to indicate the slowest rise in business activity since the current phase of recovery began in March 2021. Moreover, it lost momentum on a monthly basis in May (-6.4 index points) It was the fourth largest on record and surpassed anything seen before the pandemic. UK private sector firms indicated a sharp slowdown in business growth during May as mounting inflationary pressures and rising geopolitical uncertainty constrained customer demand. The latest data pointed to the fastest rise in operating expenses since this indicator began in January 1998. Concerns about shrinking profit margins and weak order books have led to a significant decline in business expectations for the year ahead. This indicator indicated the lowest growth forecast for the private sector since May 2020
Europe
European Central Bank rate decision (June) - Thursday (01:45 pm)
European Central Bank policymakers expressed concerns about rising inflation and agreed that the gradual normalization of monetary policy should continue, as the minutes of the last ECB meeting in April showed. The central bank also emphasized that net asset purchases under the application should end in the third quarter, sooner rather than later, and that future guidance terms for higher key interest rates will become crucial to the policy discussion at the June meeting. During the April 2022 meeting, the European Central Bank left interest rates at record low levels and confirmed monthly net purchases under the application would be €40 billion in April, €30 billion in May and €20 billion in June. With bond purchases ending in the third quarter, and since interest rates will only rise after that, money markets are currently pointing to the first rate hike in July 2022.
Australia
Reserve Bank of Australia rate decision - Tuesday (6:30 am)
The Reserve Bank of Australia raised the benchmark interest rate by 25 basis points to 0.35% during its May 2022 meeting, which is greater than market consensus for a 15 basis point rate hike. It was the first rate hike since November 2010, with the board signaling more tightening ahead as it seeks to tame high rates. The central bank said the economy had proven resilient while inflation rebounded more quickly, and there was also evidence that wage growth was picking up. She added that the central forecast for Australian GDP will grow by 4-1/4% in 2022 and 2% in 2023. Meanwhile, the balance sheets of households and businesses are generally in good shape, and there is a boom in business investment, There is a whole lot of construction work to be completed. 2022 headline inflation is expected to be around 6% and core inflation to be around 4-3/4% before tapering back to around 3% by mid-2024. The committee also raised the interest rate on exchange-settled balances from 0% to 25 points. Basis.
Canada
Employment Change (May) - Friday (02:30 PM)
Canada's unemployment rate fell to 5.2% in April 2022 from 5.3% in March, in line with market expectations. This was the lowest recorded rate since comparable data became available in 1976, extending the strong labor market recovery from the Covid-19 pandemic. Employment levels were relatively flat in both industries producing goods and services, with gains concentrated in New Brunswick, Nova Scotia, Newfoundland and Labrador and Alberta. The number of unemployed shrank by 14,400 thousand people (-1.3% to 1,085,000), while long-term unemployment was relatively unchanged at 224,000 people. On the other hand, the youth unemployment rate rose to 10.1% from 9.8% in the previous month. Meanwhile, the labor force participation rate fell to 65.3% from 65.4%.
All times are +GMT