The most important economic events this week from June 13 to 17, 2022
Monday, June 13, 2022 - 14:46
Point Trader Group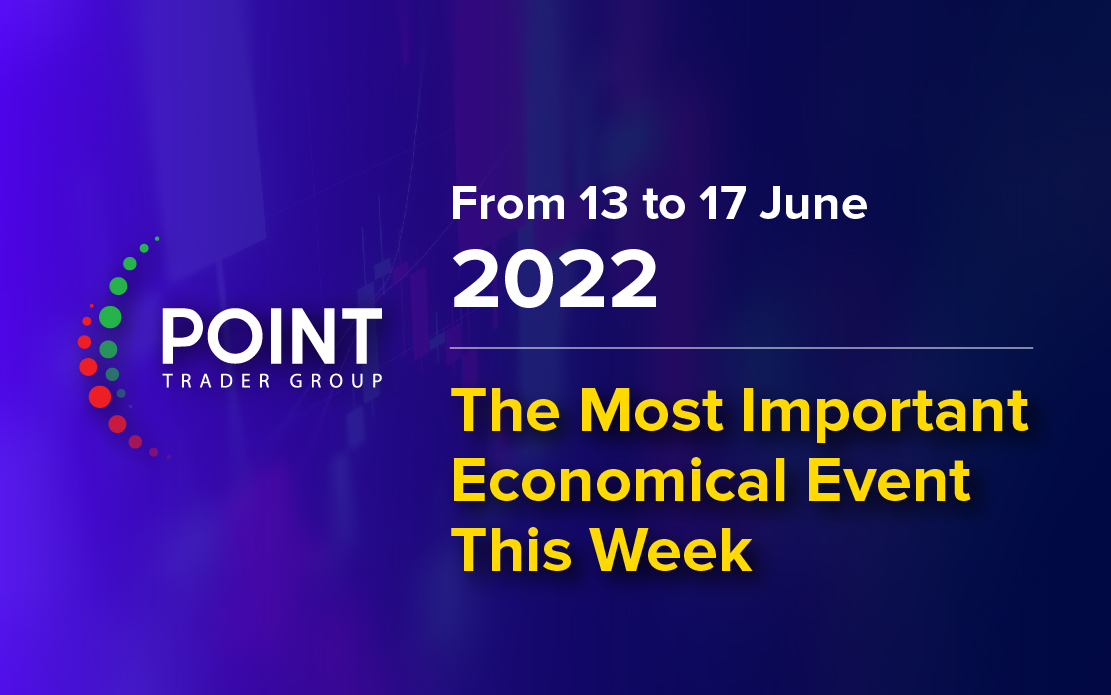 ---
The most important data expected this week
United State
PPI (MoM) (May) - Tuesday (02:30 PM)
US producer prices rose 0.5% per month in April of 2022, less than the 1.6% increase in and mostly in line with market expectations. Percentage to control cars, chicken, electricity and natural gas. Meanwhile, the final demand index rose by 4%, while final demand prices were unchanged. Year-over-year, wholesale prices are up 11%, outpacing their share However, producer inflation is running at its highest rate in 40's and is back and forth with a lot more appearing pretty much in the near future.
Resolution - Wednesday (08:30 pm)
$400 for US Dollars Revisited for Appearance in Her Interview Pretty much. At the same time, this item of sex matters the Fed interest rates versus the central bank that serial increases in the appropriate area, where President Powell established a 50 basis point increase in the next two.
Building Permits (May) - Thursday (2:30 PM)
And the adjusted atmosphere pack that US building permits, down 3 percent from the previous month, seasonally adjusted, defend 1.823 million in April of 2022. However, the reading is still less than five months away.
Unemployment Rates From Unemployment - Thursday (2:30 pm)
The number of Americans filing new claims for deal unemployment benefits rose 27 thousand to 229 thousand in the week ending June 4, the highest level since mid-January and above market expectations of 210. Business Conditions, Healthy Business Conditions since late November. On a non-seasonally-adjusted basis, Florida (1695K), Florida (1695K) and Pennsylvania (1089) were largest in Michigan (-2078K) and Mississippi (-1825 Alvesia). The 4-week 8-week moving average rose to 215K. Meanwhile, the symbol for the right
United kingdom
Unemployment Change (May) - Tue (08:00 AM)
The UK unemployment rate fell to 3.7% in the first quarter of 2022, which is the beginning of the beginning of 1974 and below 3.8% in the period from the beginning of the 3.8%. For the first time since records began, the number of unemployed people started (1.257 million) compared to Palo Jala, which reached a new record of 1.295 million. The average number of employees working in employment averaged 0.1 percentage point. Meanwhile, real wages of ordinary wages are 1.9% lower than a year ago in March, the largest decline since the third quarter of 2013, as high inflationary pressures hurt the purchasing power of consumers. The higher time estimate associated with April 2022 shows a monthly increase of 121K to 29.5M.
Bank of England Interest Rate Decision (June) - Thursday (01:00 PM)
The Bank of England raised its key interest rate by 25 basis points to 1% during its May 2022 meeting, its fourth consecutive rate hike, pushing borrowing costs to their highest levels since early 2009. The decision came in line with expectations despite a 3 member vote in his favour. Larger increment of 50 bits per second. Policymakers said that global inflationary pressures have intensified sharply in the wake of the Russian invasion of Ukraine, leading to a fundamental deterioration in the UK's growth outlook. The UK economy is estimated to have risen 0.9% in the first quarter but GDP is expected to remain broadly unchanged in the second quarter and contract by about 1% in the fourth quarter, due to lower household incomes, including from The expected rise in income. About 40% off gas and electricity retail prices when Ofgem price caps reset in October. In 2023, GDP is expected to shrink by 0.25%. Meanwhile, inflation is expected to pick up further over the remainder of the year, to just over 9% in the second quarter and average just over 10% at its peak in the fourth.
Europe
CPI (MoM) (May) - Fri (11:00 AM)
Eurozone annual inflation rose to 8.1% in May of 2022, a new record high, from 7.4% in each of the previous two months and well above market expectations of 7.7%. Preliminary estimates showed that energy prices continue to register the largest increase (39.2% vs. 37.5% in April) despite a wide-ranging increase in prices, including for food, alcohol and tobacco (7.5% vs. 6.3%) and non-energy industrial goods ( 4.2% vs. 3.8%) and services (3.5% vs. 3.3%). Excluding energy, inflation accelerated to 4.6% from 4.1%, more than double the European Central Bank's 2% target, a sign that price pressures in Europe remain high and not peaked, strengthening the ECB's position to start raising borrowing costs.
Australia
Employment Change (May) - Thursday (03:30 AM)
Australia's seasonally adjusted unemployment was at 3.9% in April 2022, unchanged from the downwardly revised figure in March, amid a steady recovery in the economy from the pandemic, and market consensus. The latter version remained at an all-time low in the monthly survey, which was not far from the lowest number seen in August 1974, when the survey was quarterly. The number of unemployed fell 11,000 to 537,100, with people looking for part-time work only 8,200 to 155,600, and those looking for a full-time job fell 2,700 to 381,500. Meanwhile, employment rose by 4,000 to a new peak of 13.402 million, but below market expectations of a 30,000 increase, as full-time employment increased 92,400 to 9,342,900 while part-time employment fell 88,400 to 4,058,800. The participation rate decreased to 66.3%. The underemployment rate decreased 0.2 points to 6.1%, and the underemployment rate decreased 0.3 points to 10%. Monthly hours worked in all jobs increased by 23 million to 1,833 million.
All times are +2 GMT