The most important Economic events this week from the 28th to the 1st of Mar 2022
Tuesday, March 01, 2022 - 23:58
Point Trader Group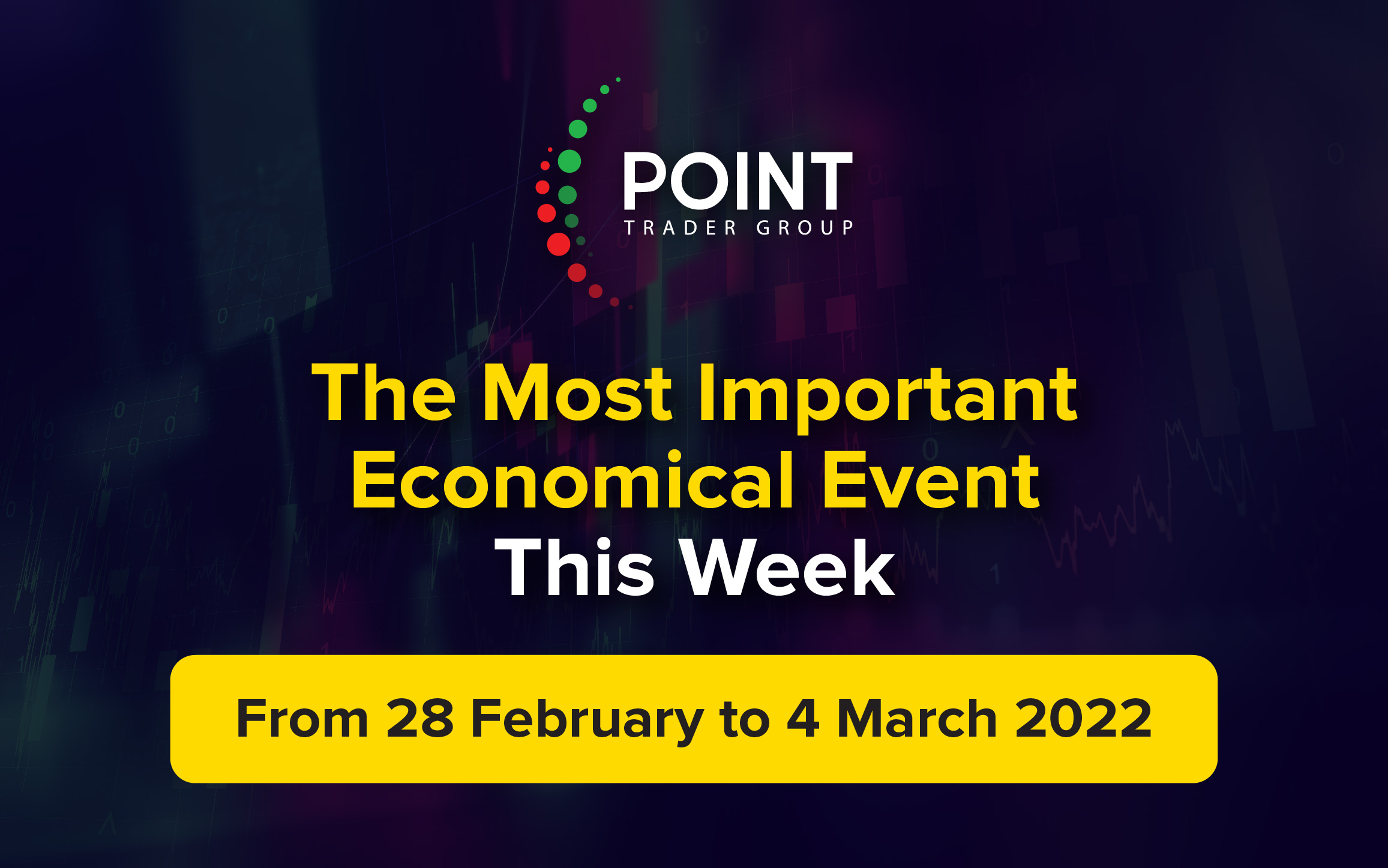 ---
The most important data expected this week
United State
ADP Nonfarm Private Sector Payroll Change (Feb) - Wednesday (03:15pm)
Private companies in the United States unexpectedly cut 301,000 workers in January of 2022, the first job loss since December 2020 and the largest since April 2020, as the spread of the Omicron virus hit the labor market. Investors were expecting a 207K job gain. The largest job losses occurred in the service sector (-274 thousand), namely in leisure and hospitality (-154 thousand); Trade, Transport and Utilities (-62K); Education and Health (-15 K); financial activities (-9k); and information (-8k). The goods production sector lost 27 thousand jobs, due to manufacturing (-21 thousand) and construction (-10 thousand) while the natural resources and mining sector added 4 thousand jobs. Small businesses cut 144 thousand in salaries, 98 thousand large and medium-sized companies 59 thousand. The numbers for December were revised lower to show an increase in jobs of 776K instead of the previously reported 807K.
Testimony of Federal Reserve Chair Powell - Wednesday - Thursday (5 pm)
The FOMC expects it will soon be appropriate to raise the target range for the federal funds rate given that inflation is well above the FOMC's 2 percent long-term goal and a strong labor market, according to the Fed's latest monetary policy report to Congress. . The upward pressure on inflation continued from the prices of goods experiencing bottlenecks in the supply chain and strong demand, such as cars and furniture, and high inflation expanded to a broader range of items. The commission began to phase out net asset purchases in November and accelerated the phase-out in December; Net asset purchases will end in early March.
US Crude Oil Inventories - Wednesday (5:30 pm)
US crude oil inventories rose by 4.515 million barrels in the week ending February 18, the most since October of last year and after an increase of 1.121 million barrels in the previous period. Data from the EIA Petroleum State report showed that it compares with market expectations for a gain of 0.442 million barrels. However, crude oil inventories at the delivery hub in Cushing, Oklahoma, fell by 2.049 million and gasoline stocks fell by 0.582 million barrels, less than market expectations that had been indicating a decline of 1.331 million. Meanwhile, distillate stocks, which include diesel and heating oil, fell by 0.585 million barrels, compared to expectations for a decline of 1.763 million barrels.
Private Sector Employment Report (February) - Friday (3:30 pm)
The US economy unexpectedly added 467,000 jobs in January of 2022, much better than market expectations of 150,000. Employment growth continued in the entertainment and hospitality sectors (151 thousand), especially food services and drinking places (108 thousand) and in the accommodation industry (23 thousand). Further increases were also seen in professional and business services (86 thousand); retail trade (61 thousand); Transportation and storage (54 K). Employment in local government education increased by 29,000 but did not change much in mining, construction, manufacturing, information, financial activities and other services. The January numbers were a big surprise as the omicron coronavirus variable left many Americans unemployed due to illness or family care during the month especially after the ADP report showed that private companies cut 301 thousand jobs, while the White House warned that the data could be very weak The peak of omicron cases coincided with the time of collection of payroll data.
Unemployment Rate (Feb) - Fri (03:30 pm)
The US unemployment rate rose to 4.0 percent in January of 2022, little changed from the new pandemic low in December, but slightly above market expectations of 3.9 percent. Over the year, the unemployment rate decreased by 2.4 percentage points, and the number of unemployed people decreased by 3.7 million.
United kingdom
Composite PMI (Feb)
Services PMI (Feb) - Thursday (11:30 am)
Preliminary estimates showed that the IHS Markit/CIPS UK Services PMI rose to 60.8 in February 2022 from 54.1 in January, well above expectations of 55.5. The reading indicated the strongest growth in services activity since June of last year, amid the epidemic outbreak measures. New order growth was the highest in eight months, amid increased spending on travel, leisure and entertainment, along with another strong demand for business services. However, exceptionally strong input cost inflation (the second highest rate ever) led to a sharp rise in production fees. "However, the new business indicator for the services sector should be monitored for signs that the demand revival is losing steam. Given the rising cost of living, rising energy prices and increasing uncertainty stemming from the escalating crisis in Ukraine, downside risks to the demand outlook are significant," said Chris Williamson, Senior Trade Economists at IHS Markit.
Canada
Bank of Canada Interest Rate Decision - Wednesday (5:00 pm)
The Bank of Canada kept the overnight rate target at 0.25% at its first meeting of 2022, in line with expectations, but said it removed its extraordinary forward guidance to keep the interest rate at an actual minimum, such as the general economy. The recession is now being absorbed, paving the way for the first rate hike since 2018. The central bank will also keep its holdings of Canadian government bonds on its balance sheet roughly constant at least until it starts raising rates. On the price front, inflation is expected to approach 5% in the first half of 2022 and decline reasonably quickly to around 3% by the end of this year. The bank expects the Canadian economy to grow by 4% in 2022 and about 3.5% in 2023.
Ivey PMI (Feb) - Friday (5:00 pm)
Canada's Ivey PMI rebounded to 50.7 in January 2022 from 45 in the previous period, after posting the first contraction in economic activity since January 2021 and the sharpest since May of 2020. The recovery continued with the higher reading in inventories (54.2 vs. 49.6 in December 2021) and prices (92.2 vs. 77.6). Meanwhile, supplier deliveries (24.1 versus 27.7) and employment (49.1 versus 50) fell.
euro
CPI (YoY) (Feb) - Wednesday (12pm)
The Eurozone CPI rose to 110.74 points in January from 110.37 points in December of 2021. Eurozone annual inflation was confirmed at 5.1% in January of 2022, a new record rate and well below 0.9% a year earlier. . Energy remains the largest contributor (with 28.8%); followed by services (2.3%); food, alcohol and tobacco (3.5%); and industrial non-energy goods (2.1%). Excluding energy, inflation was 2.5%. Among the bloc's largest economies, Spain (6.2%) had the highest rate, followed by Germany (5.1%), Italy (5.1%) and France (3.3%). Inflation remains well above the European Central Bank's 2% target amid Europe's energy crisis that has driven up the cost of natural gas, coal and electricity sharply while improving demand and supply constraints linked to the pandemic continue to pressure prices.
European Central Bank Bulletin of Monetary Policy Meeting - Thursday (02:30 pm)
The European Central Bank kept key interest rates at record lows in February 2022 and pledged to steadily reduce its bond purchases this year, despite a record rise in inflation. However, during the press conference, President Lagarde said inflation risks are to the upside but pressures should ease and the central bank in March will be in a better position to assess monetary policy. Also, Lagarde refused to rule out an interest rate increase this year, saying the bank would assess conditions very carefully and that "there are no commitments without conditions." The bank confirmed that it will stop buying net assets at the end of March 2022, and that monthly net purchases will reach 40 billion euros in the second quarter, 30 billion euros in the third quarter, and 20 billion euros from October onwards and as long as necessary to consolidate. The adaptive effect of its policy rates. The central bank also expects the net buying to end shortly before the start of the ECB's key rate hike