The most important economic events this week from the 4th to the 8th of April 2022
Wednesday, April 06, 2022 - 01:46
Point Trader Group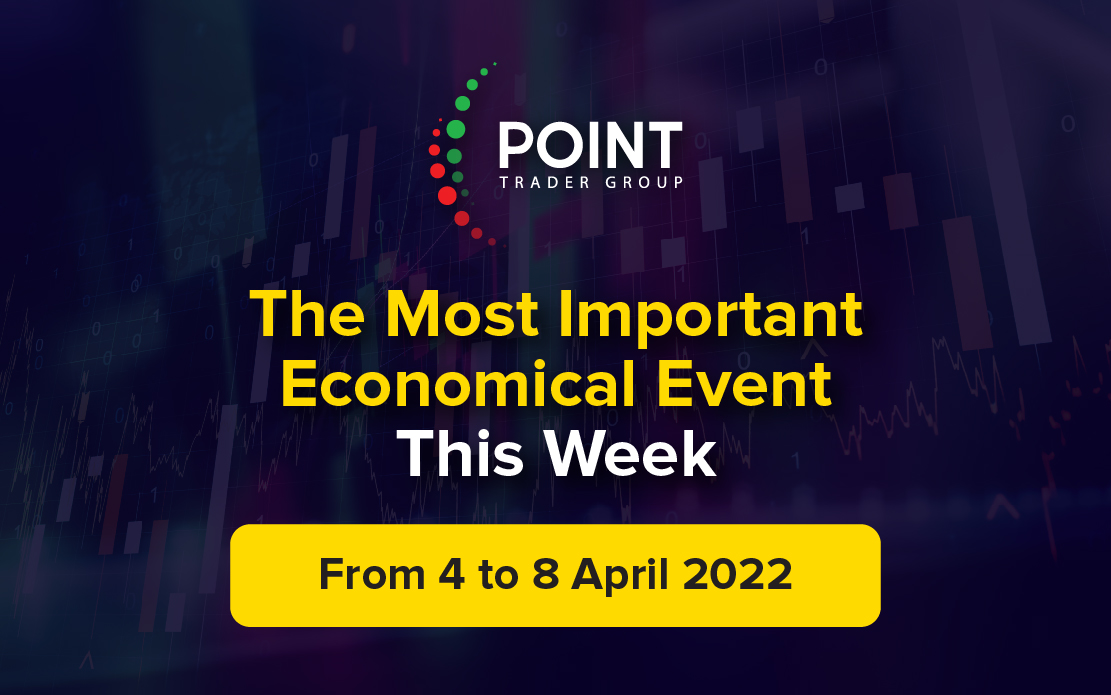 ---
The most important data expected this week
United State
Unemployment Claims Rates - Thursday (2:30 pm)
The number of Americans filing new claims for unemployment benefits rose by 14 thousand to 202 thousand in the week ended March 26, exceeding market expectations of 197 thousand. However, it was not far from the prior period's revised level of 188K, which was the lowest since 1969. On a non-seasonal rate basis, initial claims rose by 13,121 from the previous week to 195,460, with notable increases being recorded in California ( 3,893), Michigan (3,553), Ohio (3,518) and Texas (2,106). The four-week moving average that removes week-to-week volatility was 208,500, down 3,500 from the previous week's revised average and continuing claims were at 1.307 million in the week ended March 19.
US Crude Oil Inventories - Wednesday (4:30 pm)
US crude oil inventories fell by 3.449 million barrels in the week ending March 25, the largest drop in seven weeks and exceeding market expectations for a decline of 1.022 million barrels, data from the Energy Information Administration's State of Petroleum report showed. Crude stocks at the delivery center in Cushing, Oklahoma also fell by 1.009 million. Meanwhile, gasoline stocks rose by 0.785 million barrels, the first increase since the end of January compared to market expectations for a 1.744 million barrel decline. Distillate stocks, which include diesel and heating oil, rose by 1.394 million barrels, versus expectations for a decline of 1.55 million barrels.
FOMC Meeting Minutes - Wednesday (8:00 pm)
Fed Governor Lyle Brainard said the Fed will continue to tighten monetary policy through a series of interest rate increases and will begin shrinking the balance sheet at a rapid pace as soon as next month. Lyle Brainard expects the combined effect of raising interest rates and lowering the balance sheet to make the policy stance more neutral later this year, notes prepared for her address to the Federal Reserve in Minneapolis showed. Brainard also added that it is critical to bring down inflation, as it is very high and prone to upside risks. The Fed raised the target for the federal funds rate by a quarter point to 0.25%-0.5% during its March 2022 meeting for the first time in three years and signaled continued rate hikes in the future. The Fed is now seeing a rate hike in each of the remaining six meetings this year, with the Fed funds rate reaching 1.9% by the end of the year.
United kingdom
Construction PMI - Wednesday (10:30 am)
The IHS Markit/CIPS UK Construction PMI printed at 59.1 in February, up from 56.3 in January to indicate the strongest rise in output since mid-2021. The benchmark has now posted above the neutral 50.0 threshold in each of the past 13 months. Construction companies commented on the strongest rise in production amid greater customer confidence and work on new projects to start. Builders continued to report widespread supply constraints and a rapid increase in input costs, although the rate of inflation in the latter was the least severe for 11 months. However, the ongoing turmoil has dampened the outlook for next year's activity, with confidence at its lowest level since January 2021.
Euro-zone
European Central Bank Bulletin of Monetary Policy Meeting - Thursday (1:30 pm)
The European Central Bank surprisingly accelerated the asset purchase schedule for the coming months during its March 2022 meeting and said the APP could expire in the third quarter if inflation expectations do not weaken in the medium term. Monthly net purchases will now reach €40 billion in April, €30 billion in May and €20 billion in June, compared to €40 billion in the second quarter, €30 billion in the third quarter and €20 billion in the preselected fourth quarter. . But during the press conference, President Lagarde indicated that such a move does not mean an acceleration or a tightening, but rather a process of normalization due to high inflation. Lagarde also said that the European Central Bank now sees inflation at 5.1%, up from the 3.2% forecast early on, while this year's GDP growth is slightly lower at 3.7% compared to 4.2%. Regarding the war in Ukraine, Lagarde said it would "have a material impact on economic activity and inflation through higher energy and commodity prices, disruption of international trade and weakening of confidence."
Canada
Ivey PMI (March) - Wednesday (16:00 PM)
Canada's Ivey Purchasing Managers' Index rose to 60.6 in February 2022 from 50.7 the previous month, indicating continued improvement in business conditions in Canada. It was the highest reading since November 2021, as companies expanded their workforce at a faster pace (60.3 from 49.1 in January). On the price front, inflation eased (88.5 from 92.2), as inventories remained higher (62.1 from 54.2) and supplier deliveries were slower than the previous month (31.9 from 24.1).
Unemployment Rate and Other Employment Data (March) - Fri (02:30 pm)
Canada's unemployment rate fell to 5.5% in February 2022 from 6.5% in January, well below market expectations of 6.2%. It was the lowest unemployment rate since January 2020, officially reaching pre-pandemic levels 25 months later and just 0.1 percentage point from an all-time low of 5.4% in May 2019 amid the easing of public health restrictions. In addition, all age groups of men and women experienced unemployment at or below pre-pandemic levels. The number of the unemployed shrank by 206,000 (-15.4% to 1,140,000), while the long-term unemployed fell for the fourth consecutive month by 51,000 (-19.4% to 212,000). The youth unemployment rate fell to 10.9% in February from 13.6% the previous month. Meanwhile, the labor force participation rate rose to 65.4% from 65% in January.