The most important economic data expected for this week from 07 to November 11, 2022
Tuesday, November 08, 2022 - 09:19
Point Trader Group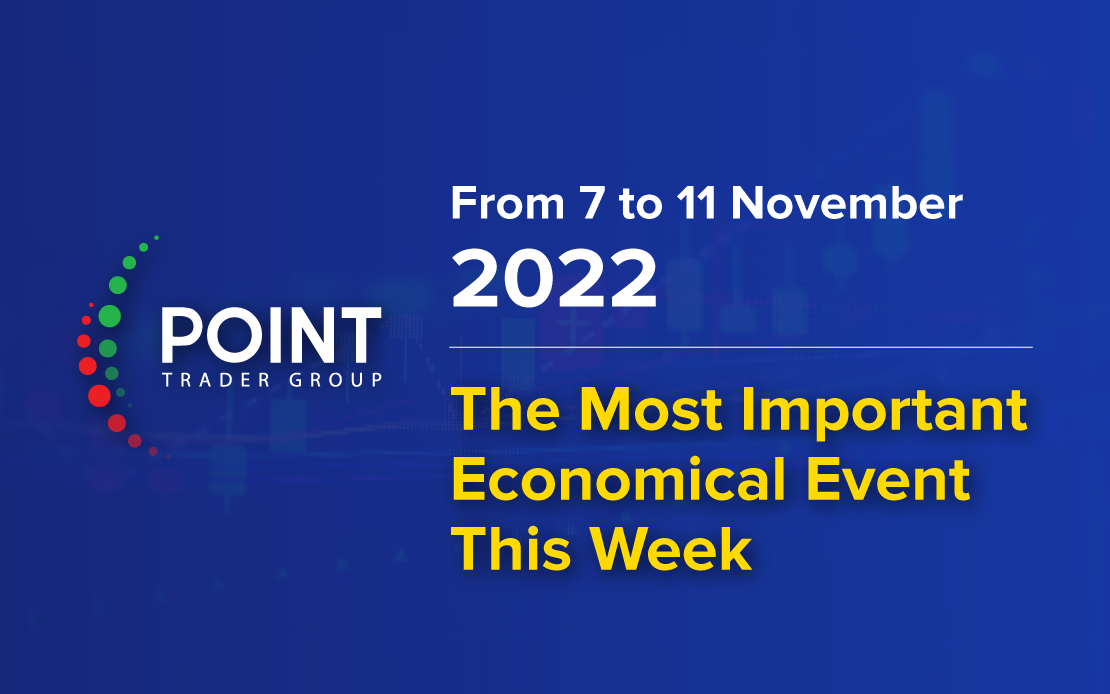 ---
The most important data expected this week
United State
US Crude Oil Inventories - Wednesday (05:30 PM)
The latest report from the US Energy Information Administration showed that US crude oil inventories fell by 3.115 million barrels in the week ending October 28, compared to market expectations for an increase of 0.367 million barrels. Gasoline inventories also fell by 1.257 million, less than market expectations of a draw of 1.358 million. On the other hand, crude oil inventories in Cushing, Oklahoma, rose by 1.267 million barrels after an increase of 0.667 million barrels. Distillate inventories, which include diesel and heating oil, increased by 0.427 million, versus expectations for a decline of 0.56 million.
Core CPI (Excluding Food and Energy) (MoM) (October) - Thursday (03:30 PM)
The annual core inflation rate in the United States accelerated to 6.6% in September 2022, the highest rate since 1982 from 6.3% the previous month and above market expectations of 6.5%. On a monthly basis, core prices excluding energy and food prices rose 0.6%, the same as the previous month, and above market expectations for a 0.5% rise. Shelter, Medicare, auto insurance, new vehicles, furnishings, household operations, and education were among the indicators that increased during the month. There were some indicators that fell in September, including those for used cars and trucks, clothing, and communications.
Unemployment Claims Rate - Thursday (03:30 pm)
The number of Americans filing new claims for unemployment benefits fell by 1,000 to 217,000 in the week to October 29, below market expectations of 220,000. The result indicated that labor market conditions remained tight, supporting the hawkish policy indicated by the Federal Reserve at its November meeting. On a seasonally unadjusted basis, initial claims increased by 1,174 to 185,594, with a marked increase in California (+2,535) and a sharp decrease in Florida (-1,832). The four-week moving average, which removes weekly volatility, decreased by 500 individuals to 218,750. Meanwhile, continuing claims rose to 1.49 million in the week ending October 22, the highest level since March.
Britain
GDP (MoM) - Friday (09:00 AM)
The British economy contracted 0.3% month-on-month in August 2022, following a downward 0.1% rate increase in July and compared to market expectations of a flat reading. Production decreased by 1.8% with manufacturing declining by 1.6% due to maintenance of oil and gas facilities in the North Sea. Services decreased 0.1%, led by human health and social work activities, and arts, entertainment and leisure activities decreased 1.3% and 5.0%, respectively, partially offsetting a 1.2% growth in professional, scientific and technical activities. Meanwhile, construction grew 0.4%, led by a 1.9% increase in new work, with repair and maintenance down 2%. Looking at the three months ending in August, the UK economy also contracted by 0.3%.
Manufacturing Production (MoM) (September) - Friday (09:00 AM)
UK industrial production fell 6.70 per cent in August of 2022 compared to the same month the previous year. It marks the tenth consecutive month of factory output decline, and the largest decline since May 2020.
Germany
German CPI (MoM) (October) - Friday (09:00 AM)
Consumer price inflation in Germany rose to 10.4 percent year-on-year in October 2022, a new all-time high and above market expectations of 10.1 percent, buoyed by a weaker euro, a worsening energy crisis and continued supply chain disruptions. Commodity inflation rose to 17.8% from 17.2% in September, driven by higher energy prices (43.0% vs. 43.9%) and a sharp acceleration in food inflation (20.3% vs. 18.7%). In addition, service prices rose at a faster rate of 4.0 percent, compared to 3.6 percent in September, with rental inflation rising to 1.8 percent from 1.7 percent. On a monthly basis, consumer prices rose 0.9 percent in October, beating market expectations of 0.6 percent.
all times are +2gmt