The most important economic data this week from 1 to 5 August 2022
Monday, August 01, 2022 - 14:56
Point Trader Group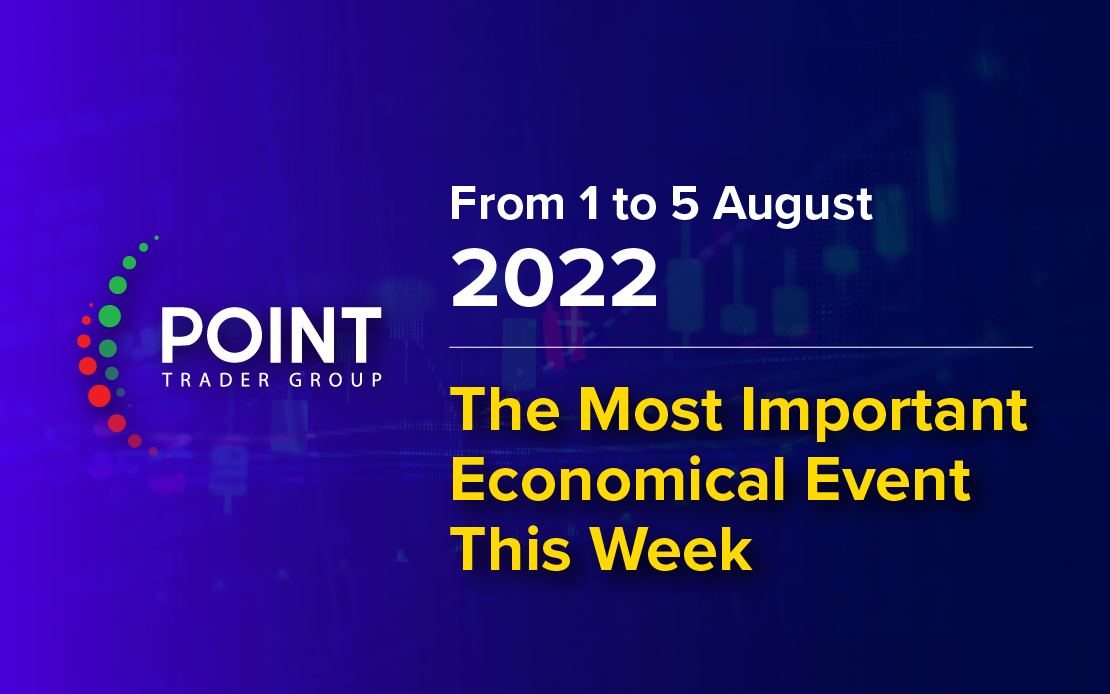 ---
The most important data expected this week
United State
Job Opportunities (JOLTs) (June) - Tuesday (4:00 pm)
The number of job vacancies in the United States reached 11.3 million in May of 2022, down slightly from 11.7 million in April and up from 11.9 million in March. The numbers came in above market expectations of 11 million and are still above pre-pandemic levels, indicating that demand for workers has remained strong. The largest declines in employment were in professional and business services (-325.000), durable goods manufacturing (-138.000), and nondurable goods manufacturing (-70.000). Meanwhile, about 4.3 million Americans quit their jobs in May, little changed from the previous month, as the quit rate fell to a four-month low of 2.8%, and there were 1.9 jobs for every unemployed person.
Institute of Supply Management (ISM) Non-Manufacturing PMI (July) - Wednesday (04:00 PM)
The ISM Services Purchasing Managers' Index fell to 55.3 in June 2022 from 55.9 in May, but continued to indicate solid growth for the services sector, exceeding market expectations of 54.3. The slight slowdown was due to softer new orders (55.6 vs. 57.6) and lower employment (47.4 vs. 50.2) while business activity rose faster (56.1 vs. 54.4) and price pressures eased for a second month (80.1 vs. 82.1). At the same time, stocks contracted for the first time since January 2022 (47.5 vs. 51). However, the outlook remains tough as "logistical challenges, a constrained labor complex, material shortages, inflation, the coronavirus epidemic and the war in Ukraine continue to negatively impact the service sector" The stock confidence index (46.2 vs. 44.5) in June shrank for the fourth month. Respectively, indicating that stocks are in the "too low" area and insufficient for current business requirements.
US Crude Oil Inventories - Wednesday (4:30 pm)
US crude oil inventories fell by 4.523 million barrels in the week ending July 22, the largest drop in eight weeks and four times expectations for a decline of 1.037 million barrels. Crude stocks in Cushing, Oklahoma, rose 0.751 million barrels, up from 1.143 million barrels per injection in the previous period. Gasoline stocks fell by 3.304 million barrels, compared to expectations for a decline of 0.857 million. Distillate stocks, which include diesel and heating oil, rose by 0.784 million barrels, beating expectations for an increase of 0.5 million.
Trade Balance - Thursday (02:30 PM)
The US trade deficit narrowed by $1.1 billion to a five-month low of $85.5 billion in May of 2022, compared to market expectations of $84.9 billion, as exports hit a record high, while higher prices and slowing domestic demand weighed on imports. Total exports rose 1.2% to an all-time high of $255.9 billion, led by sales of industrial supplies and materials, crude oil, non-monetary gold, natural gas, pharmaceuticals and financial services. Imports increased less than 0.6% to $341.4 billion, led by crude oil and other petroleum products, travel (the highest since before the pandemic) and transportation, while purchases of consumer goods declined. The goods deficit widened with China ($-31.5 billion), the European Union ($-21.4 billion) and Canada ($-9.8 billion), but narrowed with Mexico ($-10.6 billion) and Russia ($-1 billion).
Private Sector Employment Report (July) - Friday (02:30 pm)
The US economy added 372 thousand jobs in June of 2022, much better than market expectations of 268 thousand and just below 384 thousand in May. The numbers came in line with the average monthly gain of 383K over the previous three months, and still indicate a tight labor market. A significant growth in jobs occurred in professional and business services (74 thousand), namely, management of companies and organizations (12 thousand) and design of computer systems and related services (10 thousand); Leisure and hospitality (67 thousand), especially food services and drinking places (41 thousand); and health care (57 thousand), including mobile health care services (28 thousand) and hospitals (21 thousand). Also, employment in manufacturing increased by 29 thousand and returned to its level in February 2020. The June numbers left non-farm payrolls down by only 524 thousand, or 0.3%, from the pre-pandemic level in February 2020. Employment in the private sector has recovered job losses due to the pandemic. It is 140K higher than February 2020.
Unemployment Rate (July) - Fri (2:30 pm)
The US unemployment rate was unchanged at 3.6 percent in June of 2022, the same rate as in the previous three months, and remained the lowest since February 2020 and in line with market expectations. The number of unemployed decreased by 38 thousand to 5.912 million, while employment levels decreased by 315 thousand to 158.111 million. Meanwhile, the labor force participation rate fell to 62.2% in June versus 62.3% in May.
United kingdom
Services PMI (July) - Wednesday (10:30 am)
Flash estimates showed that the S&P Global/CIPS UK Services PMI fell to 53.3 in July 2022 from 54.3 in June, above market expectations of 53. However, the latest reading indicated the weakest expansion in services activity in 17 months. New order volumes continued in July amid flexible consumer spending on travel and leisure services. On the price front, severe wage pressures due to staff shortages and high consumer price inflation continued to increase cost burdens. Looking ahead, some service sector companies have pinned hopes for only a short slowdown in customer demand and a long-term increase from the COVID-19 recovery and improved supply capacity.
BoE Rate Decision (August) - Thursday (0:00 PM)
The Bank of England raised its key interest rate by 25 basis points to 1.25% at its June 2022 meeting, its fifth consecutive rate hike and pushing borrowing costs to a 13-year high as it tries to cool high inflation. However, three policymakers voted for a larger 50 basis point increase and the central bank raised its commitment to bring inflation back to the 2% target and act aggressively if necessary. The central bank now expects inflation to exceed 9% over the next few months and to rise to just over 11% in October, while GDP growth is expected to slow sharply during the first half of the forecast period.
Australia
RBA Rate Decision (August) - Tuesday (06:30 AM)
The Reserve Bank of Australia raised its benchmark interest rate by 50 basis points to 1.35% during its July 2022 meeting. The move followed a June 50 basis point rise and a 25 basis point increase in May, raising the liquidity ratio to a level not seen since May 2019. The Board reiterated that massive monetary support is no longer required due to the strength of the economy and the current situation. Inflation pressures, adding that it was committed to tighten further with the volume and timing of incoming data. The central bank also saw that the labor market remained strong, with employment remaining at its lowest level in nearly 50 years, while a further decline in the unemployment rate is expected in the future. The Committee reiterated its commitment to do what is necessary to ensure that inflation returns to the target with attention to the global outlook still clouded by the war in Ukraine and its impact on energy and commodity prices. The Board of Directors raised the interest rate on exchange-settled balances by 50 basis points to 1.25%.
Time +2 GMT