The most important economic data this week from 24 to 28 Oct 2022
Tuesday, October 25, 2022 - 09:41
Point Trader Group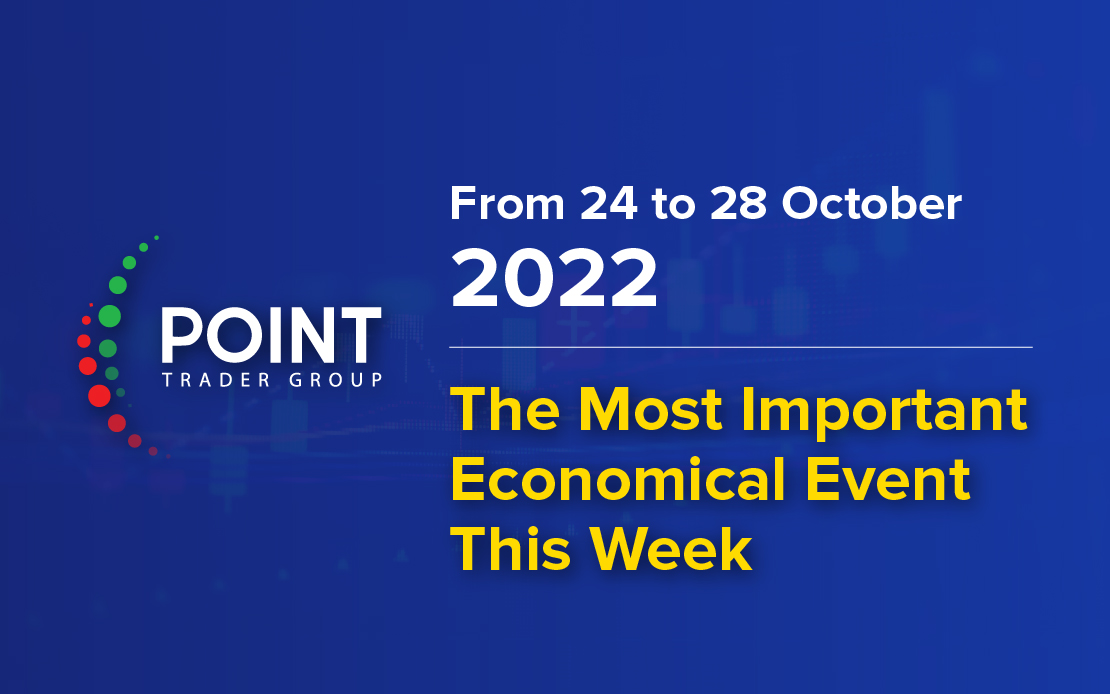 ---
The most important data expected this week
United State
New Home Sales (September) - Wednesday (4:00 pm)
New home sales in the US rose 28.8% from the previous month to a 5-month high of 685,000 in August of 2022, above market expectations of 500,000. It was the largest increase since June 2020 as sales rose in the Northeast (66.7%), Midwest (16.7%), South (29.4%) and West (27.5%). The median sale price of new homes sold was $436,800, up 8% from last year, but the smallest increase since November 2020 and the median sale price was $521,800. There are 461,000 homes for sale, which equates to 8.1 months of supply in stock.
US Crude Oil Inventories - Wednesday (4:30 pm)
The latest report from the US Energy Information Administration showed that US crude oil inventories fell by 1.725 million barrels in the week ending October 14, compared to market expectations for an increase of 1.38 million barrels. Gasoline inventories also decreased by 0.114 million, less than market expectations of 1.114 million. On the other hand, distillate inventories, which include diesel and heating oil, rose by 0.124 million, versus expectations for a decrease of 2.167 million. Crude stocks in Cushing, Oklahoma, rose by 0.583 million barrels, after falling by 0.309 million.
Core Durable Goods Orders (MoM) (September) - Thursday (2:30 PM)
New orders for US-manufactured durable goods fell 0.2% month over month in August of 2022, after a 0.1% rate drop in July and compared to market expectations for a larger 0.4% decline. Transportation equipment led to the decline (-1.1%), specifically non-defense aircraft and their parts (-18.5%). Further declines were seen in manufactured metal products (-0.7%) and non-defense capital goods (-2.7%). In contrast, increases in orders were observed for defensive aircraft and their parts (31.2%); defensive capital goods (10.1%); electrical equipment and appliances (1%); computers and electronics (0.8%); and primary minerals (0.4%). Orders for non-defense capital goods excluding aircraft, a proxy for investment in equipment, jumped 1.3%, more than 0.7% in July, beating expectations for a 0.2% rise.
GDP (QoQ) (Q3) - Friday (02:30 PM)
The US economy contracted by 0.6% annually on a quarterly basis in the second quarter of 2022, which matches the second estimate, and confirms that the economy has technically entered a recession, after a 1.6% decline in the first quarter. Private inventories and fixed investment were the main drawdown factors in the second quarter. At the same time, the upward revision of consumer spending was balanced by the downward revision of exports. Meanwhile, the GDP growth rate for 2021 was revised upwards to 5.9% from an initial 5.7%. Also, the economy contracted by 2.8% in 2020, less than an initial decline of 3.4%. But for 2022, the Fed recently forecast a meager 0.2% expansion, as aggressive interest rate increases are expected to trigger a significant downturn in economic activity.
Unemployment Claims Rates - Thursday (2:30 pm)
The number of Americans filing new claims for unemployment benefits fell by 12,000 to 214,000 in the week ended October 15, well below market expectations of 230,000. The results halted expectations of a labor market slump that appeared with previous releases in October, strongly supporting hawkish rhetoric from the Federal Reserve and boosting bets on prolonged restrictive monetary policy. On a non-seasonally adjusted basis, initial claims decreased by 20,003 to 178,369, with notable declines in Florida (-3.856) and California (-2.354). The four-week moving average, which removes weekly volatility, increased by 1,250 individuals to 212.250 individuals.
Core PCE Price Index (MoM) (September) - Friday (2:30 PM)
US personal spending rose 0.4% month over month in August of 2022, beating market expectations for a 0.2% increase. Spending on services increased, led by housing, utilities, transportation, and health care while consumption of goods, particularly gasoline and other energy goods, declined. Gasoline prices fell 11.8% to $3,691 a gallon in August compared to July. However, personal spending data for July was revised lower to show a 0.2% decrease, compared to the initial reading of 0.1% rise. Consumption was resilient in the first half of the year, but is showing signs of cooling, with Fed monetary policy continuing to tighten, energy costs remaining high, and inflation stabilizing near 40-year highs, weighing on consumers' affordability.
Pending Home Sales Index (MoM) (September) - Friday (4:00 pm)
US pending home sales fell 2% month over month in August of 2022, the third consecutive monthly decline, and worse than market expectations for a 1.4% decline. For the second month in a row, pending sales declined in the Northeast (-3.4%), Midwest (-5.2%) and South (-0.9%), while the West, again, posted a slight increase (1.4%). "The trend of mortgage rates – up or down – is the main driver of home buying, and high contract rates have severely reduced contract signings. If mortgage rates moderate and the economy continues to add jobs, home buying should stabilize as well," said NAR Chief Economist. Lawrence Yun.
Euro-zone
ECB Rate Decision (October) - Thursday (02:15 am)
European Central Bank policymakers have worried about price hikes across the region, saying that inflation will likely remain above the central bank's target for an extended period and that growth concerns should not prevent the needed increase in interest rates, calculates the central bank's policy meeting in September. show up. Officials also said the central bank's response to upward deviations from the ECB's target should be as strong as it was when inflation was very low, as inflationary pressures from the depreciation of the euro could increase further, while lower exchange rates were limited. Supporting economic activity in an environment of bottlenecks and a persistent shortage of global supply. The European Central Bank raised interest rates by 75 basis points more than expected in September and indicated that more increases should be delivered in the coming months, with market rates already rising by another 75 basis points in October.
Germany
German CPI (MoM) (October) - Friday (10:00 AM)
Germany's annual inflation rate was confirmed at 10% in September 2022, and has reached the new high since the reunification of the 1990s, highlighting the impact of the ongoing energy crisis. Commodity inflation rose to 17.2% from 14.7% in August, driven by higher energy costs (43.9% vs. 35.6% in August) and food (18.7% vs. 16.6%). Additionally, prices for services rose faster (3.6% vs. 2.2%), with rental prices up 1.8%. Prices of energy products rose sharply, especially heating oil (108.4%), natural gas (95.1%), electricity (21.0%), and motor fuels (30.5%). On a monthly basis, consumer prices rose 1.9% in September, the largest increase since March near a record high of 2.5%. The consumer price index, harmonized compared to other European countries, rose 10.9% year-on-year, the highest level at least since 1996, and rose 2.2% month-on-month, the highest level in six months.
Canada
Bank of Canada Interest Rate Decision - Wednesday (4:00 pm)
The Bank of Canada raised its target overnight interest rate by 75 basis points to 3.25% in September 2022, in line with market expectations. This is the fifth consecutive rate increase, pushing borrowing costs to their highest levels since 2008. Policymakers also said interest rates will need to rise further given inflation expectations, with surveys suggesting short-term inflation expectations remain. High. The central bank also said it will continue its quantitative tightening policy. Meanwhile, policymakers noted that the global and Canadian economies are broadly developing in line with the bank's July forecast and that the effects of the COVID-19 outbreak, ongoing supply disruptions and the war in Ukraine continue to dampen growth and boost prices.
Japan
Central Bank of Canada Interest Rate Decision - Friday (5:00 am)
The Bank of Japan kept its short-term key rate at -0.1% and 10-year bond yields at around 0% during its September meeting, hours after the US raised 75 basis points, its third straight hike, and indicated that more increases would be delivered. at future meetings. Policy makers stated that the Japanese economy is expected to be under downward pressure from rising commodity prices due to the protracted war in Ukraine. However, the economy is likely to recover, as the impact of COVID and supply chain issues abate. On the price side, inflation has been in the range of 2.5 to 3%, with the yen at its weakest level in more than 20 years. The Bank of Japan said it will continue to buy unlimited amounts of bonds to defend an implied cap of 0.25% each day in the market, as it has been doing since April. The Board of Directors also decided to cancel the pandemic relief loan scheme while expanding liquidity operations targeting a wider range of corporate financing needs.
all times are +2gmt