The most important economic events this week from 11 to 15 April 2022
Wednesday, April 13, 2022 - 15:34
Point Trader Group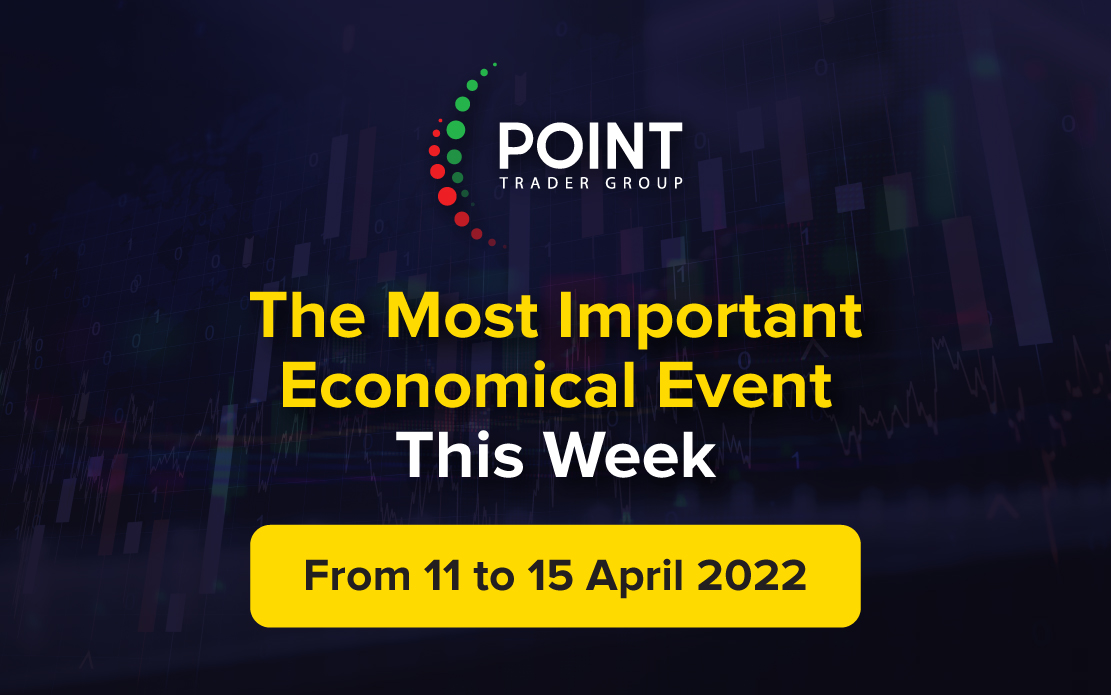 ---
The most important data expected this week
United State
Producer Price Index (MoM) (March) - Wednesday (2:30 pm)
US producer prices rose 0.8% per month in February of 2022, less than the upwardly-adjusted 1.2% rise in January and slightly less than market expectations of 0.9%. Commodity prices jumped 2.4%, the biggest advance since the data was first calculated in December 2009, mainly due to a 14.8% rise in gasoline costs. In contrast, the index of fresh and dry vegetables decreased by 9.4%. Meanwhile, services prices were unchanged as a 1.9% rise in the cost of transportation and warehousing services, and a 0.2% increase in commercial services margins on final demand, offset a 0.4% decrease in the final demand services index minus trade, transport and warehousing. . On an annual basis, producer inflation remained unchanged at 10%. However, the February numbers do not show the rise in oil and other commodity prices after the Russian invasion of Ukraine on February 24.
US Crude Oil Inventories - Wednesday (4:30 pm)
Data from the Energy Information Administration's State of Petroleum report showed that US crude oil inventories rose by 2.421 million barrels to 412.4 million barrels in the week ending April 1, after a decrease of 3.449 million barrels and compared to market expectations for a decline of 2.056 million barrels. Meanwhile, crude oil inventories in Cushing, Oklahoma, rose by 1.654 million barrels, and distillate stocks, which include diesel and heating oil, rose 0.771 million barrels to 114.3 million barrels, versus expectations for a decline of 0.819 million. Gasoline stocks fell 2.041 million barrels to 236.8 million barrels, while markets had expected an increase of 0.063 million barrels.
Unemployment Claims Rates - Thursday (2:30 pm)
The number of Americans filing new claims for unemployment benefits fell by 5,000 to 166,000 in the week to April 2, returning to levels not seen since 1968. The numbers came in well below market expectations of 200,000, in another sign of the market narrow work. Strong demand for labor. The Ministry of Labor revised the methodology used for the seasonal adjustment of national initial claims and continuation of claims to reflect the change in estimating models. On a seasonally unadjusted basis, initial claims declined 3,674 from the previous week to 193,137, with notable declines being reported in Michigan (-2,599), Texas (-2,569) and New Jersey (-1,412). The 4-week moving average that removes weekly volatility was 170,000, down 8,000 from the previous week's revised average.
Retail Sales (MoM) (March) - Thursday (02:30 PM)
US retail sales rose 0.3% monthly in February 2022, easing from an upwardly revised 4.9% jump in January and less than market expectations of a 0.4% rise, as higher inflation curbed purchasing power. Sales at gas stations posted the largest increase (5.3%) as gasoline prices rose about 7% last month, but excluding gas stations, retail sales fell 0.2%. Further increases in sales were also seen in food services and drinking places (2.5%) as omicron infections subsided; miscellaneous department store retailers (1.9%); sporting goods, hobbies, music and libraries (1.7%); clothing (1.1%); building materials and garden equipment (0.9%); and car dealers (0.8%). On the other hand, the retail sales of out-of-store retailers decreased (-3.7%); Health and personal care stores (-1.8%); furniture stores (-1%); and food and beverage stores (-0.5%).
New Zealand
RBNZ Rate Decision - Wednesday (03:00 AM)
The Reserve Bank of New Zealand raised its official cash rate (OCR) by 25 basis points to 1.0% during its February meeting, as was widely expected. This was the third straight increase that has taken borrowing costs to pre-pandemic levels, amid rising inflation and rising home prices. The council stated that more monetary tightening is needed to cool the hot economy, adding that the liquidity ratio will reach 2.2% by the end of this year and 2.57% by March 2023, a path more aggressive than 2.1% and 2.3%. In November forecast. The committee also stated that it will begin phasing out its bond holdings under the Large Asset Purchase Program (LSAP) through bond maturities and managed sales. However, policy makers acknowledged that the spread of the Omicron COVID-19 variant would further disrupt economic activity and affect consumer and investor confidence in the near term.
Euro-zone
ECB Rate Decision (April) - Thursday (1:45 pm)
Some European Central Bank policymakers argued that it was no longer clear that the pace of asset purchases had continued in proportion and the general view was that buying had now hit the target, as the minutes of the last meeting on March 9-10 showed. At the same time, a large number of policy makers believe that the current and persistent high level of inflation has called for immediate steps towards monetary policy normalization while the conditions for raising rates have been met or are on the verge of being met. The European Central Bank surprisingly accelerated the asset purchase schedule for the coming months during its March 2022 meeting and said the APP could expire in the third quarter if inflation expectations do not weaken in the medium term.
Canada
Central Bank of Canada Interest Rate Decision - Wednesday (16:00 pm)
The Bank of Canada increased its overnight rate target by 25 basis points to 0.5%, the first increase since October 2018, assuring that it will use monetary policy tools to return inflation to the 2% target and keep inflation expectations steady. The bank also said it is continuing the reinvestment phase, keeping the total holdings of government bonds on its balance sheet roughly constant until it is adequate to allow the size of its balance sheet to decline. Near-term inflation is now expected to be higher than expected in January, raising the risk that long-term inflation expectations will drift higher. The Board of Governors anticipates that interest rates will need to rise further as the economy continues to expand and inflation pressures continue to rise. On the current war in Ukraine, the Bank indicated that it is a major new source of uncertainty.
Turkey
Interest Rate - Thursday (1 pm)
Turkey's central bank left its one-week key repurchase rate steady at 14% as expected during its March 2022 meeting saying the increase in inflation was driven by rising energy costs from the growing regional conflict, the temporary effects of pricing formations unsupported by economic fundamentals, supply-side factors and constraints Supply and demand developments. The Committee expects that the process of reducing inflation will begin against the background of the measures taken and follow-up decisively to achieve sustainable price and financial stability, along with the decrease in inflation due to the primary impact and the resolution of the ongoing regional conflict. The Central Bank of Turkey will continue to decisively use all available tools within the lira strategy until strong indicators point to a permanent reduction in inflation and the 5 percent target is achieved over the medium term in pursuit of the primary objective of price stability.