The most important Economic events this week from 17.01 to 21.01.2022
Tuesday, January 18, 2022 - 19:02
Point Trader Group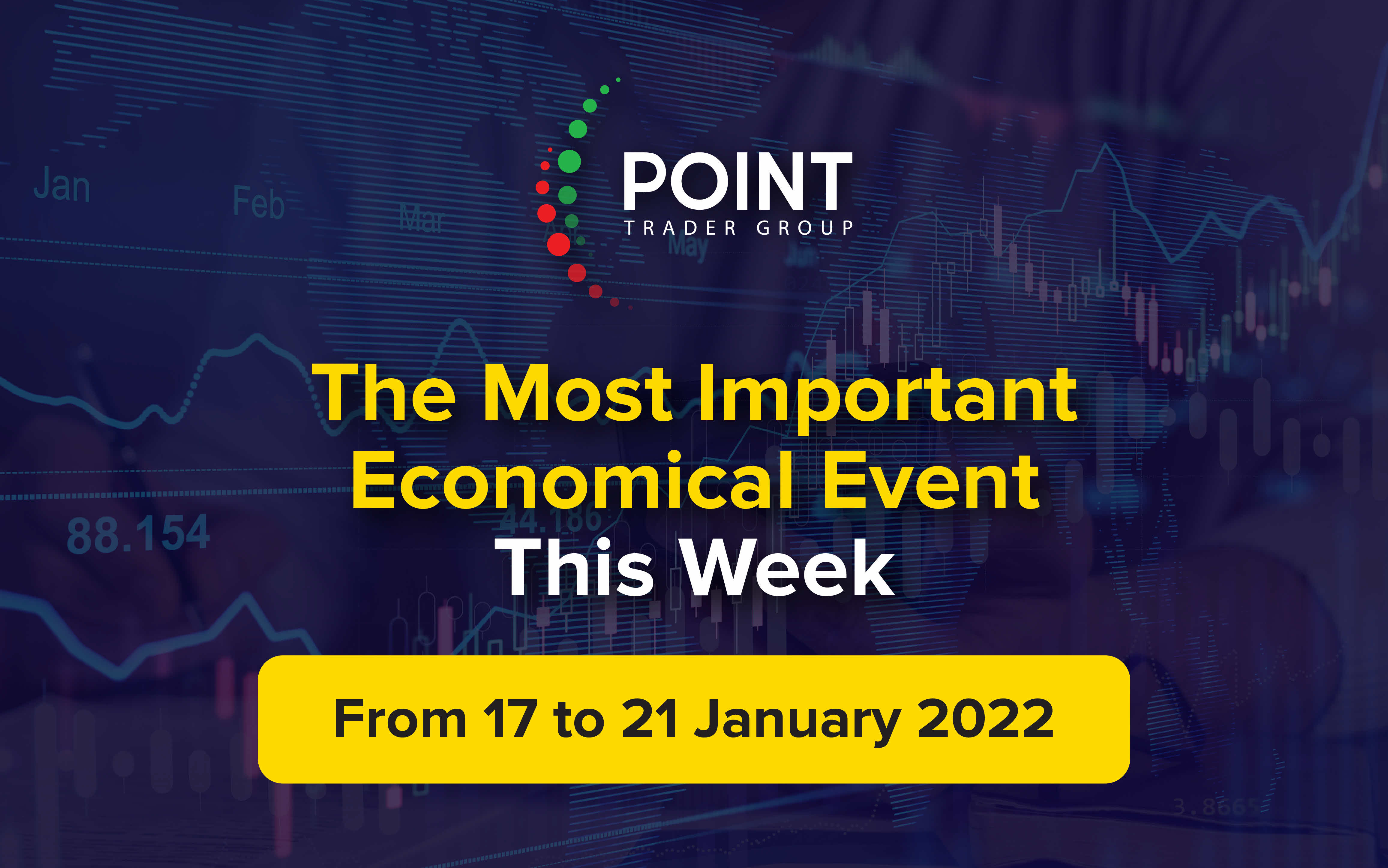 ---
The most important data expected this week
United State
Building Permits - Wednesday (30:15 pm)
US building permits rose 3.6 percent from the previous month to a seasonally adjusted annual rate of 1.712 million in November 2021, above market expectations of 1.663 million. Permits for buildings of five units or more jumped 6.1 percent to an average of 560,000, and single-family permits increased 2.7 percent to 1.103 million. Permits increased significantly in the Northeast (12.4 percent to 145 thousand); in the South (4.9 percent against 901 thousand); West (4.6 percent to 451 thousand); While permits fell in the Midwest (-8.1 percent to 215 thousand).
Unemployment Claims Rates - Thursday (3:30 pm)
The number of Americans applying for new unemployment benefits increased by 23 thousand from the previous period, the largest in 8 weeks, to 230 thousand in the week ending January 8, compared to market expectations of 200 thousand, as cases of the Corona virus rose. The Omicron variant drove disruptive activity from airlines to schools. However, claims remained below the pre-pandemic level, indicating continued tightening of labor market conditions with the US economy expanding at a robust pace and labor demand remaining strong. Claims hit a 52-year low of 188,000 during the first week of December. On a seasonally unadjusted basis, initial claims jumped 104K to 419K, with notable increases being recorded in California (12.8K), New York (10.8K), Texas (9.4K), Kentucky (8.5K) and Missouri (7.3K).
Existing Home Sales - Thursday (5pm)
Existing home sales in the United States, which are completed transactions that include single-family homes, condominium homes, condominiums and co-ops, grew 1.9% from October to a seasonally adjusted annual rate of 6.46 million in November, less than market expectations of 6.52 million. Sales rose in the Midwest, South, and West, while they were flat in the Northeast. Home inventories totaled 1.11 million units, down 9.8% from October. The median existing home price was $353,900, up 13.9% from November 2020, as prices rose in each area, with the highest rate of increase in the South. "Determined buyers were able to get housing before mortgage rates rose further in the coming months," said Lawrence Yun, chief economist at NAR. "The steady and steady payment of mortgage payments has spurred many consumers who are tired of soaring rents over the past year.
Europe
CPI (Annual) - Wednesday (12 pm)
Preliminary estimates showed the annual eurozone inflation rate accelerating for the sixth consecutive month to a record 5% in December 2021 from 4.9% in November. The numbers compare to market expectations of 4.7%. Energy is expected to register the highest annual rate (26%, compared to 27.5% in November), followed by food, alcohol and tobacco (3.2% vs. 2.2%), non-energy industrial goods (2.9% vs. 2.4%) and services. (2.4% vs 2.7%). December also marks the sixth month in a row that inflation remains above the ECB's 2% target as supply chain disruptions and rising energy costs continue to weigh even though policy makers have emphasized that the current rally is temporary. The core index, which does not include energy, food, alcohol and tobacco, rose 2.6% year over year, as it was in November. Excluding energy only, inflation rose to 2.8%.
Lagarde's speech - Friday (2:30 pm).
The European Central Bank announced at its December meeting that it will reduce the pace of its asset purchases under the 1.85 trillion euro PEPP in the next quarter and end the plan next March, citing progress in economic recovery and toward its medium-term inflation target. The bank also said it would ramp up bond purchases under its longer but more stringent implementation, aiming to make up for some of that lost stimulus. It will buy 40 billion euros of bonds under the APP in the second quarter, 30 billion euros in the third quarter, then from October onwards, purchases will be maintained at 20 billion euros, for as long as necessary to support the economy. European Central Bank officials also maintained their narrative that the recent rise in inflation was "temporary," even though recent data showed consumer prices rose in November by the most since July 1991.
Britain
CPI (Annual) - Wednesday (9 am).
UK consumer price inflation rose to 5.1% year-on-year in November 2021, from 4.2% the previous month and above market expectations of 4.7%. It was the highest rate since September 2011, due to higher energy prices, supply chain disruptions and a lower base impact than last year. The main upward pressure came from the cost of transportation, primarily from motor fuels, used cars, housing and home services. This reading should alarm policy makers in the Bank of England, who are expected to leave interest rates unchanged on Thursday as they weigh mounting price pressures against the threat posed by the coronavirus variable Omicron.
Bank of England Governor Bailey Speak - Wednesday (4:15 pm).
The Bank of England voted 8-1 to raise the bank interest rate by 15 basis points to 0.25% during its December meeting for the first time since the start of the pandemic, as inflation pressures escalated in Britain, surprising markets that had not expected any changes due to the threat of Omicron. The Committee continues to judge that there are two-sided risks around the medium-term inflation outlook, but it is likely that some modest tightening of monetary policy will be necessary during the forecast period to sustainably achieve the 2% inflation target. Looking ahead, bank staff expect inflation to remain at around 5% for most of the winter period, peaking at around 6% in April 2022, before declining again in the second half of next year. The bank revised down its forecast for the level of UK GDP in the fourth quarter of 2021 by about 0.5% leaving GDP around 1.5% below its pre-Covid level. UK unemployment is expected to fall to around 4% in the fourth quarter of 2021, compared to a forecast of 4.5% in November.
Retail Sales - Friday (8 a.m.).
UK retail sales rose 1.4% monthly in November of 2021, above expectations of 0.8% and was 7.2% above February 2020 levels before the coronavirus. The main contribution to the increase came from sales in non-food stores (2%), which are clothing stores (2.9%) and other non-food stores (2.8%) such as computer stores, toy stores and jewelry stores, with retailers noting the strength of trade related to Black Friday and in the period that precedes Christmas. Clothing store sales volumes in November 2021 were above pre-coronavirus levels for the first time; 3.2% above their level in February 2020. Also, auto fuel sales are up 3.7% after some disruption in supplies in the past two months but are still 1.9% below February 2020 levels; While food sales fell 0.2%. Meanwhile, online retail sales declined to 26.9% in November 2021, the lowest since March 2020 (22.6%) and a continuation of a downward trend since its peak in February 2021 (36.8%).
Canada
Core CPI (MoM) Wednesday (3:30 pm)
Canada's headline inflation rate remained at 4.7% in November of 2021, the same rate as the previous month and in line with market expectations. Along with October, it was the highest reading since February 2003, amid supply chain problems and the effects of a low base year. Prices rose across all eight major components, with the strongest pressure coming from transportation (10%), boosted by gasoline (43.6%). Significant increases were also observed in home maintenance (4.8%), driven by furniture (8.7%), food (4.4%), and meat (8%). Excluding energy, the CPI rose 3.3% year over year. On a monthly basis, consumer prices rose 0.2%, in line with market expectations and reversing a 0.7% increase from the previous month.
Retail Sales (Monthly) - Friday (3:30 PM)
Preliminary estimates showed that retail sales in Canada rose 1.2% month over month in November 2021. Looking at October, retail sales rose 1.6% from the previous month, rebounding from a downwardly revised 0.3% decline in September, and faster than initial estimates. which was indicating a progress of 1.0%. Sales were up in 7 of the 11 sub-sectors, with overall growth driven by a rebound in auto and parts dealers (+2.2%), as new car dealership sales rebounding (+2.8%) from two consecutive monthly contractions. Across the major Canadian provinces, gains were led by Ontario (+1.9%), Alberta (+3.8%), while Quebec recorded the only contraction in the country (-0.2%). On an annual basis, retail trade rose 5.3% in October, accelerating from the upwardly-adjusted 5% increase in September.
Turkey
Interest Rate - Thursday (1 pm)
Turkey's central bank cut the one-week repo auction price by 100 basis points to 14% during its December meeting, after cutting 100 basis points in November, cutting 200 basis points in October, and cutting 100 basis points in September. The committee said that the cumulative impact of recent policy decisions will be closely monitored during the first quarter of 2022, as the policy framework will be reassessed to create a basis for sustainable price stability in the future. The move was expected after Turkish President Erdogan, who supports an unorthodox theory that high rates cause inflation, vowed to fight for lower rates as the country struggles with inflation of more than 20%, well above the average target point of 5% while the lira. It has lost nearly 50% of its value since November. The interest rate in Turkey is expected to reach 14.00% by the end of this quarter. In the long term, the Turkish interest rate is expected to trend around 12.50% in 2022.