The most important economic events this week from July 4 to 8, 2022
Monday, July 04, 2022 - 23:55
Point Trader Group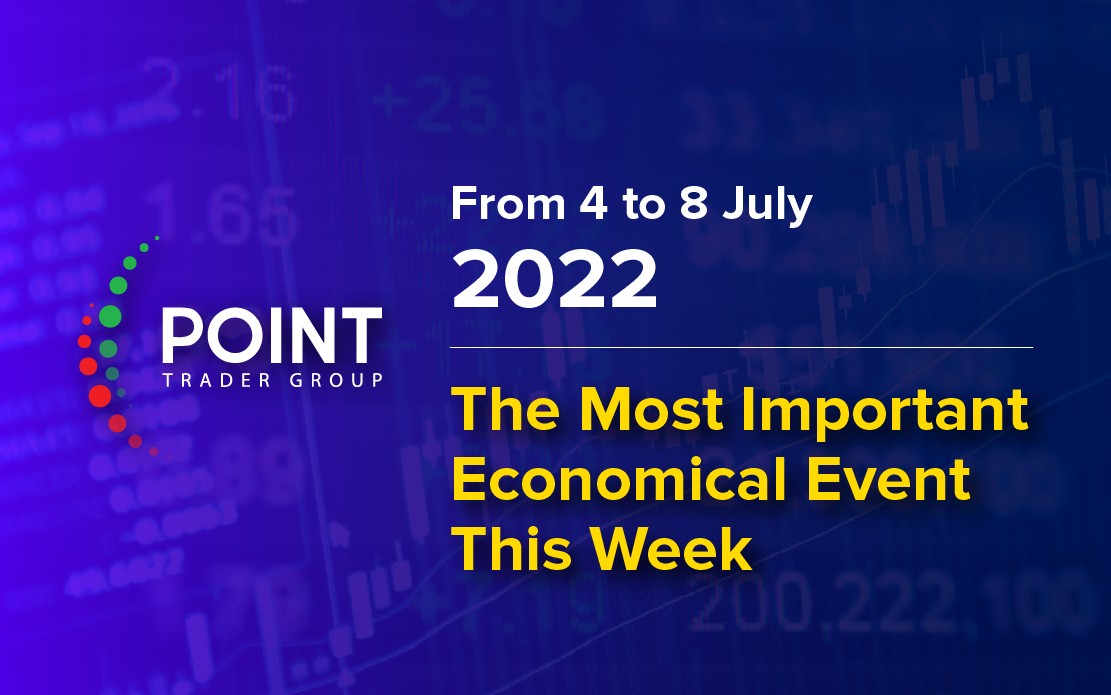 ---
The most important data expected this week
United State
Job Opportunities (JOLTs) (May) - Wednesday (00:40 pm)
The number of job vacancies in the United States reached 11.400 million in April of 2022, down from a revised record level of 11.855 million in March, which is in line with market expectations and indicates companies continue to struggle to hire new workers. The largest increases were in transportation, warehousing and facilities (97,000+); Non-durable goods manufacturing (+67000); and manufacturing of durable goods (+53000). The largest declines were in health care and social assistance (-266,000), retail (-162,000), and accommodation and food services (-113,000). Meanwhile, about 4.4 million Americans left their jobs in April, little changed from the previous month, with the so-called quit rate unchanged at 2.9%.
FOMC Meeting Minutes - Wednesday (08:00 pm)
Federal Reserve Chairman Jerome Powell reiterated the Fed's commitment to do whatever it takes to control high inflation and said the biggest risk is failure to restore price stability. Powell also noted during the European Central Bank's annual conference that the US economy is in good shape and well-positioned to withstand tighter monetary policy and that he hopes growth will remain positive, although there is a risk that it will slow further than required. He also confirmed that the Fed is raising interest rates urgently and is aiming to move into restricted territory fairly quickly. The Federal Reserve raised its funds rate by 75 basis points to 1.5%-1.75% during its June 2022 meeting, instead of the 50 basis points initially expected. Meanwhile, several Federal Reserve officials have called for a rapid rate hike to bring inflation back to the 2% target. An increase of 75 bits or 50 bits per second is expected in July.
ADP US Hiring Change - Thursday (02:15 p.m.)
Private companies in the United States hired 128 thousand workers in May of 2022, the lowest number since job losses in 2020, and well below expectations of 300,000 workers. The services sector added 104 thousand jobs, led by the education and health sector (46 thousand), and the professional and commercial sector (23 thousand), while the information sector lost 2 thousand jobs. Goods-producing industries added 24 thousand jobs, due to manufacturing (22 thousand), natural resources and mining (5 thousand) while the construction sector lost 2 thousand. Large companies added 122 thousand jobs and 97 thousand medium-sized companies while small companies shed 91 thousand jobs. Against the backdrop of a tight labor market and rising inflation, monthly job gains are approaching pre-pandemic levels. The rate of employment growth in employment has moderated across all industries, while small businesses remain a concern as they struggle to keep pace with the large companies that have been thriving in recent times, said Nella Richardson, chief economist at ADP.
US Crude Oil Inventories - Thursday (05:00 PM)
US crude oil inventories fell by 2.762 million barrels in the week ending June 24, after a decline of 0.386 million in the previous period, according to the latest Energy Information Administration report. Meanwhile, crude stocks in Cushing, Oklahoma, fell by 0.782 million barrels, while gasoline stocks rose by 2.645 million. Distillate stocks, which include diesel and heating oil, increased by 2.559 million barrels.
Employment report in the private sector (June) - Friday (02:30 pm)
The US economy added 390,000 jobs in May of 2022, the lowest number since April of last year but higher than market expectations of 325,000. The latest economic reading left 822,000 jobs, or 0.5%, below the pre-pandemic level, a sign that the labor market remains resilient and is approaching full employment. Notable job gains were made in the field of entertainment and hospitality (84 thousand), that is, food services and drinking places (46 thousand) and accommodation (21 thousand); professional and commercial services (75 thousand); And in transportation and warehousing (47 thousand), which is warehousing and storage (18 thousand), trucking (13 thousand), and air transport (6 thousand). Employment in manufacturing continued to rise (18 thousand), specifically in manufactured metal products (7 thousand), wood products (4K), and electronic gadgets (3 thousand). In contrast, employment in retail trade decreased by 61 thousand, mainly due to job losses in general merchandise stores (-33 thousand).
Unemployment Rate (June) - Fri (2:30 pm)
The unemployment rate in the United States was unchanged at 3.6 percent in May of 2022, the same rate as in the previous two months, and remained the lowest level since February 2020 and compared to market expectations of 3.5 percent. The number of the unemployed increased by 9 thousand to 5.950 million, while the employment levels increased by 321 thousand to 158,426 million. Meanwhile, the labor force participation rate rose to 62.3% in May from a 3-month low of 62.2% in April.
United kingdom
Construction PMI (June) - Wednesday (10:30 am)
The S&P Global/CIPS UK Construction PMI fell to a four-month low of 56.4 in May 2022 from 58.2 the previous month, but still marked the 16th consecutive period of growth in the construction sector. The slowdown was marked by a loss of momentum in the apartment building category, which sent housing activity down to its weakest level in two years. Commercial buildings were lightened to a lesser extent, and remained close to strong levels last month as builders noticed strong demand, despite reluctance by customers amid the uncertain economic outlook. On the other hand, new work orders and job creation continued to expand, resulting in a continued increase in civil engineering activity. However, cost inflation maintained its upward trend, with respondents citing increased prices for fuel, energy and raw materials. Looking ahead, business confidence is seen declining due to weak consumer confidence, higher borrowing costs, and growing economic uncertainty.
Australia
RBA Rate Decision (July) - Tuesday (06:30 AM)
The Reserve Bank of Australia raised its benchmark interest rate by 50 basis points to 0.85% during its June 2022 meeting. It was the first consecutive rate increase in 12 years, as the board said massive monetary support was no longer needed amid a strong economy and current inflation pressures. . In addition, the labor market is strong, with employment growing and the unemployment rate dropping to its lowest level in nearly 50 years. Policymakers cautioned that more tightening is in the pipeline, as its size and timing are guided by incoming data and the board's view of inflation and labor market expectations. The committee stressed that it is committed to doing what is necessary to ensure that inflation returns to the target, while paying attention to the global outlook still clouded by the war in Ukraine and its impact on energy and commodity prices. The Board raised the interest rate on exchange settlement balances by 50 basis points to 0.75%.
Canada
Change in Employment (June) - Friday (02:30 pm)
Canada's unemployment rate fell to 5.1% in May 2022 from 5.2% in April, while analysts expected it to remain unchanged. This was the lowest rate since comparable data became available in 1976. The rate was similar to or lower than previous all-time lows in four provinces: British Columbia (4.5 percent), New Brunswick (7.1 percent), and Prince Edward Island (7.8 percent), and Newfoundland and Labrador (10.0 percent).