The most important economic events this week from June 20 to 24, 2022
Monday, June 20, 2022 - 22:11
Point Trader Group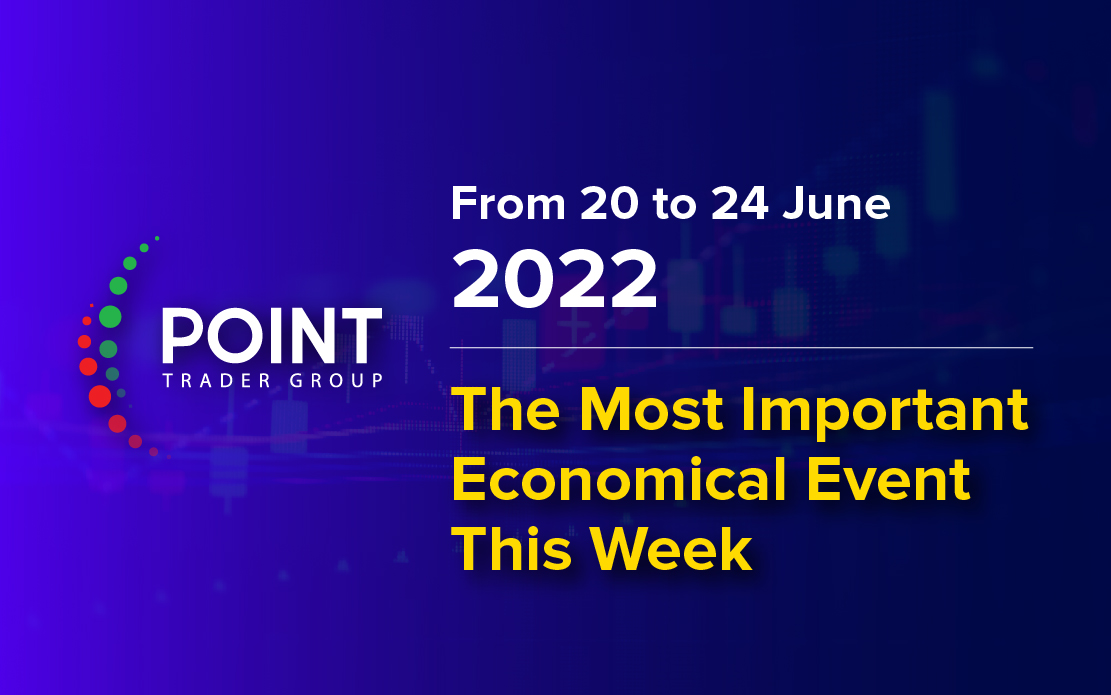 ---
The most important data expected this week
United State
Existing Home Sales (May) - Tuesday (00:40 PM)
US existing home sales fell 2.4% to a seasonally adjusted annual rate of 5.61 million in April of 2022, the lowest level since June 2020 and slightly below expectations of 5.65 million. Sales fell for the third month in a row, in another sign that the housing market is cooling, as rising home prices and mortgage rates dent buyer activity. Home inventory totaled 1,030,000 units, up 10.8% from March, and the median existing home price for all home types was $391,200, up 14.8% from April 2021. "More declines appear imminent in the coming months, and we're likely To return to the activity of home sales in the pre-pandemic period after the marked increase over the past two years."
Unemployment Claims Rates - Thursday (2:30 pm)
The number of Americans filing new claims for unemployment benefits fell by 3,000 to 229 thousand in the week ending June 11, falling short of market expectations of 210 thousand indicating once again an exceptionally tight labor market. Meanwhile, on a non-seasonally adjusted basis, initial claims increased 17,695 from the previous week to 204,461, with notable gains in Florida (+2,098), Georgia (+2,060), Pennsylvania (+1,134), Missouri (+1,053) and Illinois (+827). The 4-week moving average was 218,500, an increase of 2750 from the previous week's revised average.
Testimony of Fed Chair Powell - Thursday (4:00 p.m.)
The Federal Reserve raised its funds rate by 75 basis points to 1.5%-1.75% during its June 2022 meeting, instead of the 50 basis points initially expected, after inflation unexpectedly accelerated last month to its highest level in 41 years. It's the biggest price increase since 1994, and President Powell has indicated a similar move may come at the next meeting, but he doesn't expect moves at 75 points per second to be common. Policy makers expect interest rates to rise to 3.4% this year, well above the 1.9% forecast in March. Meanwhile, the economy is expected to expand 1.7% this year, down from the 2.8% estimated in March, and growth forecasts have also been lowered to both 2023 (1.7% vs. 2.2%) and 2024 (1.9% vs. 2%). PCE inflation is expected to rise at 5.2% in 2022 (versus 4.3% forecast in March) while forecasts have been revised lower for 2023 (2.6% vs 2.7%) and 2024 (2.2% vs 2.3%). The unemployment rate is seen higher for the 3-year period: 3.7% in 2022 (versus 3.5%), 3.9% in 2023 (3.5%) and 4.1% in 2024 (versus 3.6%).
US Crude Oil Inventories - Thursday (05:00 PM)
US crude oil inventories rose by 1.956 million barrels in the week ending June 10, after an increase of 2.025 million in the previous period and compared to market expectations for a decrease of 1.314 million, according to the Energy Information Administration. Meanwhile, crude oil inventories in Cushing, Oklahoma, fell by 0.826 million barrels. Gasoline inventories decreased by 0.71 million barrels, versus expectations for a rise of 1.066 million. Distillate inventories, which include diesel and heating oil, rose 0.725 million barrels, beating expectations for an increase of 0.292 million.
New Home Sales (May) - Friday (4:00 PM)
US new home sales fell 16.6% month-on-month to a seasonally adjusted annual rate of 591,000 in April of 2022, the lowest since April 2020 and well below expectations of 750,000, as rising construction and mortgage costs weigh on buyers' affordability. . Sales declined in all regions: the South (-19.8%), the Midwest (-15.1%), the West (-13.8%) and the Northeast (-5.9%). Meanwhile, the median sale price of new homes sold last month was $450,600, much higher than the previous year's $376,600, while the median sale price was $570,300, up from $434,800. There is now 8.3 months of supply in stock, nearly twice as much as the previous year's 4.3 months.
United kingdom
CPI (MoM) (May) - Wednesday (08:00 AM)
The UK's annual inflation rate jumped to 9% in April, the highest since 1982, driven by higher prices for electricity, gas and other fuels, motor fuels and used cars, in another sign of continuing pressure on consumers' living standards. It compares to an average of 7% in March and predicts a rate of 9.1%. The biggest upward pressure came from the cost of housing and utilities (19.2% vs. 7.7%), after the increase in the Office of Gas and Electricity Markets' ceiling on energy prices. Electricity prices rose by 53.5%, gas 95.5% and liquid fuels by 113.9%. Transportation cost also continued to rise (13.5% versus 13.4%), with average gasoline prices hitting a record high of 161.8 pence per liter in April, compared to 125.5 pence per liter a year earlier. Inflation also accelerated in restaurants and hotels (7.9% vs. 6.9%) and food and non-alcoholic beverages (6.7% vs. 5.9%). On a monthly basis, consumer prices jumped 2.5%.
Retail Sales (MoM) (May) - Fri (08:00 AM)
UK retail sales unexpectedly rose 1.4% monthly in April of 2022, rebounding from declines in the previous two months and beating market expectations for a 0.2% decline. An increase in sales was seen in food stores (2.8%), specifically alcohol and tobacco in supermarkets; Out-of-store retailers (3.7%), specifically apparel; and motor fuel (1.4%). On the other hand, supermarket food sales were broadly unchanged, and sales in non-food stores fell 0.6% in April, mainly due to household goods stores (-0.5%) such as furniture stores. Excluding fuel, retail sales were also up 1.4%. Looking at the three months to April, retail sales fell 0.3%, and expectations for consumer spending remain weak as higher inflation hurts purchasing power.
Australia
Monetary Policy Committee Meeting Minutes - Tuesday (03:30 AM)
The Reserve Bank of Australia raised the interest rate by 50 basis points to 0.85% during its June 2022 meeting. It was the first rate hike in 12 years, as the board said massive monetary support was no longer needed amid a strong economy and current inflation pressures. In addition, the labor market is strong, with employment growing and the unemployment rate dropping to its lowest level in nearly 50 years. Policymakers cautioned that more tightening is in the pipeline, as its size and timing are guided by incoming data and the board's view of inflation and labor market expectations. The Committee reiterated that it is committed to doing what is necessary to ensure that inflation returns to the target, with attention to the global outlook still clouded by the war in Ukraine and its impact on energy and commodity prices. The Board of Directors raised the interest rate on exchange-settled balances by 50 basis points to 0.75%.
Turkey
Interest Rate - Thursday (1:00 pm)
Turkey's central bank left its one-week key repurchase rate steady at 14% as expected during its May 2022 meeting saying the increase in inflation was driven by rising energy costs stemming from geopolitical developments, the temporary effects of pricing formations unsupported by economic fundamentals, and strong negative supply shocks caused about rising global prices of energy, food and agricultural commodities. The Committee expects that the process of reducing inflation will begin against the backdrop of measures promoting sustainable prices and financial stability along with lower inflation due to the primary impact and resolution of the ongoing regional conflict.