The most important economic events this week from May 16 to 20, 2022
Wednesday, May 18, 2022 - 01:51
Point Trader Group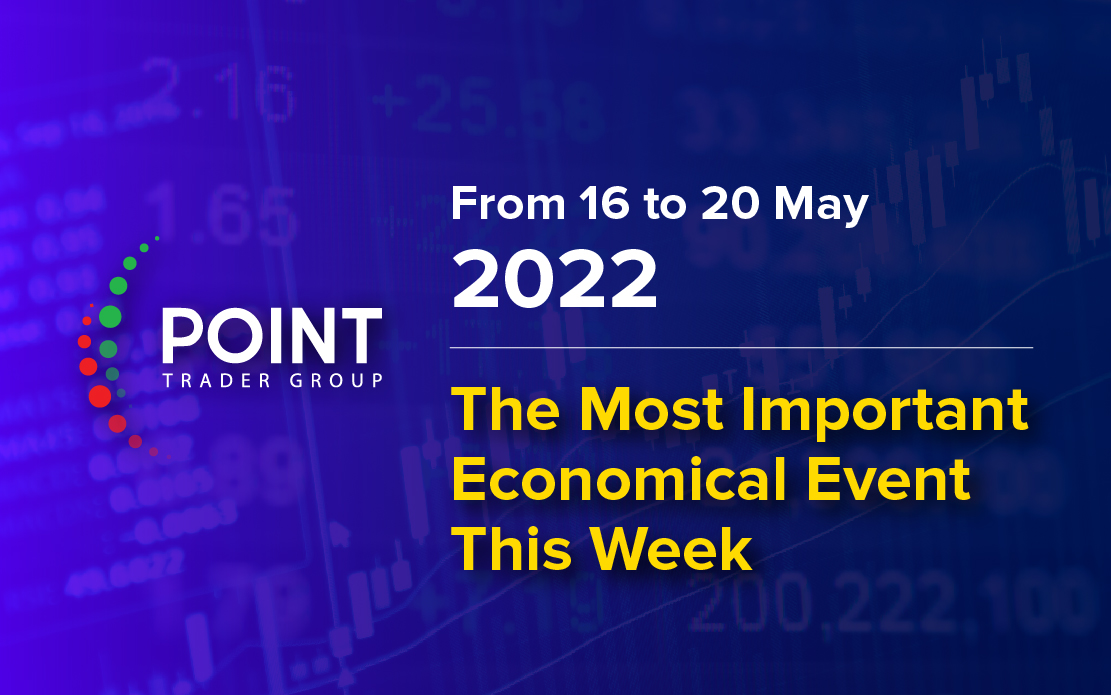 ---
The most important data expected this week
United State
Building Permits (April) - Wednesday (2:30 pm)
Revised data released on April 19 showed that building permits in the United States increased 0.3 percent from the previous month to a seasonally adjusted annual rate of 1.870 million in March 2022.
US Crude Oil Inventories - Wednesday (4:30 pm)
US crude oil inventories unexpectedly expanded by 8.487 million barrels in the week ending May 6, after adding 1.302 million barrels in the previous week and compared to market expectations for a decrease of 0.457 million barrels. However, crude stocks at the delivery hub in Cushing, Oklahoma, fell 0.587 million barrels after pumping 1.379 million barrels. Meanwhile, gasoline inventories shrank by 3.607 million barrels, more than expectations for a 1.574 million barrel decline. Distillate stocks, including diesel and heating oil, fell 0.913 million barrels, less than expectations of 1.312 million barrels.
Unemployment Claims Rates - Thursday (2:30 pm)
The number of Americans filing new claims for unemployment benefits rose by 1,000 to 203,000 in the week ending May 7, 2022, from 202,000 in the previous period and more than market estimates of 195,000. It's the highest reading since mid-February. On a seasonally unadjusted basis, initial claims declined 6,554 from the previous week to 191,803, with declines notable in Massachusetts (-3,140), California (-2,816), and New Jersey (-2,466). The 4-week moving average, which removes weekly volatility, was 192.750, an increase of 4,250 over the previous week's revised average.
Philadelphia Manufacturing Index (May) - Thursday (02:30 pm)
The US Philadelphia Fed Manufacturing Index fell to 17.6 in April of 2022 from 27.4 in March, which is below market expectations of 21, and indicates a slowdown in manufacturing activity. The sub-indices for shipments (19.1 vs. 30.2) and new orders (17.8 vs. 25.8) decreased from last month but remained positive and price pressures increased for both prices paid (84.6 vs. 81, the highest since June 1979) and received (55 vs. 54.4). On the other hand, the employment index rose to a record high of 41.4 from 38.9. Meanwhile, future indicators of general activity fell 15 points to 8.2, the lowest reading since December 2008, and new orders fell sharply, but overall companies continued to expect growth over the next six months.
Existing Home Sales (April) - Thursday (4:00 PM)
US existing home sales fell 2.7% month-on-month to a seasonally adjusted annual rate of 5.77 million in March 2022, the lowest level since June 2020 and compared to expectations of 5.8 million. It is the second consecutive month of declines in home sales as the housing market begins to feel the impact of rising mortgage rates and inflation on purchasing power even though the median current home price reached an all-time high of $375,300. Sales declined in the Northeast, South, and Midwest but remained unchanged in the South. Inventory of existing unsold homes increased to 950,000. That would support a 2.0-month pace of monthly sales. February numbers were also revised lower to 5.93 million
United kingdom
CPI (MoM) (April) - Wednesday (08:00 AM)
The UK's annual inflation rate rose to 7% in March 2022, the highest since March 1992, from 6.2% in February. The numbers came in above expectations at 6.7%, with the biggest upward pressure coming from auto fuel and gasoline costs, with prices mostly collecting before the latest cut in fuel surcharges. The cost of transportation (13.4% vs. 11.5%) recorded the largest increase, followed by furniture and home services (10.3% vs. 9.1%), clothing and footwear (9.8% vs. 8.9%), housing and utilities (7.7% vs 7.2%) and restaurants and hotels (6.9% vs. 5%) and foods and non-alcoholic beverages (5.9% vs. 5.1%). The British government has already announced a cut in fuel surcharges by 5p per liter for 12 months starting March 24 with the aim of relieving families, but inflation is likely to remain high for some time and reduce purchasing power parity as the war in Ukraine is far from over. Energy costs remain high as global supply constraints persist.
Retail Sales (MoM) (April) - Friday (08:00 AM)
UK retail sales fell 1.4% monthly in March of 2022, after an upwardly revised 0.5% drop in February and much worse than market expectations for a 0.3% decline, as affordability began to wane and consumers spent less due to higher prices. The largest contribution to the decline came from out-of-store retail trade (-7.9%). Food sales fell -1.1%, amid increased spending at bars and restaurants linked to the reduction of coronavirus restrictions, as well as the impact of higher food prices on the cost of living. Further declines were also seen in motor vehicle fuel sales (-3.8%), with some non-essential road trips reduced after record petrol and diesel prices rose. On the other hand, sales of non-food stores increased by 1.3% due to growth in other non-food stores (2.9%), and home goods stores (2.6%) such as DIY stores. Compared to pre-coronavirus (COVID-19) levels in February 2020, retail sales were 2.2% higher.
Europe
CPI (YoY) (April) - Wednesday (11:00 am)
Eurozone annual inflation rose to a new record high of 7.5% in April of 2022 from 7.4% in March, mostly in line with market expectations, as the war in Ukraine and sanctions against Russia continue to drive commodity prices. Top, preliminary estimates showed. Inflation is now three times higher than the European Central Bank's 2% target. Prices of food, alcohol and tobacco rose faster (6.4% vs. 5.0% in March), non-energy industrial goods (3.8% vs. 3.4%) and services (3.3% vs. 2.7%). Meanwhile, energy prices slowed but remained very high (38% vs. 44.4%). Excluding energy, inflation also rose to 4.2% from 3.4% and excluding energy, food, alcohol and tobacco, it rose to 3.5% from 2.9%.
ECB Bulletin of Monetary Policy Meeting - Thursday (01:30 pm)
ECB President Lagarde said during a conference in Ljubljana that the first rate hike will happen sometime after the end of net asset purchases, which could mean only a few weeks. The European Central Bank confirmed during its April meeting that it will conclude net asset purchases in the third quarter. Investors are currently expecting the European Central Bank to raise interest rates by 25 basis points in July and September while delivering another increase at the end of the year as Eurozone inflation exceeds 3 times the central bank's 2% target and is likely to remain high for some time. During the April 2022 meeting, European Central Bank policy makers left interest rates at record lows and confirmed monthly net purchases under the application would be €40 billion in April, €30 billion in May and €20 billion in June.
Canada
Core CPI (MoM) (April) - Wednesday (02:30 PM)
Canada's annual inflation rate accelerated to 6.7% in March 2022, the highest level since January 1991 and well above market expectations of 6.1%, on the back of persistent home prices, significant supply constraints, and a geopolitical conflict that has raised energy and agricultural prices. markets. Prices rose faster for all eight major components, notably transportation (11.2% vs. 8.7% in February), largely due to higher gasoline prices (39.8% vs. 32.3%). The biggest pressure also came from shelter (6.8% vs. 6.6%), due to homeowners replacement cost (12.9%), rent (4.1%), and food (7.7% vs. 6.7%), where prices at groceries rose at the fastest rate in 13 years. . Excluding gasoline, the CPI rose at a new record pace of 5.5%. On a monthly basis, consumer prices rose 1.4%, beating expectations for a 1% increase.
all times are +1 GMT