The most important Economic events this week from the 11th to the 15th of October 2021
Tuesday, October 12, 2021 - 13:12
Point Trader Group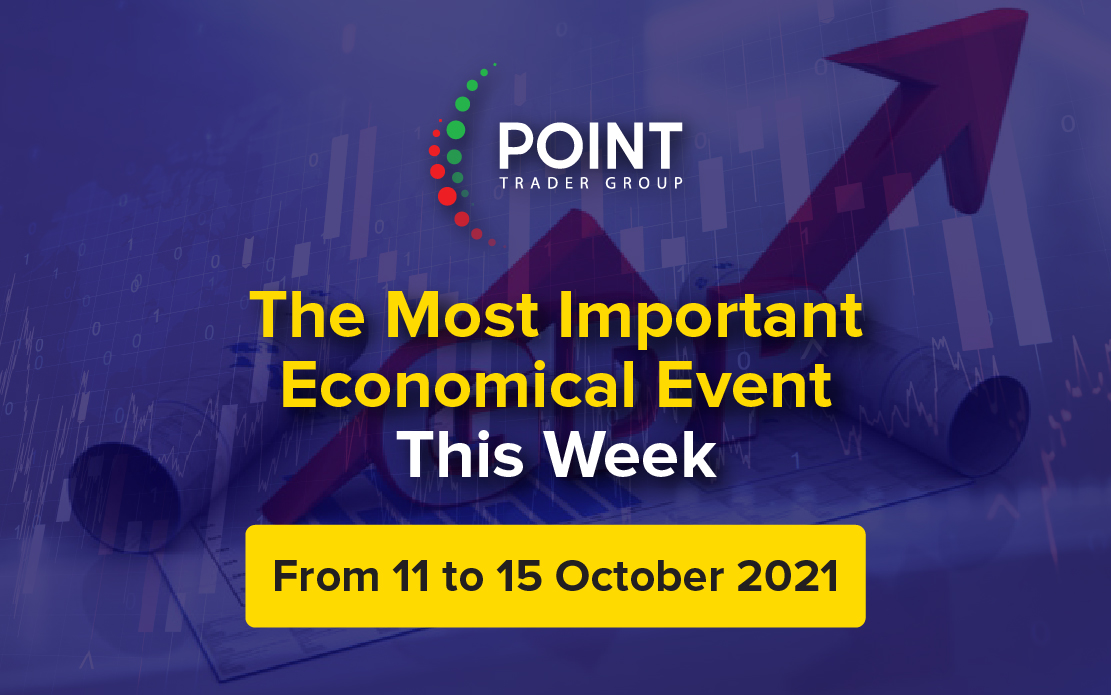 ---
US Democrats and Republicans reached an agreement to raise the US government's debt ceiling through early December. The ISM non-manufacturing index rose to 61.9 in September as new coronavirus cases declined. German industrial production for August fell 4.0% monthly and new orders fell 7.7% monthly. Energy prices rose strongly after OPEC + decided to maintain the current production plans, but fell back somewhat later
Russia said it would stabilize prices. The sudden rise in energy prices pushed inflation offset measures higher and pushed 10-year bond yields and UST to four-month highs. Stock markets have been volatile but are set to end the week on a positive note. Corporate credit spreads widened across segments of the euro credit market, with high yield and sub-hybrid performance. The Euro showed widespread weakness and fell to a 15-month low of 1.1530 against the Dollar.
US CPI is likely to rise 0.3%m/m in September, due in part to energy prices, with more in the pipeline (scheduled on Wednesday). The UK labor market report on Tuesday will be watched for signs of any impact early from the end of the holiday. Eurozone industrial production likely contracted 1.6% m/m in August (scheduled for Wednesday).
Markets remain volatile, the dollar is set to hold steady, but the limited pressure on the exchange rate differential relative to the 10-year yield continues to limit the euro's slide against the US dollar below 1.16.
The most important events and key data expected for this week
Industrial Production (MoM) August (EUR):
Industrial production likely contracted 1.6% month-on-month in August, weighed down by a significant drop in Germany. Such an outcome would push industrial production slightly below its pre-pandemic level. Supply bottlenecks and slowing global trade likely played an important role. Vulnerable to a lack of key inputs, the automotive sector remains under pressure. The manufacturing PMI passed its peak but remained well above the 50 threshold. Therefore, the expected drop in production in August is likely to reverse before long. Previous: 1.5%, and it is expected to be negative 1.6%, on Wednesday at 11 am Egypt time.
ZWE German Economic Sentiment Index (October):
We expect the growth outlook for German economic sentiment to decline. This will be the fifth consecutive decline after hitting a cyclical peak of 84.4 in May.
The main driver is more expected stability in the global economy, the latest bad news from China (Evergrand), and rises in coal and electricity prices.
The current situation reading is likely to slow down after the recent increases. This is in line with catching up in economic activity at the end of the pandemic. Previous 26.5 and expected 24.0, on Tuesday at 11 am Egypt time.
UK Employment Data (Quarterly):
Average Income Including Bonuses (August)
Unemployment Change Rate (Sept)
Employment Change Rate (August)
Unemployment Rate (August)
The employment rate likely rose by 230K in the three months to August compared to the three months to May, with the unemployment rate remaining unchanged at 4.6%. The vacation scheme ended on September 30th. The Office for National Statistics estimates that in early September, 1.1-1.6 million (4-6% of the workforce) were on vacation, of whom 0.3-0.8 million (1-3%) were on full-time leave. We are waiting for this data Tuesday 8 am Egypt time.
Gross Domestic Product (MoM) from UK:
Monthly GDP likely expanded 0.8% monthly in August after rising just 0.1% monthly in July. GDP in July was 2.2% below the pre-pandemic level since February 2020. The near recession in July was partly driven by a rise in new and so-called "mutating" coronavirus cases. While new cases of corona remained relatively high until August, it is possible that activity has rebounded as social distancing rules expired from July 19, and as of August 16, people who have received the double vaccination no longer have to self-isolate. We are waiting for the GDP numbers on Wednesday at 8 am Egypt time.
US inflation figures:
Core CPI (excluding food and energy)
We expect core CPI to rise 0.3% mom, core CPI to rise 0.2% mom in September, with upside risks.
Back in August, core CPI rose just 0.1% monthly - the smallest increase since February - as the delta variable spread weighed on prices for travel-sensitive items.
In September, natural gas prices rose, and gasoline prices rose about 1.5% per month. Commodity inflation was likely strong amid rising freight and input prices. Used car prices are up 3.6% per month according to the Mannheim Index. With new cases declining, the coronavirus is likely to have caused a partial rebound in prices for travel-sensitive items. We are waiting for this data on Wednesday at 2:30 pm Egypt time.
US retail sales:
We expect retail sales to be flat in September, after rising 0.7% in August when the spread of variable delta shifted spending towards commodities. The downward contributions are likely to come from sales of automobiles, furniture, and other durable goods. Unit car sales fell 6.7% month over month in September, possibly due to chip shortages. With new coronavirus infections declining during the month, American consumers are likely to move away from spending on goods and toward services, which is evident in mobility indicators and restaurant restaurant numbers. Therefore, an upward contribution is likely to come from food services. Bad weather conditions (Hurricane Ida) in some parts of the United States may have affected retail sales. As the economy continues to open up, services will likely continue to benefit. Supply bottlenecks, especially in the auto industry, aren't likely to go away any time soon. We are waiting for this data on Friday at 2:30 pm Egypt time.
American job opportunities:
We are awaiting Tuesday at 4:00 pm Egypt time, the US job opportunities figures, as the US Bureau of Labor Statistics is expected to announce the number of vacancies and work turnover, as the number is expected to decrease to 10.925 million compared to the previous figure of 10.934 million jobs. This number comes after a series of monthly increases and may decrease slightly this month when the data is released, with the possibility of adjusting again to rise later, as happened in the past months.
Federal Reserve meeting minutes:
On Wednesday at 8:00 pm Egypt time, the Federal Reserve will publish the minutes of its September meeting, where it is expected to start reducing asset purchases before the end of this year.