The most important Economic events this week from the 18th to the 22nd of October 2021
Wednesday, October 20, 2021 - 00:23
Point Trader Group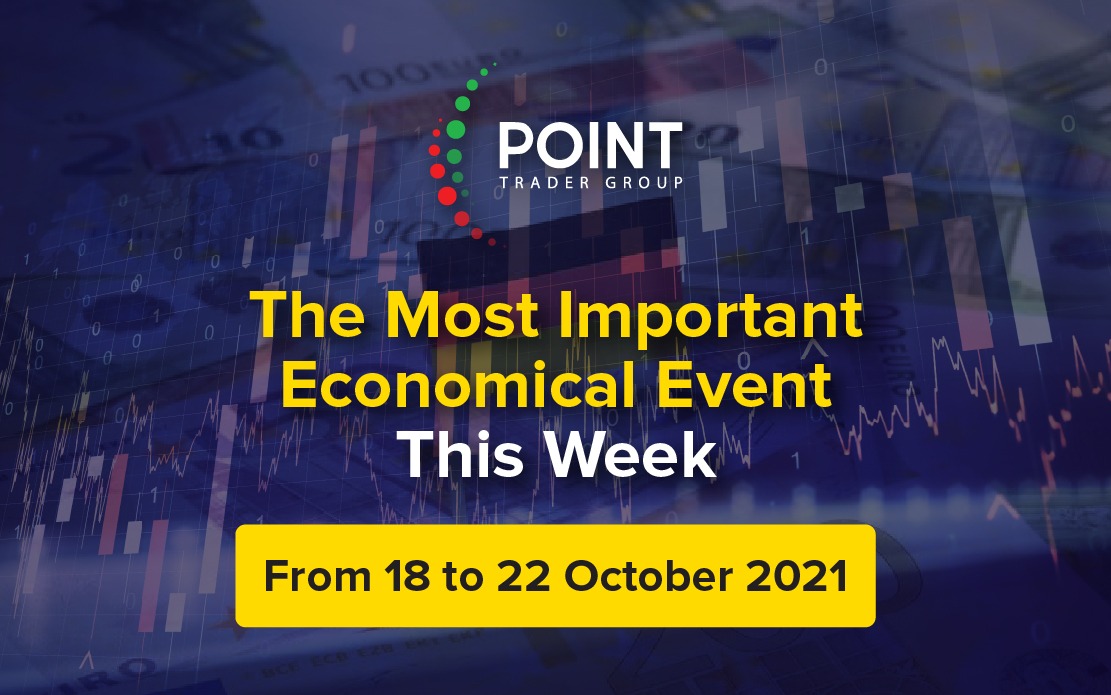 ---
The International Monetary Fund this week published its updated forecast, stressing that the balance of growth risks tends to the downside, while inflation risks tend to the upside amid the mismatch between supply and demand caused by the pandemic. In the US, CPI inflation rose to 5.4% year-on-year in September, equaling the highest level since July 2008, while minutes from the Federal Open Market Committee's September meeting confirmed that the committee is likely to announce a reduction in asset purchases at its next meeting. In November. The yield on the 10-year note rose above -0.10% before climbing back to -0.20%. European investment-rated corporate credit spreads also remained flat while HY remained under pressure despite the moderate release, with the i Bo xx HY NFI index approaching 300 basis points, its highest level since March. Stocks performed well and earnings supported sentiment. The EURUSD bounced back around 1.16 after hitting its lowest level since the beginning of the year at 1.1523.
United kingdom
Wednesday, October 20, 8:00 Egypt time
Consumer Price Index (YoY%)
Core CPI (annual %)
We expect CPI inflation to ease temporarily in September to 3.0% y/y, driven by an easing of core inflation to 2.9%.
The main reason is the partial reversal of the underlying influences that accounted for most of the jump in CPI inflation in August, namely the Eat-Out-to-Help-Out scheme, which cut restaurant prices in August 2020.
- In the future, inflation will rise sharply in October, due to the 12% Ofgem price ceiling increase, the increase in value-added tax on hospitality to 12.5% ​​from 5% and the rise in core inflation pressure.
Friday, October 22, 8:00 Egypt time
retail sales
Retail sales for example. Auto fuel Retail sales likely fell again in September, by 0.8% per month, which could leave sales volumes nearly 4% higher than pre-pandemic levels in February 2020. Fuel shortages and wet weather are likely to affect sales.
- The British Retail Consortium reported that sales growth among its members (adjusted for store price index) lost to 1.1% y/y in September, down from 3.8% y/y in August.
The CBI Retail Survey also indicated a slowdown.
Sales growth in Q421 is likely to be softer due to fading pent-up demand, supply chain problems and a shortage of heavy truck drivers and staff.
Friday, October 22, 10:30 Egypt time
Service PMI
Manufacturing PMI
The Manufacturing PMI is likely to have declined further, to 56.0 in October. Looking at face value, this still indicates strong growth, but some strength in the benchmark is artificial and driven by longer supplier delivery times. Fuel shortages and ongoing supply chain problems are likely to affect production and the situation in October.
The Services PMI is likely to decline further, to 54.5 in October.
Daily new COVID-19 cases remained relatively high throughout the month, affecting customer-facing services.
France
Thursday, October 21, 8:45 pm Egypt time
Manufacturing confidence
We expect the INSEE manufacturing survey to drop from 106 to 105 in October.
- This decline is likely to reflect the deterioration of demand conditions along with the increase in supply bottles and the prices of raw materials and energy, which weakens the future outlook for the sector.
- Industrial production is likely to slow in Q421, after resilient performance in Q321 (the three-month moving average of production exceeded 1% in August).
Euro-zone
Friday, October 22, 10:00 Egypt time
PMI . compound
Service PMI
Manufacturing PMI
- October PMIs are likely to point to a further moderation in growth momentum, with both manufacturing and services indices heading lower. The composite PMI may ease by about 1pt to 55.2.
Four factors likely contributed to the slowdown: the return of service activity to normal after the strong initial boost caused by the reopening of the economy, slowing global trade growth, persistent supply problems and rising energy costs.