The most important Economic events this week from the 22th to the 26th of Nov 2021
Wednesday, November 24, 2021 - 01:07
Point Trader Group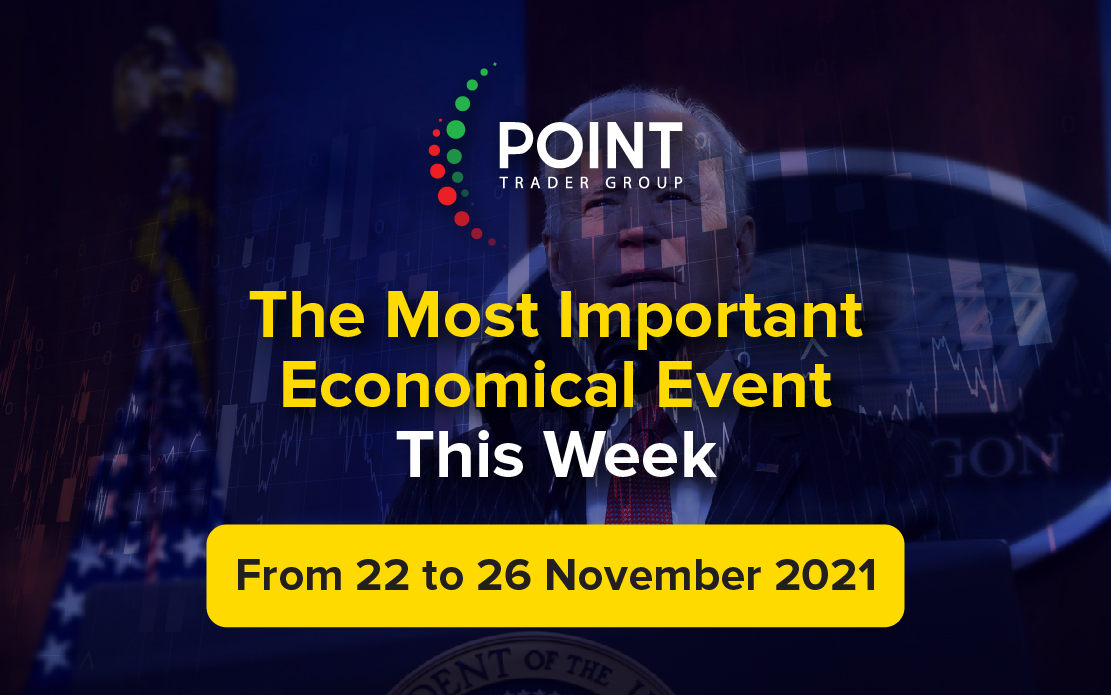 ---
Some European countries this week introduced new restrictive measures in an attempt to slow the increase in cases of the Covid-19 virus. Austria took the most drastic steps, declaring a nationwide lockdown starting Monday and making vaccination mandatory from February 1. In the United States, President Joe Biden signed into law a $550 billion infrastructure package, while retail sales remained strong despite a decline in household confidence. In an initially calm trading environment, several stock indices posted new highs, and expectations of an interest rate hike by the European Central Bank subsided. Towards the end of the week, market sentiment was soured by renewed closing fears. European stocks moved lower, the 10-year bond yield fell below -0.30% for the first time in two months, and the euro against the US dollar fell below 1.13, hitting a 16-month low. Corporate credit spreads widened across credit market segments, with investment grade debt performing below par. In emerging markets, the Turkish lira accelerated its slide into uncharted territory after another interest rate cut by Turkey's central bank.
What data is expected during this week?
Eurozone PMIs - Tuesday 23 November 2021 - 11 am Egypt time.
- November PMIs are likely to decline further, with the composite PMI potentially falling 1.2 points to 53.0.
- Manufacturing PMI is likely to decline amid supply bottlenecks, rising energy costs and weak global trade.
The supplier delivery times indicator will help gauge the stress on supply chains.
The services PMI is likely to be affected by the rise in COVID-19 cases in a number of countries, which has forced some governments to re-impose restrictions.
Eurozone money supply index - Friday, November 26, 2021 - 11 am Egypt time.
We expect M3 money growth in October to have eased slightly to 7.3% yoy. This would be consistent with a positive monthly flow.
As in previous months, the slowdown in the pace of money growth is likely to be a reflection of weaker monetary dynamics in the short term.
On lending, we expect corporate loan growth to be more moderate in October, while lending to households is likely to remain strong.
UK PMIs - Tuesday 23 November 2021 - 11:30 AM ET.
The manufacturing PMI likely fell to 57.0 in November.
Supply bottlenecks continued to affect, as was the case in October, when the production index fell, backlogs rose, delivery times lengthened, and prices rose even more.
The Services PMI likely fell to 55.5 in November, after surprisingly jumping 3.7 points the previous month. The high level of new COVID-19 cases, continued disruption to the supply chain, high inflation and reduced financial support point to a difficult few months ahead.
US inflation figures - Wednesday, November 24 - 3:30 pm Egypt time. (personal consumption expenditures)
Core PCE inflation likely rose 0.5% mom in October, with price pressures intensifying across the board.
Due to strong retail sales (+1.7% per month), personal spending is likely to rise by 1.0% per month, as a result of higher prices and increased savings. Personal income is likely to rise 0.2% thanks to gains in wage income from underemployment, while the expiration of improved unemployment benefits weighed on the figure.
A look at the US economy ahead of the Federal Open Market Committee meeting minutes - Wednesday, November 24 - 9 pm Egypt time.
We expect a prolonged period of US dollar strength to continue through most, if not all, of 2022. Recent activity indicates that economic growth remains stable enough for now, although continued supply disruptions and product shortages will see some decline in Momentum next year. These imbalances also suggest that high inflation may persist for some time, which could prompt the Fed to raise interest rates in late 2022, earlier than previously expected. The Fed's downsizing and its interest rate moves are supposed to send the dollar higher against other G10 currencies, as central banks may not fully meet hawkish expectations, and also against emerging currencies, which have historically been too sensitive to raising bond yields.