The most important Economic events this week from the 7th to the 11th of Feb 2022
Monday, February 07, 2022 - 20:51
Point Trader Group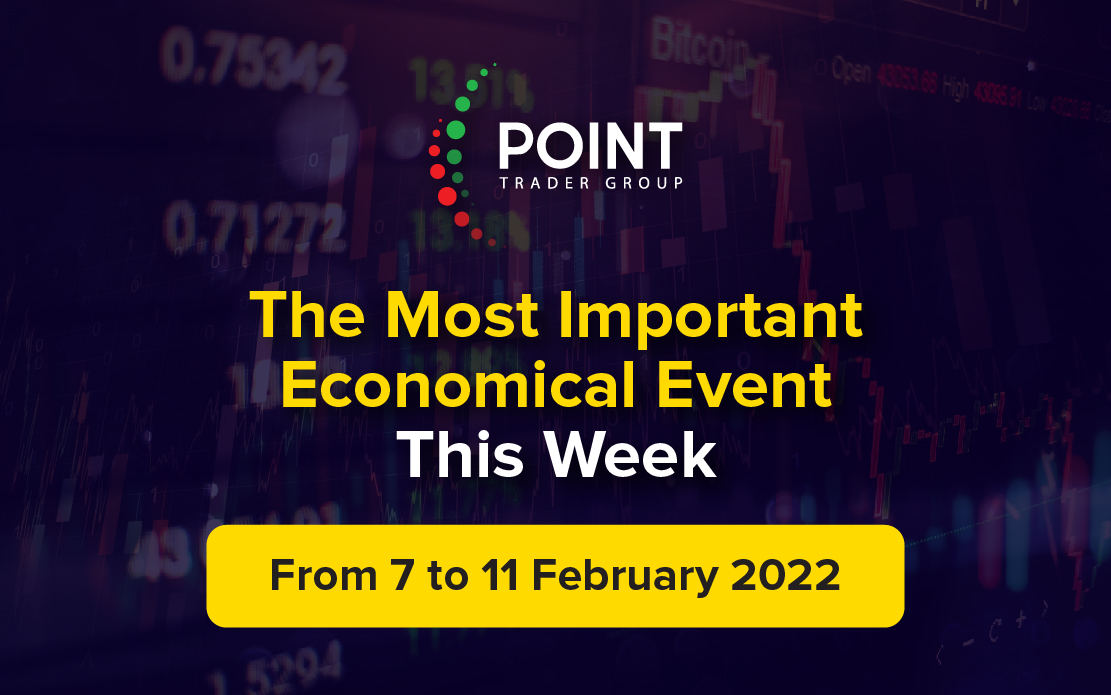 ---
The most important data expected this week
United State
US Crude Oil Inventories - Wednesday (5:30 pm)
Gasoline inventories in the United States rose by 2,119 thousand barrels in the week ending January 28, 2022, well above expectations of 1.645 million barrels. The change in US gasoline inventories is expected to reach 1000.00 thousand barrels by the end of this quarter. In the long-term, the change in US gasoline inventories is expected to be around 2000.00 thousand barrels in 2023.
Consumer Price Index - Thursday (3:30 pm)
The annual US inflation rate accelerated to 7% in the last month of 2021, a new high since June 1982, in line with market expectations and compared to 6.8% in November. Energy was the biggest contributor to the gains but the rally was lower than in November (29.3% vs. 33.3%), with gasoline prices up 49.6% vs. 58.1%. Inflation accelerated with respect to shelter (4.1% vs. 3.8%); food (6.3% vs. 6.1%), home food (6.5% vs. 6.4%); new cars (11.8% vs. 11.1%); used cars and trucks (37.3% vs. 31.4%); clothing (5.8% vs. 5%); and Medicare Services (2.5% vs. 2.1%). Inflation picked up in 2021 due to supply constraints caused by the pandemic, rising energy costs, labor shortages, increased demand and a low base effect as of 2020. Inflation pressures are likely to continue until mid-2022, and Fed Chairman Powell recently pledged to do something. It is necessary to contain the rise in inflation, including the increase in interest rates. As for the index excluding foodstuffs, the consumer price index for all non-food and energy items in the United States jumped 5.5 percent from a year earlier in December 2021, accelerating from a 4.9 percent rise in November and above market expectations by 5.4 percent. It was the largest annual increase in core consumer prices since February 1991.
Unemployment Claims Rate - Thursday (3:30 pm)
The number of Americans filing new claims for unemployment benefits fell by 23K to 238K in the last week of January, the lowest reading in 3 weeks and below market expectations of 245K, as job demand remains strong and the impact of the Omicron spread appears to be The coronavirus variant is starting to fade. The four-week moving average that removes weekly volatility was 255K, the highest level since mid-November. On a non-seasonally adjusted basis, the largest declines in initial claims were seen in Ohio (-5.09K), Kentucky (-2.33K) and Illinois (-2.1K) while Pennsylvania (+2.654K) recorded the largest increase. Continuing claims decreased by 44,000 to 1.628 million in the week ended Jan.
Fed Monetary Policy Committee Report - Friday (5 pm)
The Fed expects that it will soon be appropriate to raise the target range for the federal funds rate as inflation is well above 2 percent and the labor market is strong. The reduction of the $8.9 trillion balance sheet will begin after interest rates are raised, and the central bank intends to reduce its holdings of securities over time by adjusting the reinvested amounts of principal payments received from securities held in the system's open market account, a separate statement showed. . Also, during a virtual press conference, Powell emphasized that the labor market and the economy are strong, so there is no need to delay raising interest rates. The president remained deeply concerned about persistently high levels of inflation, and noted that officials had not made any decisions about the course of policy because it needed to be "smart.
United kingdom
Bank of England Governor Bailey Speech - Thursday (10:15 pm)
The Bank of England raised the bank's key interest rate by 25 basis points to 0.5% during its February 2022 meeting, in line with expectations. It's the first consecutive increase since 2004, which pushed borrowing costs to a two-year high even though four policymakers voted to raise the rate by 50 basis points. The committee also voted to begin reducing the stockpile of UK government bond purchases, financed through the issuance of central bank reserves, by stopping the reinvestment of maturing assets. The central bank expects inflation to rise further in the coming months, approaching 6% in February and March, before peaking at around 7.25% in April, but easing back slightly to just over the 2% target in two years. Policy makers also indicated that further tightening would be appropriate in the coming months if the economy broadly develops in line with current expectations.
GDP (MoM) - Friday (9 am)
UK GDP grew 0.9 percent from the previous month in November 2021, accelerating from a revised 0.2 percent expansion in October and easily exceeding market expectations of 0.4 percent. Services output advanced 0.7 percent, supported by a 0.8 percent growth in consumer-oriented services on the back of a sharp increase in retail trade, while all other services rose 0.6 percent. In addition, industrial production expanded 1.0 percent, with mixed performances across the four sectors, while construction production jumped 3.5 percent. GDP was also above the pre-coronavirus pandemic level for the first time, by 0.7 percent, supported by human health and social work, wholesale and retail trade, arts, entertainment and recreation.
Manufacturing Production (MoM) - Friday (9 am)
UK manufacturing production rose 0.4% year-on-year in November of 2021, after adjusting for a 1.1% decline in October and exceeding market expectations for a 0.3% decline. On a monthly basis, factory activity increased 1.1%, mainly due to machinery and equipment manufacturing (7.4%) and transportation equipment manufacturing (3.6%). However, compared to February 2020, the plant's production was 2.2% lower.