The most important expected economic data for this week, from 19 to 23 December 2022
Monday, December 19, 2022 - 23:30
Point Trader Group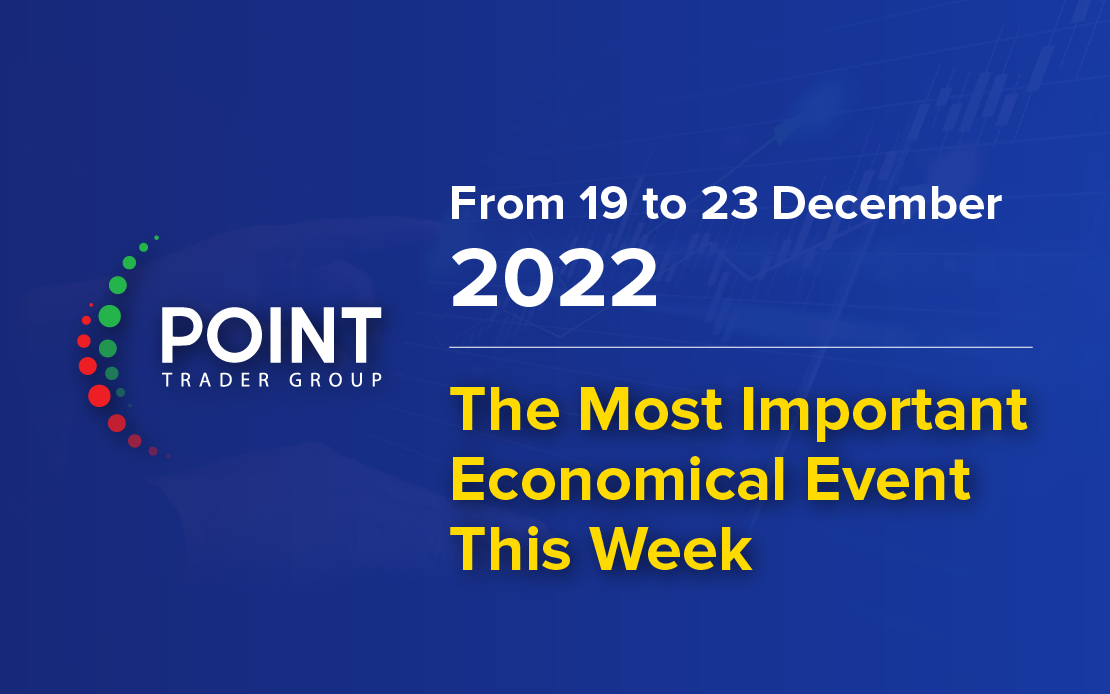 ---
The most important data expected this week
United State
Building Permits (November) - Tuesday (03:30pm)
New data showed that building permits in the United States fell 3.3% from the previous month to an annualized rate of 1.512 million in October 2022, lower than the preliminary estimate of 1.526 million. Building permits reached their lowest level since June 2020 as rising prices and rising mortgage rates had a negative impact on demand and activity. Building Permits for the month of November are expected to decline as forecasts are at 1.48M.
Existing Home Sales (November) - Wed (05:00 PM)
Existing home sales in the US showed a decline of 5.9% to a seasonally adjusted annual rate of 4.43 million in October of 2022, the lowest level since December 2011, and compared to market expectations of 4.38 million. It was the ninth straight month of declining sales as house prices remained elevated and the 30-year fixed-rate mortgage reached a 20-year high. Forecasts indicate the possibility of a new decline to 4.3-4.2 million.
US Crude Oil Inventories - Wednesday (05:30 PM)
The latest figures for crude oil inventories in the United States showed a rise of 10.23 million in the week ending December 9, the first increase in five weeks and the largest since March 2021, compared to expectations for a decline of 3.595 million. Forecasts are for a possible decline to -0.167M.
GDP (QoQ) (Q3) - Thursday (03:30 PM)
Retail sales in America showed a rise of 1.3% on a monthly basis in October 2022. This increase is the largest in almost eight months, after a flat reading in September, beating expectations for a 1% increase. September data indicated resilient consumer spending despite inflation and interest rate hikes. Retail sales are not adjusted for inflation.
Unemployment Claims Rates - Thursday (03:30 PM)
The latest figures for the unemployment complaints rate indicate a decrease in the number of applications from 231 thousand to 211 thousand, by 20 thousand applications, according to data for the week ending December 10, 2022. This is the lowest level since late September (at 219 thousand). Unemployment claims are expected to increase by 14K to 225K.
Core Durable Goods Orders (MoM) (November) - Friday (03:30pm)
US durable goods orders rose in October to 1%, the largest increase in four months. We also add that this increase is greater than expectations of 0.3%. As for the November number forecast, we could see durable goods orders drop to -0.5%.
Core PCE Price Index (MoM) (November) - Friday (03:30pm)
The numbers show personal spending in America rose 0.8% in October 2022, after a 0.6% increase in September and matching expectations, despite higher prices and borrowing costs. Within the industry, the largest contributors are new vehicles, specifically light trucks, and gasoline. The largest positive contributor to services was spending on food and housing, and this was partially offset by a decrease in financial services and insurance, specifically fees and commissions. We are expected to see a decrease to 0.3% - 0.2%.
New Home Sales (November) - Friday (05:00 PM)
New home sales showed a 7.5% rise to a seasonally adjusted annual rate of 632K in October of 2022, beating expectations of 570K sales and missing the recent decline in housing demand as the Federal Reserve sharply reduced the pace of rate hikes. New Home Sales are expected to decline by 20-30K.
Britain
GDP (YoY) - Thursday (09:00 AM)
Preliminary estimates showed that the British economy grew by 2.4% in the third quarter of 2022, the lowest number since the first quarter of 2021, but still above market expectations of 2.1%. Household spending fell sharply (0.8% vs. the rate of increase in business investment was lower (3.5% vs. 5.0%), mainly due to lower investment in equipment (4.3% vs. 5.0%). Government and government spending stalled by 5.2% in the first quarter. From the year by individuals, exports increased by 18% and imports increased at a slower rate of 7.2%.
GDP (Quarterly) - Thursday (09:00 AM)
Preliminary estimates showed that the British economy contracted by 0.2% on a quarterly basis in the third quarter of 2022, the first contraction in a year and a half but less than market expectations of a 0.5% decline. The services sector stalled, driven by a decline in consumer-oriented services while the production sector fell 1.5%, its seventh consecutive quarter of losses, including a 2.3% decline in manufacturing and a 1% loss in mining and quarrying. In terms of spending, household spending fell 0.5%, business investment contracted 0.5% while exports jumped 8% and imports fell 3.2%. Compared to the previous year, the British economy expanded by 2.4%, above expectations of 2.1%. The numbers could signal the start of the country's longest recession as the Bank of England expects the economy to contract by 0.75% in the second half of 2022 and continue to decline in 2023 and the first half of 2024, as inflation and interest rates rise.
Canada
Core Retail Sales Excluding Motor Vehicles (MoM) (Oct) - Tuesday (3:30pm)
Retail sales excluding autos in Canada fell 0.7% in September from 2022, reversing a 0.5% increase in August and missing analyst estimates for a 0.6% decline.
Core CPI (MoM) (November) - Wednesday (03:30pm)
Preliminary estimates show that retail sales in Canada increased by 1.5% on a monthly basis in October of 2022 over previous years. Looking into September, retail sales fell 0.5% from the previous month, in line with preliminary estimates and down from a 0.4% increase in August. Retail sales declined in 7 of the 11 sub-sectors, with the largest decline being at petrol stations (-2.4%), however, volume increased as gas prices fell 7.4% during the month.
Japan
Bank of Japan Monetary Policy Report - Tuesday (05:00 AM)
The Bank of Japan is expected to keep interest rates at -0.1% unchanged.
Turkey
Interest Rate - Thursday (01:00 PM)
The Central Bank of Turkey cut the interest rate by 150 basis points to 9% at its meeting in November 2022. They also stated that they will end the current interest rate cutting cycle, as mentioned earlier. The decision increased the amount of unconventional interest rate cuts by 10% since September 2021 despite a weak lira, high inflation and an imbalanced current account. Inflation reached 85% in October, the highest rate since 1998, primarily due to the increased cost of energy imports in light of the currency's depreciation. The lira has fallen by 55% since the bank's monetary policy aimed at lowering interest rates began last year, and is currently trading at historic lows.
GMT +2