The most important expected economic data for this week, from 28 to 02 December 2022
Tuesday, November 29, 2022 - 10:25
Point Trader Group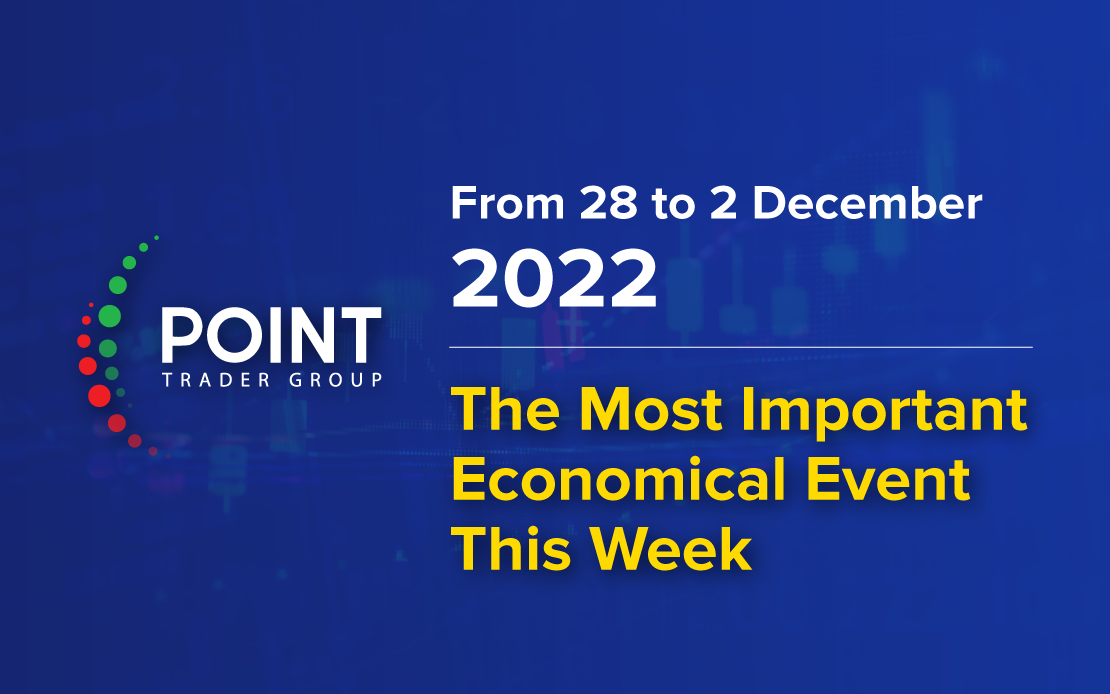 ---
The most important data expected this week
United State
ADP Non-Farm Payrolls Change (November) - Wed (03:15 PM)
US private companies unexpectedly created 239,000 jobs in October 2022, the most in three months and below market expectations of 195,000. The commodities sector also lost 8,000 jobs, mostly due to manufacturing. Interest rate-sensitive producers of commodities decline, while changes in jobs lead to slower wage growth. While we are seeing early signs of a significant Fed-driven drop in demand, it is only affecting certain parts of the labor market. Annual salary increases for the first time also remained roughly the same (7.7%), while salary increases for job workers (15.2%) slowed slightly.
GDP (QoQ) (Q3) - Wednesday (03:30 PM)
The US economy rebounded at an annualized rate of 2.6% in the third quarter of 2022, beating expectations for 2.4% growth and rebounding from contraction in the first half of the year. The trade deficit has also narrowed. Imports fell, while they rose, led by petroleum products, non-mechanical capital goods and financial services. Meanwhile, non-residential investment jumped 3.7%. On the other hand, residential investment decreased in the sixth quarter as the housing market was affected by the increase in mortgage rates. Finally, growth in consumer spending slowed but remained resilient as higher spending on services, led by health care, offset lower spending on goods, particularly automobiles and food and beverages.
Job Opportunities (JOLTs) (October) - Wednesday (5:00pm)
Employment opportunities in the United States unexpectedly increased by 437,000 to 10.72 million in September 2022, up from 10.2 million in August and far exceeding market expectations of 10 million. Employment opportunities remain near record levels through the end of 2021, which could add to inflationary pressures from higher wages to attract and retain workers.
US Crude Oil Inventories - Wednesday (05:30 PM)
The latest report from the US Energy Information Administration indicated that on November 18, US crude oil inventories fell by 3.691 million barrels, compared to market expectations of 1.055 million barrels, which is a smaller-than-expected drop. On the other hand, gasoline inventories rose by 3.058 million, exceeding expectations at 383000, while distillate inventories, which include diesel and heating oil, rose by 1.718 million, missing expectations.
Fed Chair Powell Speech - Wednesday (08:30 PM)
Fed officials believe a slowdown in the pace of rate hikes may be appropriate soon as it will better allow the committee to assess progress toward its peak employment and price stability goals. The Fed raised its interest rate target range by 75 basis points to 3.75%-4% during its meeting in November 2022, marking its sixth consecutive rate hike and fourth consecutive rate hike for three quarters, pushing borrowing costs higher.
Core PCE Price Index (MoM) (Oct) - Thursday (03:30pm)
Personal spending in America increased 0.6% month over month in September 2022, matching the revised 0.6% increase in August and exceeding market expectations for a 0.4% increase. The main components of the rise in personal consumption expenditures are housing, international travel and air transportation. Among commodities, medical drugs and new vehicles also partially contributed to the lift in personal consumption due to declines in gasoline and other energy commodities.
Private Employment Report (November) - Friday (03:30 PM)
The US economy created 261,000 new jobs, more than expected in October 2022, above market expectations of 200,000. While this is the weakest reading since December 2020, the numbers still suggest a strong, albeit sluggish, labor market with a labor shortage. . Average monthly job growth was 407,000 per month in 2022, compared to 562,000 per month in 2021.
Unemployment Rate (November) - Friday (03:30 PM)
America's unemployment rate increased about 0.2 percentage point to 3.7% in October 2022, up from a 29-month low of 3.5% in September and slightly above market expectations of 3.6%. Unemployment has been in a narrow range of 3.5% to 3.7% since March, which indicates that the labor market is already very suffering, which in turn could significantly increase inflationary pressures in the world's largest economy for some time to come.
Britain
Manufacturing PMI (November) - Thursday (11:30 am)
Preliminary estimates showed that the S&P Global UK Manufacturing PMI settled at 46.2 in November 2022, unchanged from the previous month, while analysts expected a further decline to 45.8. Industrial production fell, albeit at a much slower pace, as easing supply bottlenecks helped support manufacturing.
Euro
CPI (YoY) (November) - Wednesday (12:00 AM)
Eurozone CPI was revised down slightly to 10.6% in October 2022 from a preliminary estimate of 10.7%. The index hit a record high amid rising energy prices and a weaker euro, coming well above the European Central Bank's target of 2.0%.
Germany
German CPI (YoY) (November) - Tuesday (03:00pm)
Germany's annual inflation rate in October 2022 was about 10.4%, unchanged from the initial value and reaching a new high. Goods inflation rose to 17.8% in October from 17.2% in the previous month, driven by higher energy costs (43.0% vs. 43.9% in September) and higher food prices (20.3% vs. 18.7%). Service costs also accelerated (4.0% vs. 3.6%), with rental prices rising 1.8%. Prices of energy products rose sharply, especially natural gas (109.8%), heating oil (35.6%), electricity (26.0%), and motor fuels (22.3%). On a monthly basis, consumer prices rose 0.9% in October. The consumer price index, which is compared with the rest of Europe, rose 11.6% for the year, a record high; It rose 1.1% on a monthly basis.
Canada
Employment Change (November) - Friday (03:30 PM)
The Canadian unemployment rate in October 2022 was 5.2%, unchanged from the previous month, beating market expectations of 5.3%, indicating that the Canadian labor market is still struggling. The number of unemployed was unchanged from the previous month at 1,073,400. Payrolls rose by 108,300 to 19,656,200, the largest gain since February and well above expectations for a gain of 10,000.
GMT +2