The most important economic data expected for this week from 14 to November 18, 2022
Tuesday, November 15, 2022 - 09:05
Point Trader Group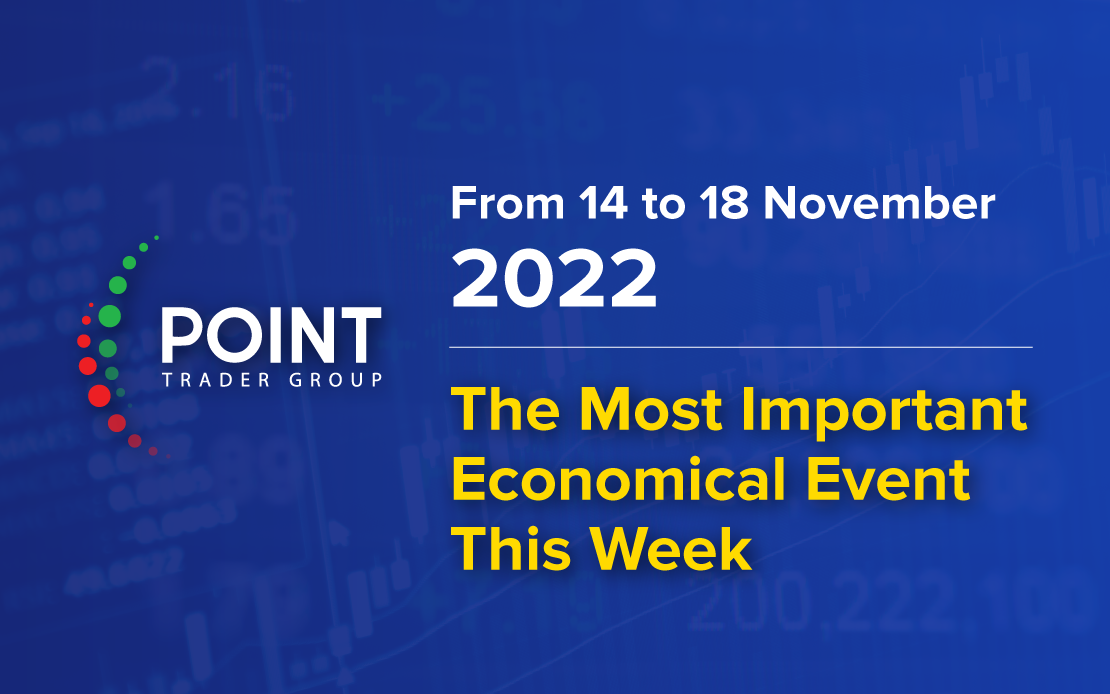 ---
The most important data expected this week
United State
Producer Price Index (MoM) (October) - Tuesday (03:30 pm)
The producer price index for final demand in the US rose 0.4% month-on-month in September 2022, the first increase in three months, and doubled market expectations for a 0.2% rise. The cost of services rose 0.4%, as prices for passenger accommodation services jumped 6.4%. Food and alcohol retailing (2.6%), portfolio management (2.1%), machinery and vehicle trading (1.5%), oil and gas drilling services, and hospital inpatient care (0.4%) also increased. The cost of goods increased by 0.4%, as food prices increased by 1.2%, specifically fresh and dry vegetables (15.7%). Prices of diesel fuel (9.1%), residential natural gas (2.6%), chicken eggs (16.7%), home heating oil (10.7%) and pork (5.5%) also rose. Conversely, the gasoline index fell by 2%. On an annual basis, producer prices rose 8.5%, the lowest rate since July last year, but slightly above expectations of 8.4%.
Retail Sales (MoM) (October) - Wednesday (03:30 PM)
US retail trade was unchanged in September 2022, contravening market expectations of a 0.2% advance, as high inflation and rising borrowing costs weighed on consumer demand. Revenue decreased at auto and parts dealers (-0.4%), gas stations (-1.4%), building materials stores (-0.4%), and electronics stores (-0.8%). Furniture stores (-0.7 percent), sporting goods, hobbies, musical instruments, bookstores (-0.7 percent), and miscellaneous retail stores (-2.5 percent). Meanwhile, sales at groceries rose 0.4 percent, buoyed by higher food prices. Core retail sales that exclude cars, gasoline, building materials and food services, which closely align with the consumer spending component of gross domestic product, rose 0.4 percent last month. On an annual basis, retail sales growth slowed to a five-month low of 8.2 percent.
US Crude Oil Inventories - Wednesday (05:30 PM)
The latest US Energy Information Administration report showed US crude oil inventories rose by 3.925 million barrels in the week ending November 4, compared to market expectations for an increase of 1.360 million barrels. Meanwhile, gasoline inventories fell by 0.899 million, less than market expectations of 1.08 million. Crude stocks in Cushing, Oklahoma, decreased by 0.923 million barrels after building 0.1.267 million, and distillate stocks, including diesel and heating oil, decreased by 0.521 million, versus expectations for a decline of 0.8 million.
Building Permits (October) - Thursday (03:30 pm)
US building permits, the proxy for future building, rose 1.4% month over month to 1.564 million annually in September 2022, in line with initial estimates. Unit approvals in the multifamily sector were revised to 0.694 million from 0.692 million in the previous estimate and 0.642 million in August. While single-family permits were revised to 0.870 million from 0.872 million compared to 0.900 million in August. Permits rose in the Midwest (3.4% vs. 4% in early estimates), the South (2.5% vs. 3.1%) and the West (0.8% vs. 0.3%) but fell in the Northeast (-6.5% vs. -9.4%).
Unemployment Claims Rate - Thursday (03:30 pm)
The number of Americans filing new claims for unemployment benefits rose by 7,000 to 225,000 in the week ending November 5, the highest increase in four weeks and exceeding expectations of 220,000. The outcome tempered perceptions of a tighter labor market, at odds with the hawkish policy signaled by the Federal Reserve at its November meeting. On a seasonally adjusted basis, initial claims rose by 19,054 to 205,027, with notable increases in California (+3992) and Kentucky (+3.452). The four-week moving average, which removes weekly volatility, is down 250 to 218,750.
Philadelphia Manufacturing Index (November) - Thursday (03:30 pm)
The US Philadelphia Fed Manufacturing Index rose 1 point but remained negative at -8.7 in October of 2022, below market expectations of -5. Indicators of general activity and new orders remained negative, and the shipments index was little changed at a low but positive reading. Firms continue to post evenly higher hiring rates, and both price indicators point to overall price increases. The survey's future general activity indicators indicate that the surveyed companies expect a general decline over the next six months.
Existing Home Sales (October) - Friday (5:00 PM)
US existing home sales fell 1.5% to a seasonally adjusted annual rate of 4.71 million in September 2022, the lowest since May 2020 and roughly in line with expectations. This was the eighth consecutive monthly drop in sales as mortgage rates continued to rise and prices remained high, making it impossible for many buyers to purchase homes. On a regional basis, sales fell in the Northeast (-1.6%), Midwest (-1.7%) and South (-1.9%) and were unchanged in the West. The median existing home sales price increased 8.4% from a year ago to $384,800. Inventories of unsold existing homes fell for the second month in a row to 1.25 million by the end of September, or 3.2 months supply at the current monthly sales pace.
Britain
CPI (MoM) (October) - Wednesday (09:00 AM)
UK annual inflation rose to 10.1% in September 2022 from 9.9% in August, and returned to a 40-year high in July beating market expectations of 10%. The largest contribution to the increase was from food (14.8% vs. 13.4% in August), specifically oils, fats and dairy products. Consumer costs for housing and utilities also grew sharply (20.2% vs. 20%), amid rising prices for electricity, gas and household fuels. On the other hand, lower car fuel prices slowed transportation inflation (10.6% vs. 12%), with gasoline and diesel prices averaging 175.2 and 186.6p per liter, respectively, compared to 134.6 and 137p annually. earlier. The annual core rate, which does not include energy, food, alcohol and tobacco, rose to a record 6.5%, compared to expectations of 6.4%. On a monthly basis, consumer prices rose 0.5% in September, unchanged from the previous month.
Retail Sales (MoM) (October) - Friday (09:00 AM)
UK retail sales fell 1.4 per cent month on month in September 2022, after a 1.7 per cent rate drop in August, while analysts had expected a 0.5 per cent decline. Sales fell in all major sectors, namely food (-0.7 percent), non-food stores (-0.2 percent), out-of-store retail (-0.4 percent) and fuel (-0.1 percent). On an annual basis, retail sales fell 6.9 percent. Compared to the pre-coronavirus level in February 2020, total retail sales decreased by 1.3%.
euro
CPI (MoM) (October) - Thursday (12:00 AM)
Eurozone annual inflation continued to break record highs and jumped to 10.7% in October 2022 from 9.9% in September. Preliminary estimates showed that the numbers came in above market expectations of 10.2%. Energy prices continue to have the biggest impact (up 41.9% vs. 40.7% in September), followed by food, alcohol and tobacco (13.1% vs. 11.8%), non-energy industrial goods (6% vs. 5.5%) and services (4.4% vs. 4.3%). Compared to the previous month, consumer prices rose 1.5%, the highest increase in seven months.
ECB Governor Lagarde's Speech - Friday (10:30 a.m.)
The European Central Bank raised key interest rates by 75 basis points during its October meeting, after a similar move in September, and raised borrowing costs to their highest levels since early 2009, as it battles high inflation and a looming recession. The decision came in line with expectations. The refinancing rate is now 2%, the deposit facility is 1.5%, and the margin lending rate is 2.25%. The central bank also expects to raise interest rates further and future increases will depend on inflation and the developing economy, based on the meeting-by-meeting approach. At the same time, the European Central Bank changed the terms and conditions of the TLTRO III Series, by adjusting the interest rates applicable from November 23, 2022, and giving banks optional additional early payment dates. It also sets the bonus for minimum reserves at the rate of the deposit facility with the European Central Bank. On the PEPP front, the ECB will reinvest principal payments from outstanding securities purchased under the program until at least the end of 2024.
All times +2gmt