The most important economic data this week from 17 to 21 Oct 2022
Monday, October 17, 2022 - 23:39
Point Trader Group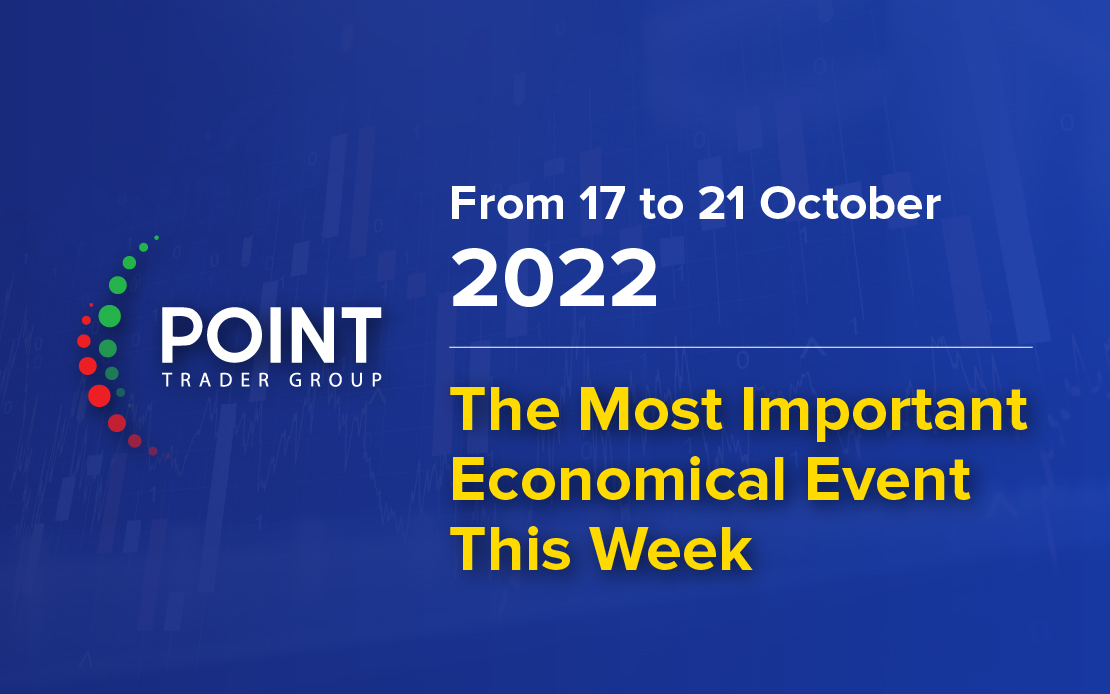 ---
The most important data expected this week
United State
Building Permits (September) - Wednesday (2:30 pm)
Building permits in the United States, a proxy for future building, fell 8.5% month over month to 1.542 million annually in August of 2022. It is the lowest reading since August of 2020, with permits declining in the Northeast (- 15.9%, South ( -10.9%), Midwest (-6%), West (-0.8%) Family unit permits fell to 0.900 million from 0.932 million, and multiple family unit permits fell to 0.642 million from 0.753 million. Preliminary estimates showed that building permits had It fell 10% to 1.517 million in August, with single-family permits dropping to 0.899 million units, while unit approvals for buildings of five or more units fell to 0.571 million.
US Crude Oil Inventories - Wednesday (4:30 pm)
US crude oil inventories jumped by 9.88 million barrels in the week ending October 7, the most since March 2021 and compared to market expectations for a decrease of 2.05 million barrels, according to the latest Energy Information Administration report. Gasoline stocks rose by 2.023 million barrels, compared to expectations for a withdrawal of 1.825 million barrels. Meanwhile, distillate stocks, which include diesel and heating oil, fell by 4.853 million barrels, above the consensus of 2.05 million barrels. Crude stocks in Cushing, Oklahoma, decreased by 0.309 million barrels, after an increase of 0.273 million.
Unemployment Claims Rates - Thursday (2:30 pm)
The number of Americans filing new claims for unemployment benefits rose by 9,000 to a six-week high of 228,000 in the week to Oct. 8, extending the jump from a five-month low hit two weeks ago and exceeding expectations of 225,000, indicating some backing down. in labor market conditions. On a seasonally unadjusted basis, initial claims rose by 32,275 to 199,662, with notable increases in Florida (+10,368) as the state suffered the effects of Hurricane Ian, while claims also rose in California (+5,512) and New York (+ 3.538). The 4-week moving average, which removes weekly volatility, increased by 5,000 individuals from the previous week to 211,500.
Philadelphia Manufacturing Index (October) - Thursday (02:30 pm)
The US Philadelphia Fed Manufacturing Index fell to -9.9 in September 2022 from 6.2 in August, missing market expectations of 2.8. The current activity indicator returned to negative territory, the new orders indicator remained negative, and the shipments indicator also declined but remained positive. Firms report continued increases in hiring. Price indicators continue to indicate price increases in general. The outlook for growth over the next six months was weak, as the indicator of future general activity improved but remained negative.
Existing Home Sales (September) - Friday (4:00 PM)
US existing home sales fell 0.4% to a seasonally adjusted annual rate of 4.8 million in August of 2022, the lowest reading since May of 2020, and following a downwardly revised 5.7% rate decline in July. This marks the seventh consecutive month of declines in existing home sales, reflecting an uptick in mortgage rates this year. The numbers compare to market expectations of 4.7 million. The median price of existing home sales increased 7.7% from a year ago to $389,500. After five consecutive monthly increases, the inventory of unsold existing homes has dwindled to 1.28 million, or 3.2 months at the current monthly sales pace. Sales rose in the Northeast (1.6%) and West (1.1%), but were unchanged in the South and fell 3.3% in the Midwest.
United kingdom
CPI (MoM) (Sept) - Wednesday (08:00 AM)
The UK's annual inflation rate fell unexpectedly to 9.9% in August 2022 from 10.1% in July, which was the highest reading since 1982, and below market expectations of 10.2%. This is the first time in 11 months that inflation has eased, with car fuel prices down (32.1% versus 43.7% in July). Gasoline and diesel prices averaged 175.2 and 186.6 pence per liter, respectively, in August, compared with 134.6 and 137.0 pence per liter a year earlier. Used car prices also rose 4.6%, down from 8.6% in July. On the other hand, the cost of food items rose faster (13.1% versus 12.7%), namely milk, cheese and eggs; clothing and footwear (7.6% vs. 6.6%); and miscellaneous goods and services (4.6% vs. 4%). Prices for housing and utilities are up 20%, the same as in July, with actual rents up 4% (versus 3.8%), electricity 54% (the same as in July) and gas 95.7% (the same as in July).
Retail Sales (MoM) (September) - Friday (08:00 AM)
The UK Retail Price Index remained unchanged at 12.30% in August from 12.30% in July 2022.
euro
CPI (YoY) (Sept) - Wednesday (11:00 AM)
Preliminary estimates showed that the annual inflation rate in the eurozone jumped to 10% in September 2022 from 9.1% in August, hitting double digits for the first time ever. The numbers compare with market expectations of 9.7%. It marks the fifth consecutive month of rising inflation, as prices show no signs of peaking, while pressures are already spreading from energy to other elements. Faster increases were seen in food, alcohol and tobacco (1.8% vs. 10.6% in August), energy (40.8% vs. 38.6%), non-energy industrial goods (5.6% vs. 5.1%) and services (4.3% vs. 3.8%). Among the bloc's largest economies, Germany recorded the highest inflation (10.9% vs. 8.8%), followed by Italy (9.5% vs. 9.1%) while both Spain (9.3% vs. 10.5%) and France (6.2% vs. 6.6%). ) slowed down.
Germany
ZEW German Economic Sentiment (October) - Tuesday (11:00 am)
The ZEW index of economic sentiment for Germany fell for a third month to -61.9 in September 2022 from -55.3 in August, hitting the lowest level since October 2008 and worse than market expectations of -60. The current conditions sub-index also fell to -60.5 from -47.6. Meanwhile, the outlook for the next six months has deteriorated further, amid expectations of a winter energy shortage while growth in China is assessed less positively.
Canada
Core CPI (MoM) (September) - Wednesday (02:30 PM)
Canada's annual inflation rate slowed to 7% in August of 2022, from 7.6% in July and below market estimates of 7.3%. Growth in transportation costs continued to slow sharply (10.3% vs. 14.4%), amid a sharp decline in gasoline (22.1% vs. 35.6%). Prices for shelter (6.6% vs. 7%), entertainment, education and reading also slowed (5.7% vs. 6.2%). Meanwhile, food costs (9.8% vs. 9.2%), household operations, and furnishings and equipment (5.1% vs. 5%) continued. Excluding gasoline, consumer prices rose 6.3%, down from 6.6% in the previous month. On a monthly basis, consumer prices fell 0.3%, the first decline since December 2021 and the sharpest since the pandemic began in April 2020.
all times are +2 gmt