The most important Economic data this week from the 18th to the 22nd of April 2022
Tuesday, April 19, 2022 - 11:58
Point Trader Group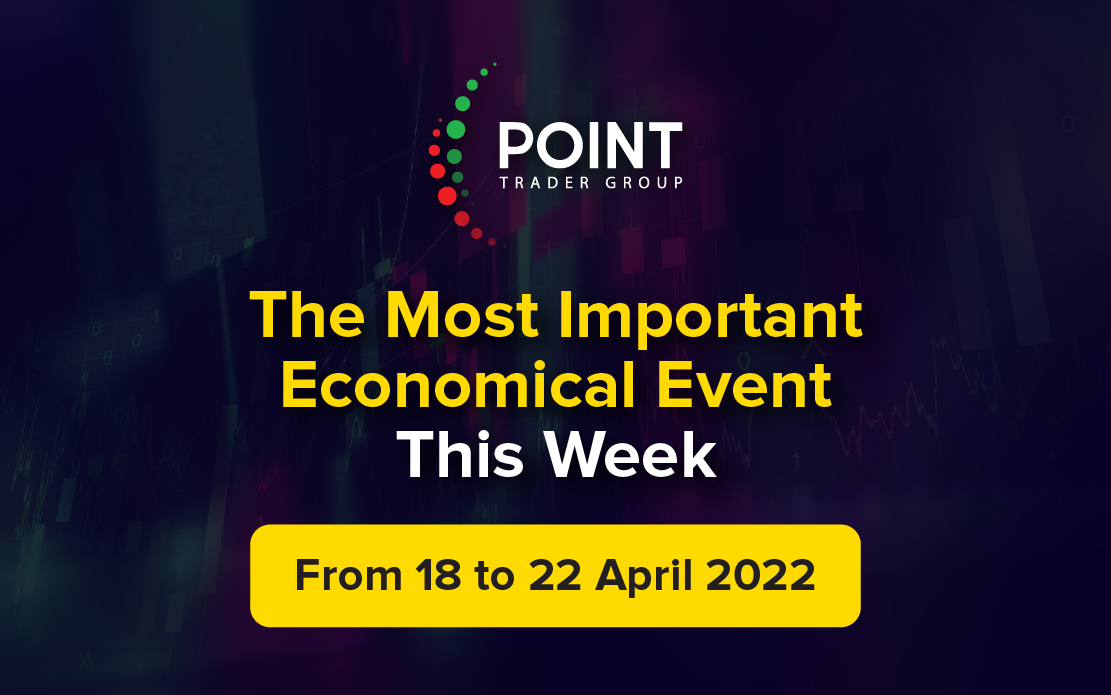 ---
The most important data expected this week
United State
Building Permits (March) - Tuesday (2:30 pm)
The revised figures showed that building permits in the United States fell 1.6 percent from the previous month to a seasonally adjusted annual rate of 1,865 million in February 2022, down from a 16-year high the previous month of 1.895 million and below market expectations of 1.85 million.
Existing Home Sales (March) - Wednesday (4:00 PM)
Existing home sales in the United States fell 7.7% per month to a seasonally adjusted annual rate of 6.02 million in February of 2022, below market expectations of 6.1 million. It's the lowest reading in six months. Inventory of unsold existing homes increased slightly to 870,000, equaling 1.7 months of supply at the current monthly sales pace. Average sales price increased to $357,300, up 15% year over year. This represents 120 consecutive months of year-over-year price increases, the longest streak on record. "The affordability of housing remains a major challenge, as buyers are dealt a double whammy: higher mortgage rates and ongoing price increases. Some who previously qualified with a mortgage rate of 3% are no longer able to purchase at a rate of 4%. Monthly rise Payments are up 28% from last year - which is interesting not part of the CPI - and the market is still fast with many offers still posted on most properties"
US Crude Oil Inventories - Wednesday (4:30 pm)
US crude oil inventories jumped 9.382 million barrels to 421.8 million barrels in the week ending April 8, the most since March 2021 and above market expectations for an increase of 0.863 million. Crude oil inventories in Cushing, Oklahoma, rose by 0.45 million barrels, the second consecutive week of increases. Meanwhile, gasoline stocks fell by 3.649 million barrels to 233.1 million barrels, more than expectations for a decline of 0.388 million. Distillate stocks, which include diesel and heating oil, fell 2.902 million barrels to 111.4 million barrels, compared to expectations for a 0.515 million barrel decline.
Unemployment Claims Rates - Thursday (2:30 pm)
The number of Americans filing new claims for unemployment benefits rose by 18,000 to 185,000 in the week ended April 9, exceeding market expectations of 171,000. However, claims are still close to the previous week's revised level of 167K, the lowest level since 1968. On a non-seasonal rate basis, initial claims were up 28,151 from the previous week to 222,545, with a significant increase recorded in Missouri (+7061) , Michigan (+5,928), California (+4,104) and Indiana (+3,481). The 4-week moving average that removes weekly volatility was 172,250, an increase of 2,000 from the previous week's revised average.
Philadelphia Manufacturing Index (April) - Thursday (02:30 pm)
The US Philadelphia Fed Manufacturing Index rose to 27.4 in March 2022 from 16 in February and above market expectations of 15. It was the highest reading since last November. Survey indicators for general activity, shipments and new orders rose after falling last month. The employment index and both price indices rose higher and remained higher. The survey's future overall activity, new orders and shipments indicators eased, but the companies surveyed remained generally optimistic about growth over the next six months.
Fed Chair Powell Speech - Thursday (5-7 pm)
Many Fed officials would have preferred a 50 basis point increase in the federal funds rate, rather than a 25 basis point increase, as the FOMC meeting minutes showed last March. On the balance sheet reduction, officials agreed that monthly caps of about $60 billion for Treasury securities and $35 billion for mortgage-backed securities were likely to be appropriate, with amounts phased out over a three-month period or slightly longer. That's up from $50 billion a month with the Fed's cut in 2017-2019. Fed officials also considered that it would be appropriate to move the monetary policy stance towards a neutral position urgently and that a move to a tighter policy might be justified, depending on economic and financial developments.
New Zealand
CPI (Quarterly) (Q1) - Thursday (00:45 AM)
New Zealand's CPI rose 1.40 percent in December of 2021 compared to the previous month.
Euro-zone
CPI (MoM) (March) - Thursday (11:00 AM)
Eurozone annual inflation rose to an all-time high of 7.5% in March 2022 compared to 5.9% in February and well above market expectations of 6.6%. Preliminary estimates showed that inflation broke a new record for the fourth consecutive month, as the war in Ukraine and sanctions against Russia pushed fuel and natural gas prices to record highs. Inflation is now more than 3 times above the ECB's 2% target. Energy again posted an annual high (44.7% vs. 32.0% in February), but prices for other items also accelerated, including food, alcohol and tobacco (5% vs. 4.2%) and non-energy industrial goods (3.4% vs. 3.1%) ) and services (2.7% vs 2.5%). Excluding energy, inflation also rose to 3.4% from 3.1% and excluding energy, food, alcohol and tobacco, it rose to 3% from 2.7%.
ECB Governor Lagarde's speech - Friday (3pm)
European Central Bank policy makers said during the April 2022 meeting that the incoming data reinforced expectations that net asset purchases should end in the third quarter. Monthly net purchases under the app will be €40 billion in April, €30 billion in May and €20 billion in June, as defined at the previous meeting and that any rate adjustments would occur sometime after the end of the asset purchase program and would be gradual. However, during the regular press conference, President Lagarde said that the exact deadline for the APP has not been set, nor has the timetable for possible interest rate increases been set. On the economic front, the Central Bank noted the intensification of inflation pressures and the increase in inflation significantly and will remain high in the coming months, mainly due to the sharp rise in energy costs.
Canada
Core CPI (MoM) (March) - Wednesday (2:30 pm)
Canada's annual inflation rate accelerated to 5.7% in February 2022, the highest level since August of 1991, and is slightly above market expectations of 5.5%, as geopolitical risks and tight OPEC+ supplies pushed oil prices to their highest levels in the world. More than 13 years and logistical issues. It continued to subsidize the costs of raw materials and transportation. Prices rose fastest in six of the eight major components, particularly for shelter (6.6% vs. 6.2% in January), which rose at the most rapid pace since August 1983. Sharp price increases were also seen in transportation (8.7% vs. 8.3%). buoyed by a 32.3% increase in gasoline charges at the pump; Food costs (6.7% vs. 5.7%), as food prices in groceries rose at the fastest rate in 13 years. Excluding gasoline, the CPI rose at a new record pace of 4.7%. On a monthly basis, consumer prices rose 1.0%, beating market expectations for a 0.9% increase and marginally faster than a 0.9% increase in January.
Britain
Bank of England Governor Bailey Speech - Thursday (6:30 pm)
The Bank of England raised its key interest rate by 25 basis points to 0.75% during its March 2022 meeting, in line with expectations. It's the third straight rise in borrowing costs, bringing interest rates back to pre-Covid levels. Developments since the February report, in particular the invasion of Ukraine by Russia, are likely to add to peak inflation and negatively impact activity by intensifying pressure on household income. Inflation is expected to rise further in the coming months, to around 8% in the second quarter of 2022, and possibly higher later this year. Based on its current assessment of the economic situation, the committee considers that more modest monetary tightening may be appropriate in the coming months, but there are risks on both sides of this judgment depending on how the medium-term inflation outlook develops.
Retail Sales (MoM) (March) - Fri (8am)
UK retail sales unexpectedly fell 0.3% monthly in February of 2022, reversing a 1.9% rise in January and compared to market expectations for a 0.6% increase. Sales decreased in out-of-store sales (-4.8%) and in food stores (-0.2%), with significant declines in alcohol and tobacco stores, which may be linked to higher spending at bars and restaurants with increased confidence to go out. At the same time, sales increased in non-food stores (0.6%), specifically in clothing (13.2%) and department stores (1.3%), with the expansion of social contact and return to the office, which was partially offset by a decrease in the household. Merchandise Stores (-2.5%) as some retailers indicated that stormy weather during the month affected appetite. Compared to pre-pandemic levels in February 2020, retail sales are up 3.7%.
Composite PMI (April) - Friday (10:30 am)
The UK S&P Global/CIPS Composite PMI was revised up to 60.9 in March 2022 from 59.7 initially and above 59.9 in February to indicate the fastest rise in private sector activity since June 2021. Strong economic growth reflects a sharp and accelerating recovery in service sector production . In contrast, industrial production (index at 51.8, down from 56.9 in February) rose at the slowest pace since October 2021. Rising workloads and limited business capacity led to another strong expansion in private sector employment numbers during the month of March. The latest increase in employment levels was the strongest in seven months. March data indicated faster rates of input cost inflation in the manufacturing and services sectors. By aggregate measure, operating expenses at private sector firms rose at the second-fastest pace ever (exceeding only those seen in November 2021)
Germany
German Manufacturing PMI (April) - Friday (9:30 am)
The German S&P Global/BME Manufacturing PMI was revised down to 56.9 in March 2022 from an initial 57.6, indicating the lowest growth in factory activity in 18 months, as the war in Ukraine affected export demand and led to new supply- side pressures. New order flows rose at the weakest rate in three months. Russia's invasion of Ukraine has also brought renewed stress on supply chains and long-standing challenges over material availability, while transportation has been exacerbated by a spike in coronavirus cases in China. Elsewhere, rising oil, gas and other commodity prices drove up input cost inflation for the first time in five months. In contrast, there was a faster rise in average factory gate prices, with the rate of increase near the series high of last November. Meanwhile, commodity producers have become pessimistic about the outlook for the next year for the first time since the initial global outbreak of Covid.