The most important economic events of this week from April 25 to 29, 2022
Wednesday, April 27, 2022 - 03:48
Point Trader Group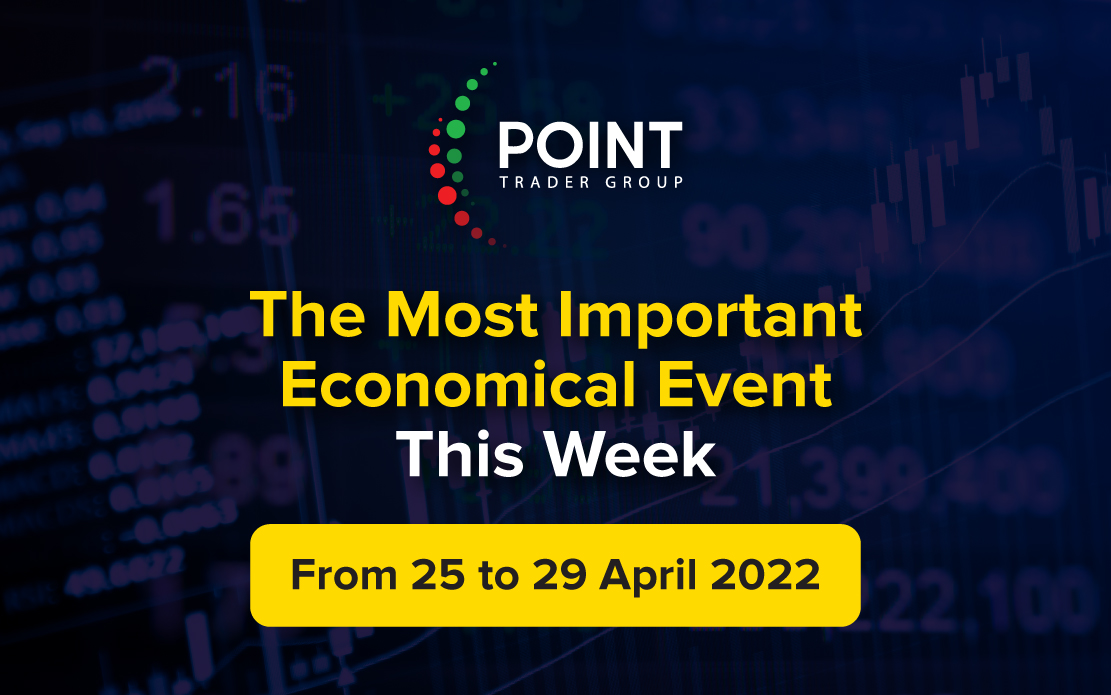 ---
The most important data expected this week
United State
Core Durable Goods Orders (MoM) (March) - Tuesday (2:30 PM)
New orders for durable goods manufactured in the US rose 0.8% month over month in March 2022, rebounding from a downwardly revised 1.7% drop the previous month, but below market expectations for a 1% increase. Excluding transportation, new orders rose 1.1 percent (versus -0.5 percent in February); Excluding defense, new orders advanced 1.2% (versus -2.1%). Computers and electronic products, up two months from the past three months, led the increase by $0.7 billion, or 2.6 percent, to $26.3 billion. Meanwhile, orders for non-defense capital goods excluding aircraft, a closely watched proxy for business spending plans, rose 1 percent, rebounding from a 0.3 percent decline in February and exceeding market expectations for a 0.5 percent increase.
New Home Sales (March) - Tuesday (4:00 pm)
New home sales in the United States fell 8.6% from the previous month to a seasonally adjusted annual rate of 763,000 in March of 2022, after declining an average of 1.2% the previous month and below market expectations of 765 thousand. A decrease in home sales was observed in the South (-10.2% to 414 thousand), the Midwest (-8.7% to 94 thousand), the West (-6.0% to 202 thousand) and the Northeast (-5.4% to 53 thousand). Meanwhile, the median selling price of new homes sold last month was $436,700, much higher than the $359,600 a year earlier, while the median sale price was $523,900, up from $414,700.
Pending Home Sales Index (MoM) (March) - Wednesday (04:00 PM)
The number of signed contracts to purchase existing homes in the US fell 4.1% in February of 2022, after an upwardly revised 5.8% decline in January and surprising analysts who had expected a 1% rebound. This was the fourth consecutive monthly decline, amid an ongoing property shortage and with rising mortgage rates and home prices starting to weigh on demand. Pending home sales fell in the South, Midwest and West but rose in the Northeast.
US Crude Oil Inventories - Wednesday (4:30 pm)
US crude oil stocks fell 8.02 million barrels to 413.7 million barrels in the week ending April 15, the most since January 2021 and compared with market expectations for an increase of 2.471 million barrels. Crude stocks in Cushing, Oklahoma, fell 0.185 million barrels. Gasoline stocks fell 0.761 million barrels to 232.4 million barrels, less than expectations for a 0.976 million decrease. And distillate stocks, which include diesel and heating oil, fell by 2.664 million barrels to 108.7 million barrels, compared to expectations for a decrease of 0.829 million barrels.
GDP (Quarterly) (Q1) - Thursday (02:30 PM)
The US economy expanded at an annualized rate of 6.9% on a quarterly basis in the final three months of 2021, 0.1 percentage point lower than the second estimate. However, it still represented the strongest expansion since record growth of 33.8% in the third quarter of 2020, with private inventories making the largest upward contribution (5.32 percentage points versus 4.9 percentage points in the second estimate), led by the auto dealers and wholesale industries. downward revisions to PCE (2.5% vs. 3.1% in the second estimate); exports (22.4% vs. 23.6%); Non-residential fixed investment (2.9% vs. 3.1%) and government and local spending (-1.6% vs. -1.4%) was partially offset by upward revisions to private inventory investment; Fixed Residential Investment (2.2% vs. 1%); and federal government spending (-4.3% vs. -4.5%). Imports were also revised upward (17.9% versus 17.6%). Looking at the whole of 2021, the US economy expanded by 5.7%, matching previous estimates.
Unemployment Claims Rates - Thursday (2:30 pm)
The 4-week moving average, which removes weekly volatility, was 177.250 in the week ended April 16, an increase of 4,500 from the revised average for the previous week. The previous week's average was revised upwards by 500 from 172.250 to 172.750.
Euro-zone
ECB Governor Lagarde's speech - Wednesday (1:30pm)
European Central Bank policy makers said during the April 2022 meeting that the incoming data reinforced expectations that net asset purchases should end in the third quarter. Monthly net purchases under the app will be €40 billion in April, €30 billion in May and €20 billion in June, as defined at the previous meeting and that any rate adjustments would occur sometime after the end of the asset purchase program and would be gradual. However, during the regular press conference, President Lagarde said that the exact deadline for the APP has not been set, nor has the timetable for possible interest rate increases been set. On the economic front, the Central Bank noted the intensification of inflation pressures and the increase in inflation significantly and will remain high in the coming months, mainly due to the sharp rise in energy costs.
CPI (YoY) (April) - Friday (11:00 am)
The annual inflation rate in the Eurozone was revised down slightly to 7.4% in March 2022 from the initial estimate of 7.5%. However, it was still the highest inflation rate ever, compared to 5.9% in February, as the war in Ukraine and sanctions against Russia pushed fuel and natural gas prices to record highs. Inflation is now more than 3 times above the ECB's 2% target. Energy cost made the highest upward contribution as prices increased by 44.4% (versus 44.7% in the first estimate). Excluding energy, inflation was 3.4%. There was also a general rise in consumer prices, ranging from food, alcohol, and tobacco (5%, as in the initial estimate), to non-energy industrial goods (3.4%) and services (2.7%). On a monthly basis, the CPI rose 2.4%, also a record high, as energy costs jumped 12.2%.
Germany
German GDP (QoQ) (Q1) - Friday (10:00 am)
The German economy contracted by 0.3% on a quarterly basis in the last three months of 2021, well below initial estimates of a 0.7% decline. However, this is still the first drop in GDP in three quarters, due to the fourth wave of Covid-19 and another strengthening of restrictions. Household spending decreased by 1.8% while government consumption increased by 1% and gross fixed capital formation in machinery and equipment increased by 0.9%. Gross fixed capital formation in construction remained at about the level of the previous quarter. Foreign trade increased, with exports of goods and services increasing by 4.8% while imports increased slightly (5.1%). Looking at the whole of 2021, the German economy expanded by 2.9%, higher than the initial estimate of 2.8%.
Canada
GDP (MoM) (Feb) - Friday (2:30 pm)
Canada's economy expanded 0.2% month over month in January of 2022, the eighth consecutive month of growth, compared to an upwardly revised 0.1% increase in December and in line with market expectations. Goods-producing industries expanded 0.8%, led by construction (2.8%) and utility production (4%) as below-season temperatures in western Canada increased demand for electricity and natural gas for heating. Meanwhile, the economic effects of the spread of the Omicron variable kept the service-producing industries stagnating in January, as strong growth in wholesale trade (3.1%) and retail (2.5%) offset the sharp contraction in transportation and housing (-3%). According to preliminary data, Canadian GDP for the month of February likely grew by 0.8%.
Australia
PPI (Quarterly) (Q1) - Wednesday (03:30 AM)
Australia's final producer price index rose 1.3% qoq in the fourth quarter of 2021, after rising 1.1% in the third quarter. It was the sixth consecutive quarter of increases in the index and the highest reading since the third quarter of 2013, buoyed by a faster economic recovery in the wake of the COVID-19 disruptions. There have been price increases received for building construction output (2.9%), due to the continued strong demand for housing and construction companies causing higher material and labor costs; Heavy and civil engineering construction (1.4%), due to higher iron and oil. Automobile and auto parts manufacturing (4.4%), due to persistent shortages of semiconductors and other components limiting production. This rise was offset by lower prices for utilities and exchange services (-0.9%), due to higher consumption of electricity distributed over fixed costs; and manufacturing of sugar and sweets (4.4%), amid Christmas discounts. In the year to the fourth quarter, producer prices rose 3.7%, the largest increase since the first quarter of 2009
Japan
Bank of Japan Monetary Policy Report - Thursday (Pending)
The Bank of Japan left the short-term interest rate unchanged at -0.1% and 10-year bond yields around 0% during its March meeting, with a vote of 8-1, as was widely expected. Noting that the Japanese economy has rebounded despite some weakness due to the epidemic and supply side issues; The Board of Directors warned of new risks from the Ukraine crisis, which it said is destabilizing financial markets and leading to a sharp rise in the costs of raw materials. In the meantime, annualized CPI is likely to rise clearly in positive territory for now, reflecting the passing of the cost of raw materials and the fading effects of lower mobile charges. The Council affirmed that it will not hesitate to take additional easing measures if necessary, with the expectation that short and long-term prices will remain at their current or low levels.
China
Caixin Manufacturing PMI (April) - Saturday (03:45 am)
The Caixin China General Manufacturing PMI fell to a 25-month low of 48.1 in March 2022 from February's reading of 50.4, missing the market consensus of 50. The latest version was also the second contraction in factory activity since the start of the year, amid measures aimed at containing COVID-19 outbreak. Both production and new orders contracted the most since February 2020 and export sales fell at the fastest pace in 22 months. Meanwhile, deliveries are more protracted than last October, amid a deterioration in global transport. At the same time, employment rose for the first time since last July, while backlogs rose for the second month in a row. In terms of prices, input-output cost inflation accelerated to its highest level in five months. Finally, confidence was at its lowest level in three months. "A variety of factors resonate, exacerbating the downward pressure on the Chinese economy, and underlining the risks of stagflation," said Dr. Wang Zhe, chief economist of Caixin Insight Group.