The most important economic events this week from July 25 to 29, 2022
Monday, July 25, 2022 - 18:13
Point Trader Group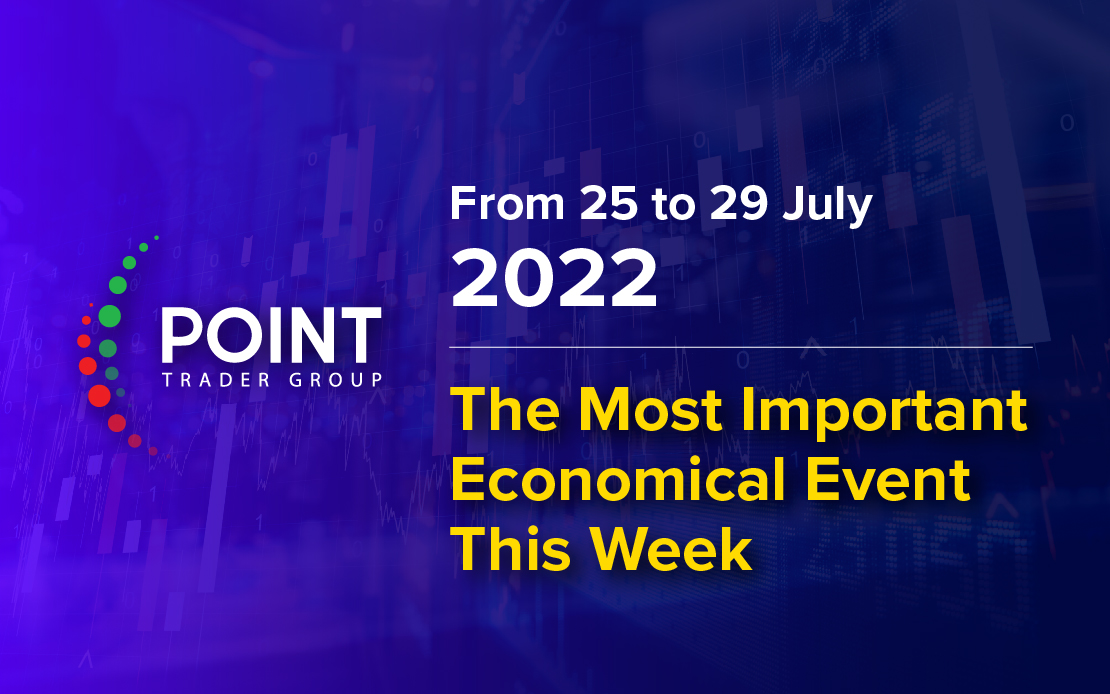 ---
The most important data expected this week
United State
New Home Sales (June) - Tuesday (4:00 pm)
New home sales in the United States rose 10.7% from the previous month to a seasonally adjusted annual rate of 696,000 in May 2022, above market expectations of 588,000. Sales increased in the West (39.3%) and in the South (12.8%) but decreased in the Northeast (-51.1%) and in the Midwest (-18.3%). Despite the recovery in May, high home prices and mortgage rates near 6% are likely to continue to weigh on sales in the coming months. Meanwhile, the median sale price of new homes sold last month was $449,000, up 15% from a year earlier, and the median sale price was $511,400. There are now 7.7 months of supplies in stock, compared to 8.3 months in April.
Durable Goods - Wednesday (2:30 p.m.)
New orders for US-made durable goods rose 0.7% per month in May of 2022, the third consecutive month of gains. The numbers beat market expectations for a 0.1% rise, a sign that business spending plans remain solid so far despite rising interest rates and inflation. Transportation equipment orders led the increase (0.8%), followed by capital goods (0.8%), machinery (1.1%), and computer and electronics (0.5%). Orders for non-defense capital goods excluding aircraft, a proxy for investment in equipment, rose 0.5%, after rising 0.3% in April.
US Federal Reserve interest rate decision - Wednesday (08:00 pm)
The FOMC meeting minutes from the June meeting showed that Fed policymakers continued to expect continued increases in the federal funds rate to be appropriate, and supported a 50 or 75 basis point hike in July. Officials also noted that the US economic outlook calls for a transition to a restrictive policy stance, and recognize the possibility that a more restrictive stance may be appropriate if high inflation pressures persist. At the same time, they noted that policy constancy could slow economic growth for some time, but saw inflation back to 2% as critical to maximizing employment on a sustainable basis. The Federal Reserve raised its funds rate by 75 basis points to 1.5%-1.75% during its June 2022 meeting, instead of the 50 basis points initially expected.
GDP (QoQ) (Q2) - Thursday (02:30 PM)
The US economy contracted at an annualized rate of 1.6% on a quarterly basis in the first quarter of 2022, slightly worse than the 1.5% decline in the second estimate. This is the first contraction since the pandemic-induced recession in 2020 as record trade deficits, supply constraints, labor shortages and rising inflation affect. Imports rose more than expected (18.9% vs. 18.3% in the second estimate), led by non-food and non-motor consumer goods and exports fell less (-4.8% vs. -5.4%). Also, consumer spending growth was revised lower (1.8% vs 3.1%), as the increase in spending on services, led by housing and utilities, was partially offset by lower spending on goods, specifically groceries and gasoline. Meanwhile, private inventories subtracted 0.35 percentage points from the growth, well below the 1.09 percentage point draw in the second estimate. Fixed investment growth remained strong (7.4%) but investment in housing was weak (0.4%, as in the second estimate).
Unemployment Claims Rates - Thursday (2:30 pm)
The number of Americans filing new applications for unemployment benefits jumped by 9,000 to 251 thousand in the week that ended July 16, the highest level since November 2021 and well above market expectations of 240,000, indicating a cooler job market. On a seasonally unadjusted basis, initial claims rose by 7,853 from the previous week to 248,991, with notable increases in Massachusetts (+14,136), California (+3,815), and South Carolina (+2,992). The 4-week moving average, which removes week-to-week volatility, was at 240,500, an increase of 4,500 over the previous week's upwardly adjusted average of 236,000.
Personal Spend - June - Friday (2:30 PM)
US personal spending rose 0.2% month over month in May of 2022, the weakest gain so far this year and after a 0.6% rate cut in April. The numbers came in below market expectations of 0.4%. Spending on services, namely housing, international travel, hospital services, and gasoline, increased, while spending on cars and spare parts, specifically new cars, decreased. Real or inflation-adjusted personal spending fell 0.4%, the first decline so far this year, in a sign of persistently high consumer prices that are beginning to weigh on household affordability.
Personal Income - June - Friday (2:30 PM)
Personal income in the United States increased 0.5 percent from the previous month in May 2022, the same month as the previous and matching market expectations, as higher compensation and owner income offset a drop in government social benefits. Within compensation, the increase reflected increases in private and government wages and salaries. Non-farm income has led to the increase in the income of the owners.
Euro-zone
CPI (YoY) (July) - Friday (11:00 AM)
The annual inflation rate in the eurozone was confirmed at a record high of 8.6% in June of 2022, compared to 8.1% in May and 1.9% the previous year. The largest contribution again came from energy prices (42% vs. 39.1%), but strong increases were also observed in food, alcohol and tobacco prices (8.9% vs. 7.5%), services (3.4% vs. 3.5%), and non-energy and industrial goods (4.3% vs. 4.2%), indicating widespread inflationary pressures. Excluding energy, inflation rose to 4.9% from 4.6%, more than double the European Central Bank's 2% target. Compared to the previous month, consumer prices rose 0.8%.
Australia
CPI (Quarterly) (Q2) - Wednesday (03:30 AM)
Australia's annual inflation rate rose to 5.1% in the first quarter of 2022 from 3.5% in the fourth, beating market estimates of 4.6% and marking the highest reading since the introduction of the Goods and Services Tax in the early 2000s, reflecting higher fuel prices. And the high cost of construction. Transportation prices have increased the most since the Iraqi invasion of Kuwait in 1990 (13.7% vs. 12.5% ​​in the fourth quarter), while additional upward pressure came from the cost of food and non-alcoholic beverages (4.3% vs. 1.9%) and alcohol and tobacco (1.8%). against 1.1%), housing (6.7% vs. 4%), furnishings (4.9% vs. 3.6%), entertainment (3% vs. 2.1%), health (3.5% vs. 3.3%), insurance and financial services (2.7% vs. 2.2% ). On a quarterly basis, consumer prices rose 2.1%, the most since the third quarter of 2000, after rising 1.3% in the fourth quarter, mainly due to a jump in the cost of new housing and fuel. The average trimmed CPI rose 3.7% year-on-year, the fastest pace in 12 years, well above the central bank's 2-3% target midpoint. On a quarterly basis, the index rose 1.4%.
Retail Sales (MoM) (June) - Thursday (03:30 AM)
Australia's retail sales rose 0.9% month-on-month to reach another record high of A$34.23 billion in May 2022, unrevised from the quick figure and after a recent 0.9% gain in April. This was also the fifth consecutive month of growth, as the economy recovered the most from the disruptions of COVID-19. Supermarkets saw the biggest rise (5.1% vs. -2.5% in April), followed by cafes, restaurants and takeaway food services (1.8% vs. 3.3%), other retail (1.5% vs. 0.5%), and food retail (0.6%). vs. 1.9%), and household goods (0.4% vs. -2.7%). In contrast, the clothing, footwear and personal accessories trade was the only industry that saw a decline (-1.4% vs 3.1%). Among states and territories, sales grew in New South Wales (1.6% vs. -0.3% in April), South Australia (1.9%), Victoria (1.3% vs. 1.1%), Western Australia (0.2% vs. 2.2%) and Tasmania (1.1% vs. 2.0 %) and NT (0.6% vs. 0.7%). In contrast, sales fell in Queensland (-0.4% vs. 1.6%), and the Australian Capital Region (-0.3% vs. 0.5%).
Canada
GDP (MoM) (May) - Fri (02:30 pm)
The Canadian economy is likely to contract 0.2% m/m in May 2022, with declines expected in mining, quarrying, oil and gas extraction, manufacturing and construction. Regarding the month of April, Canadian GDP rose 0.3% m/m, after expanding 0.7% in March and exceeding initial estimates of a 0.2% rise. Growth was observed in 13 out of 20 industries during the month, with production rising for industries producing goods (0.9%), while production for service providers was slightly higher (0.1%). Mining, quarrying and oil and gas extraction witnessed a sharp expansion (3.3%) amid a recovery in all sectors. Output was also higher for accommodation and food services (4.6%) with activity in the sub-sector exceeding pre-COVID levels. On the other hand, the real estate sector contracted by 0.8% extending the decline last month.