The most important economic events this week from May 09 to 13, 2022
Tuesday, May 10, 2022 - 08:08
Point Trader Group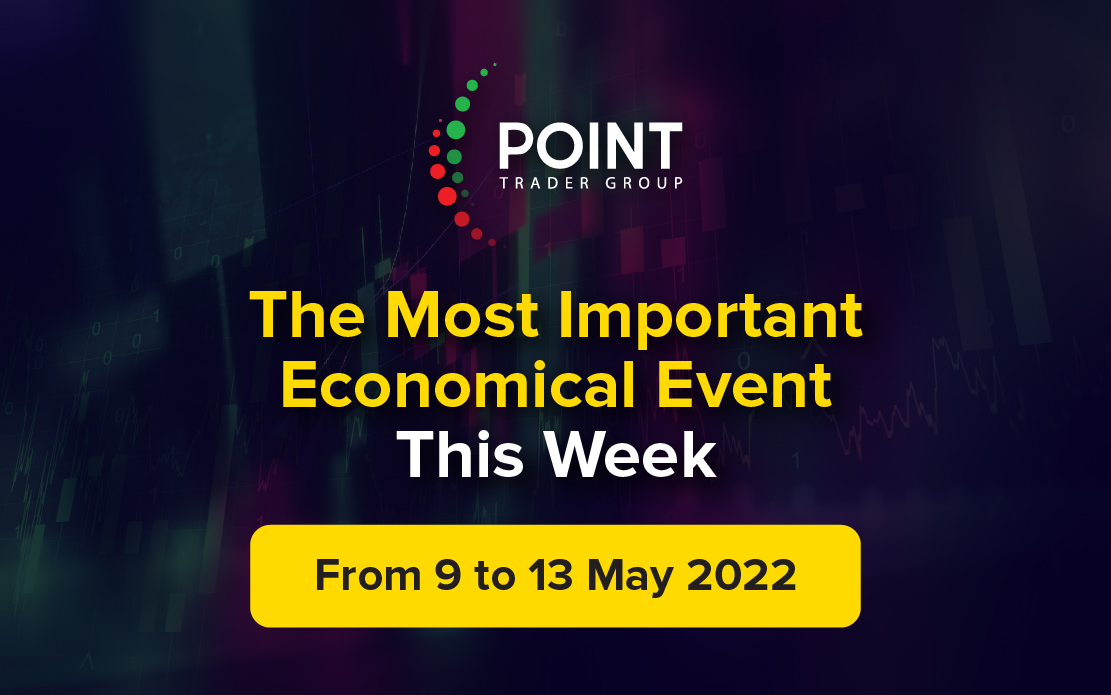 ---
The most important data expected this week
United State
Core CPI (Excluding Food and Energy) (MoM) (April) - Wednesday (02:30 PM)
The annual US inflation rate accelerated to 8.5% in March 2022, the highest rate since December 1981, from 7.9% in February and compared with market expectations of 8.4%. Energy prices rose 32%, specifically gasoline (48%) and fuel oil (70.1%) as the Russian invasion of Ukraine pushed up crude oil prices. Food prices also jumped 8.8%, the most since May 1981. Likewise, inflation accelerated for shelter (5% vs. 4.7% in February) and new vehicles (12.5% ​​vs. 12.4%) but slowed for used cars and trucks (35.3% vs. 41.2%) ). Excluding the volatile energy and food categories, the CPI rose 6.5%, the largest rise in 40 years but slightly below expectations of 6.6%. Many analysts expect March to mark the peak of inflation even though the war in Ukraine is far from over, supply chain bottlenecks persist and consumer demand remains high which could weigh on CPI for a longer period.
Natural Gas Inventories - Wednesday (4:30 pm)
Working gas held at storage facilities in the United States increased by 77 billion cubic feet in the week ending April 29, 2022, above average estimates of 68 billion cubic feet.
Unemployment Claims Rates - Thursday (2:30 pm)
The number of Americans filing new claims for unemployment benefits rose by 19,000 to 200,000 in the week ending April 30, 2022, from a revised 181,000 in the previous period and above market estimates of 182,000. It's the highest reading since mid-February. On a non-seasonal basis, initial claims decreased by 7,164 from the previous week to 196,962, with notable declines in California (-2,860) and Ohio (-2,609). The 4-week moving average, which removes weekly volatility, was 1,417,000, down 3,250 from the previous week's revised average.
Producer Price Index (MoM) (April) - Thursday (02:30 PM)
Producer prices for final demand in the US rose 1.4% month over month in March 2022, the largest increase since at least December 2009 and above market expectations of 1.1%. The main contribution to the increase came from diesel fuel prices (20.4%) and the cost also increased for gasoline (4.9%), fresh and dry vegetables (42.4%), jet fuel (23%), iron and steel scrap (27.6%) and electric power (1.9%). In contrast, beef and veal prices decreased by 7.3%, as did the cost of residential natural gas (-0.4%). Prices for services increased 0.9%, mainly due to higher profit margins of 1.2% for final demand trade services. Also, prices for final demand transportation and warehousing services increased (5.5%) and final demand services minus trade, transportation and warehousing (0.3%). Compared to March 2021, producer prices rose 11.2%, the largest increase since January 1981.
United kingdom
GDP - Thursday (08:00 am)
The British economy grew by 6.6% on an annual basis in the fourth quarter of 2021, which is slightly more than the initial estimates that had indicated a rise of 6.5%, and following a downwardly revised 6.9% rise in the third quarter, despite the spread of the Omicron coronavirus. . Public spending recorded the largest increase (10.5%), followed by household spending (8.1%) and business investment. Exports rose 1.2% and imports contracted 4%. At the end of 2021, the economy was only 0.1% below its pre-pandemic peak.
Europe
ECB Governor Lagarde's speech - Wednesday
European Central Bank policy makers said during the April 2022 meeting that the incoming data reinforced expectations that net asset purchases should end in the third quarter. Monthly net purchases under the app will be €40 billion in April, €30 billion in May and €20 billion in June, as defined at the previous meeting and that any rate adjustments would occur sometime after the end of the asset purchase program and would be gradual. However, during the regular press conference, President Lagarde said that the exact deadline for the APP has not been set, nor has the timetable for possible interest rate increases been set. On the economic front, the Central Bank noted the intensification of inflation pressures and the increase in inflation significantly and will remain high in the coming months, mainly due to the sharp rise in energy costs.
Germany
ZEW German Economic Sentiment (May) - Tuesday (11:00 am)
Germany's ZEW Economic Sentiment Index fell 1.7 points to -41 in April of 2022, the lowest since March 2020 but above market expectations of -48. Forecasts and assessments of the economic situation are currently similar to those that occurred at the beginning of the COVID-19 pandemic in March 2020. Inflation expectations for Germany have fallen by 43.4 points in the current survey to a new value of 26.8 points. ZEW Economic Sentiment remains at a low level. Experts are pessimistic about the current economic situation and assume that it will continue to deteriorate. The drop in inflation expectations, which cuts the previous month's big increase by about half, gives some hope. However, the possibility of a stagflation within the next six months remains, ZEW Chairman Professor Achim Wambach commented on the current forecast.
* All times are KSA +1