The most important Economic events this week from the 20th to the 24th of December 2021
Tuesday, December 21, 2021 - 19:48
Point Trader Group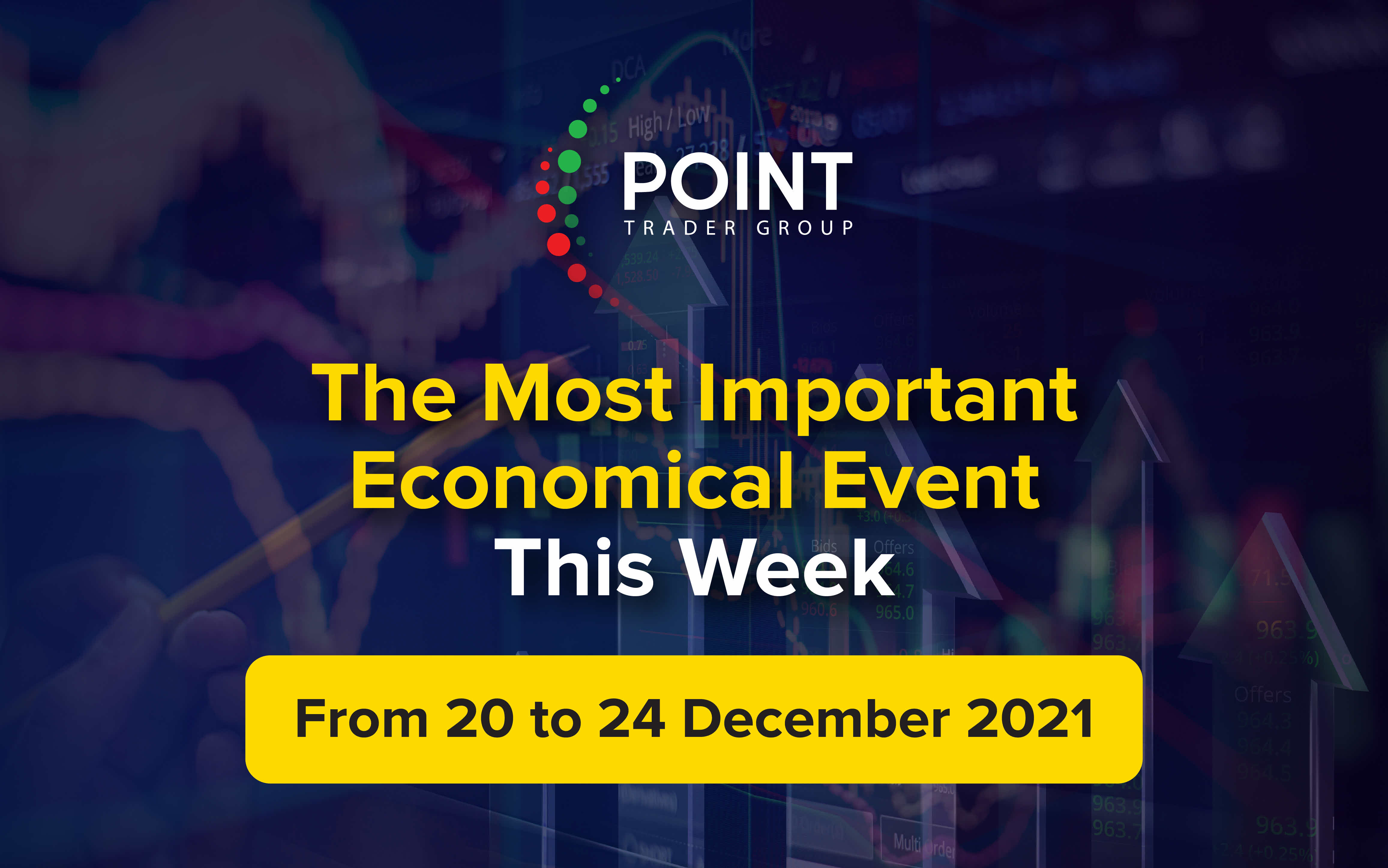 ---
The most important data expected this week
United State
Durable Goods Orders - Thursday (3:30 pm Egypt time)
New orders for durable goods manufactured in the United States fell 0.5 percent month-on-month in October of 2021, after a 0.4 percent decline in September and compared to market expectations for a 0.2 percent increase. Orders decreased for transportation equipment (-2.6 percent), which are aircraft and non-defense spare parts (-14.5 percent) and defense aircraft and parts (-21.8 percent). Further declines were seen in orders for computers and related products (-2.2 percent), non-defense capital goods (-1.2 percent) and machinery (-0.9 percent). Excluding defense, new orders jumped 0.8 percent and excluding transportation increased 0.5 percent, in line with expectations. Meanwhile, orders for non-defense capital goods excluding aircraft, a closely watched proxy for business spending plans, rose 0.6 percent, above expectations of 0.5 percent. US durable goods orders are expected to reach 0.30% by the end of this quarter.
Personal income - Thursday (3:30 pm Egypt time)
US personal income rose 0.5 percent from the previous month in October 2021, partially recovering from a 1.0 percent decline in September and exceeding market expectations for a 0.2 percent increase. This was the largest increase in income for three months, mainly due to increases in employee compensation on the back of higher private wages and salaries, and personal income income on assets boosted by both dividend income and interest income. On the other hand, government social benefits declined, reflecting lower payments from three unemployment programs linked to the pandemic. US personal income is expected to reach 0.60% by the end of this quarter.
Personal Spending - Thursday (3:30 pm)
US personal spending jumped 1.3% in October of 2021, above its 0.6% rise in September and exceeding market expectations of 1%. It is the fifth straight gain and the largest increase in 7 months, as US consumers continue to spend more amid big wage increases and despite higher prices. Gains in October were led by goods and services, specifically spending on cars, parts and international travel. US personal spending is expected to reach 0.70 percent by the end of this quarter.
New Home Sales - Thursday (5pm)
US new home sales rose 0.4% month-over-month to a seasonally adjusted annual rate of 745,000 in October of 2021, after a downwardly revised 742,000 in September, and below market expectations of 800,000. Positive contributions from the Midwest (11.0%) and the South (0.2%) were partially offset by sharp declines in the Northeast (-11.8%) and West (-1.1%). The average sales price rose to $407,700 in October, the highest price ever compared to $346,900 in the same month a year earlier. There were 389,000 new homes for sale on the market, the most in 13 years and more than 378,000 homes in September. At the current sales pace, it will take 6.3 months for the supply of new homes to be exhausted, compared to 3.6 months at the beginning of the year. US new home sales are expected to reach 720.00 thousand units by the end of this quarter.
Japan
Inflation rate (annual) - Friday (1:30 am Egypt time)
Japanese consumer prices rose 0.1% on an annual basis in October 2021, slowing from a 0.2% gain the previous month. Inflation slowed mainly in the food sector (0.5% vs. 0.9% in September), furniture and household appliances (0.9% vs. 1.7%) and education (1.1% vs. 1.2%). At the same time, costs fell at a faster rate for both transportation and communications (-7.5% vs. -6.4%) and medical care (-0.3% vs -0.2%). In contrast, inflation was unchanged for housing (at 0.7%) and miscellaneous (at 1.2%), while prices accelerated for fuel, light and water surcharges (6.4% vs. 4.4%) and culture and entertainment (4.3% vs. 3.3%). Core consumer prices, which do not include fresh food, rose 0.1% year-on-year in October, as they were in September, and rose for the second month in a row, amid a rise in energy and raw materials prices, but they are still well below Bank of Target. Japan 2%. On a monthly basis, consumer prices fell 0.3%, swinging from a 0.4% rise in September. Japan's inflation rate is expected to be 0.90% by the end of this quarter.
BoJ Meeting - Wednesday (1:50 am)
The Bank of Japan left its key short-term interest rate unchanged at -0.1% and 10-year bond yields at around 0% at its last meeting of the year, with a vote of 8-1. At the same time, policy makers decided to reduce their purchases of corporate debt to pre-pandemic levels with the extension of emergency pandemic financing by six months until the end of September 2022, amid efforts to support financing for small and medium-sized companies. The Bank of Japan indicated that the Japanese economy has rebounded, although it remains in a difficult position due to the impact of COVID-19. Exports and industrial output continued to grow amid supply-side problems. While private spending has gradually recovered, pressure on consumption of services has eased. In the meantime, the annual rate of the CPI is likely to rise in the short term, due to rising energy costs. The Council stressed that it will not hesitate to take additional easing measures if necessary, while expecting short and long-term prices to remain at their current or low levels.
United kingdom
Quarterly GDP Growth Rate - Wednesday (9 am)
The British economy advanced 1.3% q/q in the third quarter of 2021, down from 5.5% in the second quarter and below expectations of 1.5%. Initial estimates showed that the biggest contributors were hospitality (30%), arts and entertainment (19.6%) and health (3.5%) following further easing of restrictions and reopening of the economy. On the other hand, manufacturing contracted 0.3% as recent supply constraints affected the sector, specifically the rubber and plastics and transportation equipment industries (-8.2%) and auto sales and repairs (-13.3%). Household consumption (2%) also made the largest contribution to spending while there was a decline in core stocks, likely reflecting some recent supply chain challenges, and a negative contribution from net trade due to lower exports (-1.9%). The economy is now down 2.1% from its pre-pandemic level in the last quarter of 2019.
Turkey - Thursday (1 pm)
Monetary Policy Meeting Summary
Turkey's central bank cut the one-week repo auction price by 100 basis points to 14% during its December meeting, after cutting 100 basis points in November, cutting 200 basis points in October, and cutting 100 basis points in September. The committee said that the cumulative impact of recent policy decisions will be closely monitored during the first quarter of 2022, as the policy framework will be reassessed to create a basis for sustainable price stability in the future. The move was expected after Turkish President Erdogan, who supports an unorthodox theory that high rates cause inflation, vowed to fight for lower rates as the country struggles with inflation of more than 20%, well above the average target point of 5% while the lira lost ground. Almost 50% of its value since November.