The most important Economic events this week from the 21st to the 25th of March 2022
Tuesday, March 22, 2022 - 22:34
Point Trader Group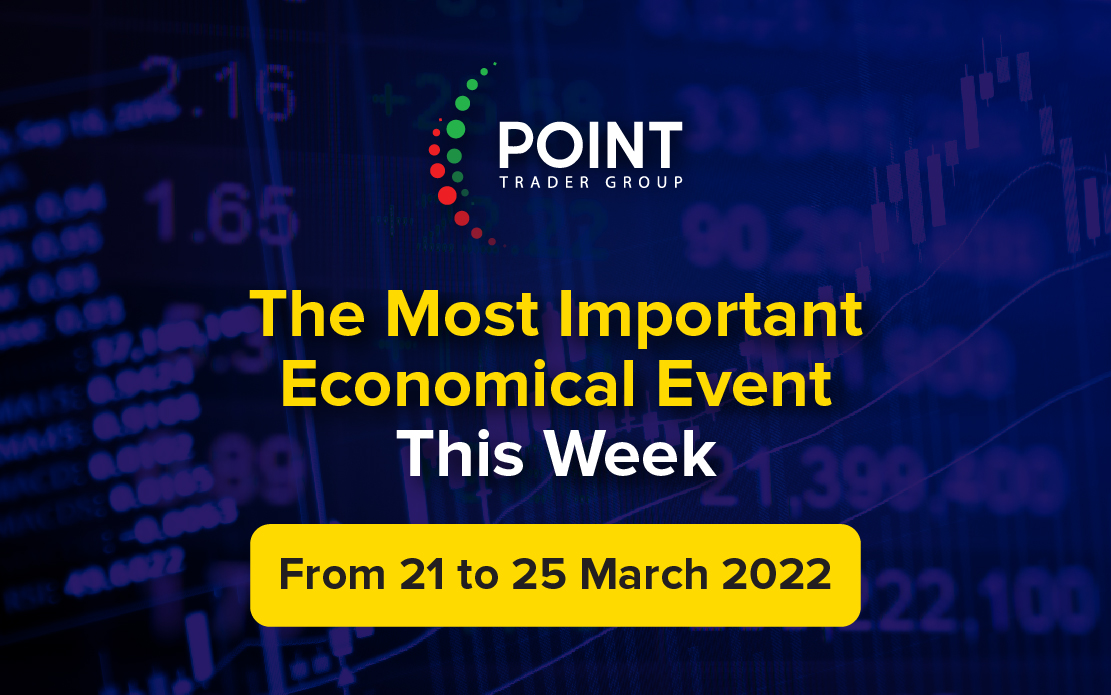 ---
The most important data expected this week
United State
Fed Chair Powell Speech - Wednesday (2:00 pm)
In comments to the National Association for Business Economics conference in Washington, President Powell said that federal policy makers will take steps to bring down inflation even if that means raising interest rates by more than 25 basis points at a meeting or meetings. Powell also reiterated that the Fed's cuts to its massive balance sheet could begin as early as May. The Fed raised the target for the federal funds rate by a quarter point to 0.25%-0.5% during its March 2022 meeting for the first time in three years and signaled continued rate hikes in the future. The Fed is now seeing a rate hike in each of the remaining six meetings this year, with the Fed funds rate reaching 1.9% by the end of the year.
New Home Sales (Feb) - Wednesday (4:00 pm)
Sales of new homes in the United States fell 4.5% from the previous month to a seasonally adjusted annual rate of 801,000 in January of 2022, as rising home prices, higher mortgage rates, cold weather and an increase in Omicron infections affected. The numbers came in just below market expectations of 806K and compared to a 9-month high of 839K in December. In January, home sales fell in the Northeast (-10.7% to 25K), the South (-7.4% to 438K) and the Midwest (-3.7% to 78K) while sales rose 1.2% in the Midwest. to 260 thousand. The median sales price of new homes sold last month was $423,300, much higher than the $373,200 a year earlier while the median sale price was $496,900, up from $418,600. The supply of new homes for sale increased by 3 percent.
US Crude Oil Inventories - Wednesday (4:30 pm)
US crude oil inventories rose by 4.345 million barrels to 415.9 million barrels in the week ending March 11, recovering from a decline of 1.863 million in the previous period and compared to market expectations for a decline of 1.375 million barrels, according to data from EIA Petroleum Status. Show report. Crude oil stocks at the delivery hub in Cushing, Oklahoma, also increased from 1.786 million barrels to 24 million barrels, the first increase this year. Distillate stocks, which include diesel and heating oil, rose by 0.322 million barrels, against the consensus of a decrease of 1.826 million barrels. Meanwhile, gasoline stocks fell by 3.616 million barrels, the sixth consecutive week of decline and above market expectations of a 1.579 million decline.
Core Durable Goods Orders (MoM) (Feb) - Thursday (2:30 PM)
New orders for durable goods manufactured in the United States rose 1.6 percent month-on-month in January of 2021, after a revised 1.2 percent increase in December and exceeded market expectations for an increase of 0.8 percent. Excluding defense, new orders also rose 1.6% and excluding transportation increased 0.7%, with both readings exceeding market expectations. This was the fourth consecutive month of increases, supported by transportation equipment (3.4 percent versus 1.7 percent in December), especially non-defense aircraft. Support also came from orders for machinery (2.3 percent versus 1.3 percent) and manufactured metal products (0.1 percent versus 1.3 percent). Meanwhile, orders for non-defense capital goods excluding aircraft, a closely watched proxy for business spending plans, rose faster (0.9% vs. 0.4%).
Unemployment Claims Rates - Thursday (2:30 pm)
The number of Americans who applied for new unemployment benefits fell by 15 thousand to 214 thousand in the week ending March 12, the lowest level in 10 weeks, from a revised 229 thousand in the previous period and compared with market expectations of 220 thousand. On a seasonally unadjusted basis, initial claims decreased by 16,981 from the previous week to 2,894, with notable decreases being recorded in New York (-16,006), Massachusetts (-1,144) and the District of Columbia (-1,011). . The four-week moving average that removes weekly volatility was 223K, down 8,750 from the previous week's revised average and continuing claims of 1.419M.
Pending Home Sales Index (MoM) (Feb) - Friday (4:00 pm)
The number of signed contracts for the purchase of existing homes in the United States decreased 5.7% from the previous month to 109.5 in January of 2022, marking a three-month decline in transactions and the largest decline since February 2021. Analysts expect it to rise by 1%. . Contract signings fell in three of the four major US regions, led by a 12.1% decline in the Northeast, while the West posted the only gains. All four areas of activity decreased year on year.
United kingdom
CPI (YoY) (Feb) - Wednesday (9am)
The UK's annual inflation rate rose to 5.5% in January of 2022, the highest reading since March 1992, from 5.4% in December and above market expectations of 5.4%. Housing and utilities prices made the largest contribution (7.1% vs. 6.9%), mainly gas (28.3% vs. 28.1%) and electricity (19.2% vs. 18.8%); followed by food (4.3% vs 4.2%); clothes and shoes (6.3% vs 4.2%); and furniture and household services (8.4% vs. 7.3%). On the other hand, a slowdown in transportation cost was observed (11.3% vs. 11.9%) as gasoline prices averaged 145.1p versus 145.8p in December. Prices of restaurants and hotels also fell (4.7% vs. 6%), mainly due to accommodation services (6.4% vs. 15.5%). On a monthly basis, consumer prices fell 0.1%, the first decline in a year and compared to expectations for a 0.2% decline.
Retail Sales (MoM) (Feb) - Fri (9am)
UK retail sales rose 1.9% month-on-month in January 2022, rebounding from an upwardly revised 4% decline in December and outstripping market expectations for a 1% increase, as the impact of the omicron variable began to fade. It's the biggest increase since April 2021 as sales of non-food stores, which are household goods, garden centers, lighting and electrical goods, rose 3.4%. Also, auto fuel sales rose 4.1% after falling in December when increased work from home and lower retail footfall reduced travel. On the other hand, food store sales are down 2.3% from pre-coronavirus levels for the first time. Sales in clothing stores also fell 5%, which may be related to a lower discount in January 2022 than in other years. However, in January, retail sales were 3.6% above February 2020 levels before the coronavirus.
Switzerland
SNB Rate Decision (Q1) - Thursday (11:30 am)
The Swiss National Bank kept its interest rate at -0.75% and the rate it charges on overnight deposits it holds for commercial banks at -0.75% at its December 2021 meeting, as expected. Policy makers said they are maintaining its very loose monetary policy, aiming to ensure price stability and provide continued support to the Swiss economy, despite rising inflation and the Swiss franc hitting its highest value in six and a half years. The central bank raised inflation expectations for 2021 to 0.6% (versus 0.5% in September) and 2022 to 1% (versus 0.7% in September), amid rising oil product prices as well as supply bottlenecks. For 2023, inflation expectations remain unchanged at 0.6%. GDP growth has been revised to 3.5% for the year (versus 3% earlier). In its first forecast for 2022, the central bank forecast growth of around 3%. The bank affirmed its continued readiness to intervene in the foreign exchange markets "as necessary" to reduce the value of the franc.
Germany
German Manufacturing PMI (March) - Thursday (10:30 am)
Germany's GfK consumer climate index fell to -8.1 heading into March 2022 from -6.7 in February and much worse than market expectations of -6.3, amid rising coronavirus infections in early February and rising inflation. "Hopes for a price improvement at the start of the year have faded because the inflation rate remains at a high level. Meanwhile, the medium-term outlook has been much better as the government decided to lift the pandemic's far-reaching restrictions. This gives reason to hope that consumers' willingness to spend will return as a result. If this is supported by a moderate price increase, the consumer climate can finally recover again in the long term," GfK expert Rolf Buerkel.