The most important Economic events this week from the 25th to the 29th of October 2021
Tuesday, October 26, 2021 - 15:44
Point Trader Group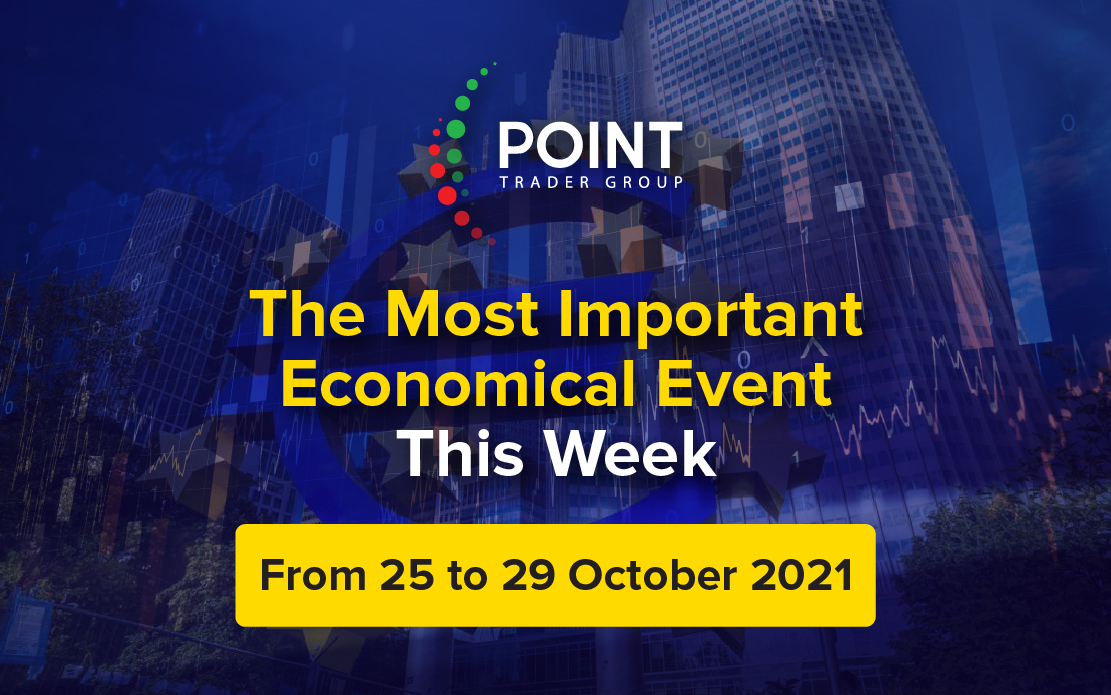 ---
A wave of data awaits the markets this week. Third-quarter GDP growth should prove strong in the Eurozone, but it is slowing down significantly in the US. In line with last week's PMIs, the Eurozone ESI survey and German IFO are likely to continue to lose momentum, as will the unofficial Chinese manufacturing data.
We see another increase in Eurozone inflation for October on the back of energy prices. Finally, the European Central Bank and the Bank of Japan are expected to keep their policy unchanged.
United State
The economy slowed significantly in the third quarter. The slowdown, along with higher inflation readings, has temporarily raised the specter of stagflation. But these fears seem largely fleeting now. Investors appear to be more fearful of the sustainability of inflation and less concerned about the economic slowdown, which they see as temporary. Are they right?
The first major data point is GDP. We're looking to slow to just 2.1%, versus an average of 6.5% for the first half and expectations at the start of the third quarter of 5% growth. What happened? First, consumption has slowed. Second, auto spending has fallen sharply, and auto sales appear to be stagnating. This is widely seen as temporary.
At the first signs of weak consumer spending, we assumed auto production would rebound quickly and inventory rebuilding would sustain stronger growth. However, by September, US industrial production was down 1.2% per month, driven by declining auto production. temporary? Yes, we think so. Producers are just waiting on semiconductors. However, how do we explain poor consumer confidence? Nobody is really trying, we still believe that car sales, car production, and confidence will eventually recover, but the chances of a quick turnaround are fading away.
- CB Consumer Confidence Index (October) Tuesday 4 pm Egypt time.
Home sales are expected to drop from 740 thousand to 730 thousand in the next reading.
- New home sales. Tuesday 4 pm Egypt time.
We look forward to the Conference Board's Consumer Confidence Index falling to 105 in October from 109.3 in September. The decline narrows the gap with the University of Michigan measure of consumer sentiment, which is at its lowest. The Covid outbreak, high prices and Afghanistan's troubles were explanations for the drop in confidence, with the idea that the lack of confidence is temporary. We believe UM has an advantage as a leading indicator of activity. This is reinforced in the immediate environment. The UM measure of confidence fell too early and when many economists were still seeing very strong consumer and third-quarter GDP trends.
- Basic durable goods orders (monthly) (September) Wednesday 2:30 pm Egypt time.
Transportation Goods - Both cars and planes offer a lot of fluctuation in monthly readings for durable goods. However, the trends are impressively strong. Manufacturers are facing low stocks and need to invest in more equipment to replace labor where supplies are scarce.
Aircraft orders beat expectations in August and may be subject to softer readings in September. Reports from manufacturers tend this way, but monthly correlations are more difficult. In general, we see this area as a source of economic optimism as durable goods orders are expected to rise from 0.3% to 0.4%.
- Quarterly GDP Thursday 2:30 pm Egypt time.
We are looking at the slowdown as temporary and are already seeing some signs that consumers are regaining momentum, although we should be careful. Markets outweigh inflation risks relative to growth at the moment and expectations of rate hikes for the second half of 2022 are rising significantly in our view.
There are risks from early rate increases, but growth prospects could be more bumpy. The market odds of not just one quarter point but two hikes in the latter part of 2022 are nearly 100%. Consumer spending comes in much weaker than most economists expected just a few months ago. Confidence is weak, and one stark and unreported fact is that stimulus controls and improved unemployment benefits have been cut or curtailed sharply during the same period that consumer spending has slowed. The US economy, and the consumer in particular, may find it more difficult to move away from government support. This is a topic in our Q3 2022 outlook. The reading we see as provisional is more than a warning. US GDP has risen above its pre-COVID highs but has not reached its full potential as measured by the CBO's GDP potential series. In the 2009-20 cycle, the gap between potential and actual GDP only gradually and slowly narrowed. The slow progression contributed to the length of the cycle and to lower inflation. We added our forecast to the chart in the left margin of the third quarter GDP. It shows that the US economy is still below potential. The CBO claims that GDP is likely to grow at a pace of 2.0%, so the 2.1% rate we expect for the third quarter doesn't narrow the gap much.
Unemployment complaints rates Thursday 2:30 pm Egypt time.
The weekly Unemployment Claims are expected to come in at roughly the same number as last week at 290K.
Euro-zone
- The interest rate decision issued by the European Central Bank (October) Thursday at 1:45 pm Egypt time.
On Thursday, the ECB's message should remain strongly negative (inducing lower interest), as the bank expects high inflation to be only temporary. We expect the ECB to decide in December to end the PEPP in March next year, raise the APP to €50 billion per month from April and launch another TLTRO.
It's a data-packed week, and the numbers should point to "growth volatility" - a combination of strong growth and high inflation. We expect Eurozone GDP to rise 1.7% q/q in the third quarter, primarily driven by a recovery in services consumption. By country, we see German GDP increasing 1.8% q/q, France 2.4% q/q, Italy 1.2% q/q, and Spain 2.8% q/q. Higher energy prices are expected to see HICP increase 20 basis points to 3.6% y/y in October, while we expect core inflation to remain stable at 1.9% y/y. We expect money supply to slow temporarily to 7.3% y/y in September, while credit growth to the private sector is likely to remain subdued at around 3% y/y. The October business surveys (German ESI and IFO) released this week are likely to confirm the decline in business confidence observed in last week's PMI survey. Finally, the ECB Lending Survey should show that corporate demand for loans continues to increase.
- Inflation data from the Eurozone CPI Friday 11 am Egypt time. (consumer price index)
Higher energy prices are likely to push HICP 20 basis points higher in October to 3.6% y/y, while excluding core inflation to remain stable at 1.9% y/y.
While gas and electricity prices dominated the recent news cycle, increases in electricity and gas prices were modest in September: European natural gas (TTP) prices rose 46% and wholesale electricity prices increased 50% on average in the big four eurozones. But consumer gas prices in the Eurozone are up only 1.6% per month and electricity prices by 2% per month.