The most important Economic events this week from the 29th March to the 1st of April 2022
Tuesday, March 29, 2022 - 13:02
Point Trader Group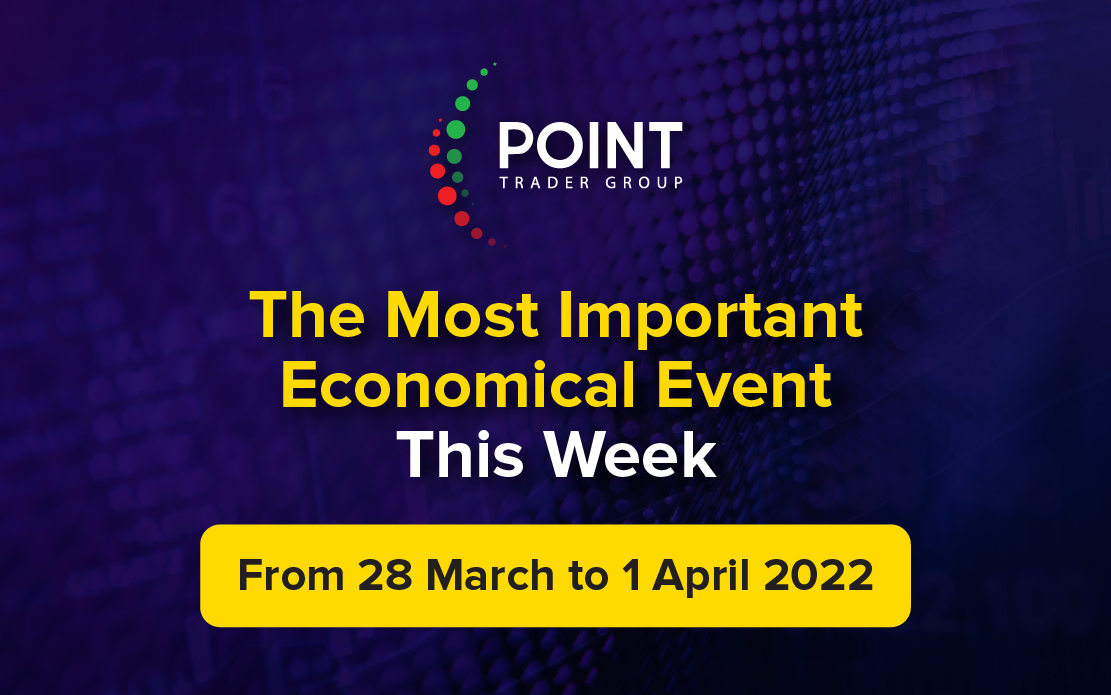 ---
The most important data expected this week
United State
Job Opportunities (JOLTs) (February) - Tuesday (4:00 pm)
The number of vacancies in the United States reached 11.263 million in January of 2022, down slightly from the revised record of 11.448 million in December. However, the numbers came in above market expectations of 10.9 million, indicating persistent labor shortages. Job opportunities declined in many industries, with the largest decline in accommodation and food services (-288,000); transport, storage and facilities (- 132000); and the federal government (-60,000). Job opportunities increased in other services (+136,000) and in the manufacture of durable goods (+85,000). Job opportunities decreased in the western region.
ADP Nonfarm Private Sector Employment Change (March) - Wednesday (4:15 pm)
Private companies in the United States employed 475,000 workers in February of 2022, beating market expectations of a high of 388,000 as the labor market recovered. The service provision sector added 417 thousand jobs, on top of which are entertainment and hospitality (170 thousand), trade, transport and utilities (98 thousand), professional and commercial (72 thousand), and education and health (40 thousand). The goods production sector also added 57 thousand jobs, supported by increases in manufacturing (30 thousand) and construction (26 thousand). Large companies added 552 payrolls and 18,000 mid-size companies while smaller companies cut 96 thousand. The numbers for January were revised higher to show an increase of 509 jobs instead of the previously reported 301K loss.
GDP (QoQ) (Q4) - Wednesday (4:30 pm)
The US economy expanded at an annualized rate of 7% on a quarterly basis in the fourth quarter of 2021, up slightly from 6.9% in the prior estimate and in line with market expectations. The expansion remains the strongest since record growth of 33.8% in the third quarter of 2020. The second GDP estimate showed a larger increase in fixed investment (2.6% vs. 1.3% in the prior estimate), mainly due to non-residential investment while residential fixed investment rebounded . On the other hand, personal consumption (3.1% vs. 3.3%) and exports (23.6% vs. 24.5%) increased less than initially expected. However, the largest upward contribution to growth was from private inventories (4.9 percentage points, as in the prior estimate), i.e. auto dealers where companies have been withdrawing their inventories since the beginning of 2021. Looking into the full year 2021, the economy is up 5.7% , the largest since 1984, and in line with prior figures.
Unemployment Claims Rates - Thursday (4:30 pm)
The number of Americans who applied for new unemployment benefits fell by 28 thousand to 187 thousand in the week ending March 19, from a revised 215 thousand in the previous period and compared with market expectations of 212 thousand. This was the lowest level of initial claims since September 6, 1969, as demand for workers is much higher than supply and employees are trying to hold on to their workers. On a seasonally unadjusted basis, initial claims fell 22,824 from the previous week to 181,087, with notable declines recorded in New York (-16,098), Massachusetts (-1,116) and New Jersey (-1,046). The four-week moving average that removes weekly volatility was 211,750K, down 11,500 from the previous week's revised average and continuing claims were 1.350 million.
US Crude Oil Inventories - Wednesday (4:30 pm)
US crude oil inventories fell by 2.508 million barrels to 413.4 million barrels in the week ending March 18, after rising 4.345 million in the previous period and compared with market expectations for an increase of 0.114 million barrels, according to data from the State of Petroleum report from the Energy Information Administration. show up. Gasoline inventories also decreased by 2.947 million barrels to 238 million barrels, which is the seventh consecutive week of declines and more than market expectations for a decline of 1.986 million. Distillate stocks, which include diesel and heating oil, fell 2.071 million barrels to 112.1 million barrels, the lowest since April 2014 and above the consensus of 1.386 million barrels. Meanwhile, crude stocks at a delivery hub in Cushing, Oklahoma, rose by 1.235 million.
Employment report in the private sector (March) - Friday (2:30 pm)
The US economy added 678,000 jobs in February of 2022, the most in seven months and well above market expectations of 400,000. Job growth was widespread, led by entertainment and hospitality (179 thousand), that is, food services and drinking places (124 thousand) and accommodation (28 thousand); Professional and commercial services (95 thousand), mainly temporary assistance services (36 thousand), management of companies and institutions (12 thousand) and administrative and technical consulting services (10 thousand); Healthcare (64K); and masonry (60 K). That leaves jobs below the pre-pandemic level of 2.1 million and many economists believe the labor market can recover all of the pandemic's losses this year. The Federal Reserve Chairman recently told Congress that the labor market is "too tight," but the crisis in Ukraine poses new risks to the economic outlook and inflation.
Unemployment Rate (March) - Fri (2:30 pm)
The US unemployment rate fell to 3.8 percent in February 2022 from 4 percent the previous month, a new pandemic low and below market expectations of 3.9 percent. The number of the unemployed decreased by 243,000 to 6.270 million. In February 2020, before the coronavirus pandemic, the unemployment rate was 3.5%, and the number of unemployed people was 5.7 million. Meanwhile, the labor force participation rate rose to 62.3% in February, the highest level since March 2020.
Institute of Supply Management (ISM) Manufacturing PMI (March) - Friday (4:00 pm)
The US ISM manufacturing PMI rose for the second consecutive month to 58.6 in February 2022 from 57.6 in January and compared to market expectations of 58. This latest reading showed that the overall economy expanded for the 21st consecutive month. New orders and production continued to increase at a robust pace as COVID-19 infections subsided, although factory hiring slowed, contributing to continued faltering supply chains and higher input prices.
United kingdom
GDP (YoY) (Q4) - Thursday (8am)
Preliminary estimates showed that the British economy advanced 6.5% on an annual basis in the fourth quarter of 2021, following a 7% growth rate in the previous period and slightly above expectations of 6.4%. Government spending recorded the largest increase (11.6%), followed by household spending (8.9%) and gross fixed capital formation (2.3%). On the other hand, business investment decreased by 0.8%, exports decreased by 0.6%, and imports by 5.3%. Looking at the whole of 2021, the economy advanced 7.5%, the highest rate since 1941, after a record 9.4% drop in 2020. GDP is now 0.4% below its level before the pandemic.
Manufacturing PMI (March) - Friday (10:30 am)
Preliminary estimates showed that the UK's S&P Global/CIPS manufacturing PMI was at a 13-month low of 55.5 in March 2022, from 58.0 in February, well below market expectations of 56.7. Industrial production rose at the weakest pace since October 2021, with growth hit hard by supply shortages and mounting inflationary pressures in the wake of the Ukraine war while job creation in the manufacturing sector slowed.
Euro-zone
Annual Inflation Rate - Friday (11 am)
The annual inflation rate in the euro area rose to a new record high of 5.9% in February 2022 from 5.1% in January, and above the initial estimate of 5.8%. Energy continues to register the largest increase in prices (32% vs. 28.8% in January), followed by food, alcohol and tobacco (4.2% vs. 3.5%), non-energy industrial goods (3.1% vs. 2.1%) and services (2.5%). against 2.3%). Core inflation, which does not include prices for energy, food, alcohol and tobacco, accelerated to 2.7% in February from 2.3%. Inflation is nearly three times higher than the European Central Bank's 2% target, and is expected to rise further as the war in Ukraine exacerbated an energy crisis threatening fuel costs to accelerate further.
Unemployment Rate - Thursday (11 a.m.)
The unemployment rate in the Eurozone fell to a record low of 6.8% in January 2022 from 7% in December and from 8.3% in January 2021, and below market expectations of 6.9% as the recovery in the labor market is gaining momentum as countries. I started loosening Omicron's restrictions. There were 11.225 million unemployed, down 214 thousand from December. Youth unemployment also fell by 52 thousand to 2.038 million, pushing the rate down to 13.9% from 14.2%. Among the largest economies in the eurozone, a decrease in the unemployment rate is observed in Germany (3.1% vs. 3.2%), Spain (12.7% vs. 13%), Italy (8.8% vs. 9%) and France (7% vs. 7.2%). ).
Australia
Retail Sales (MoM) (Feb) - Tuesday (2:30 AM)
Australia's retail sales flash reading showed an increase of 1.8% month over month in February 2022, beating market estimates of 1% and after rising by a downwardly revised 1.6% in the previous month. ABS director Ben James said the February result saw retail sales reach their second-highest level ever after November 2021, amid a decline in COVID-19 cases and further easing of restrictions. Sales in cafes and restaurants accounted for the largest percentage (9.7%), as companies weathered staff shortages and closures from the previous months to return to normal. Apparel and footwear sales (11.2%), department stores (11.1%) and household goods retail (2.3%) were also up. Meanwhile, food retailing fell 2.6% and other retail trade (-1.1%). By state, sales grew in New South Wales (3.9%), Victoria (1.7%) and Queensland (1.5%) while the biggest declines were in Western Australia (-2.9%) due to flooding. Sales in the Northern Territory were also down 3.8%.
Germany
German Unemployment Change (March) - Thursday (9:55 am)
Germany's seasonally adjusted unemployment rate fell for the fifth consecutive month to 5% in February 2022, a new low since March 2020, from 5.1% in January and below market expectations of 5.1%. The number of unemployed decreased by 33 thousand to 2.312 million, which is also a new low before the outbreak of the epidemic and compared to predictions of around 25 thousand. "The labor market continued its upward trend in February. However, the war in Ukraine has not yet been reflected in the current indicators," said Detlev Schell, head of the Labor Office.
German Manufacturing PMI (March) - Friday (9:55 am)
Preliminary estimates showed that the German S&P Manufacturing PMI fell to 57.6 in March 2022 from 58.4 in February, but against market expectations of 55.8. It was the lowest reading this year, as growth was hit hard by supply bottlenecks, rising coronavirus cases, and lower export demand in the wake of the war in Ukraine. On the price front, input and output costs have increased even more. Finally, general sentiment in the manufacturing sector was clouded by concerns about rising inflationary pressures and the war in Eastern Europe.
China
Manufacturing PMI (March) - Thursday (03:30 am)
Germany's GfK consumer climate index fell to -8.1 heading into March 2022 from -6.7 in February and much worse than market expectations of -6.3, amid rising coronavirus infections in early February and rising inflation. "Hopes for a price improvement at the start of the year have faded because the inflation rate remains at a high level. Meanwhile, the medium-term outlook has been much better as the government decided to lift the pandemic's far-reaching restrictions. This gives reason to hope that consumers' willingness to spend will return as a result. If this is supported by a moderate price increase, the consumer climate can finally recover again in the long term," GfK expert Rolf Buerkel.
Caixin Manufacturing PMI (March) - Fri (03:45 am)
The Caixin China general manufacturing PMI rose unexpectedly to 50.4 in February 2022 from 49.1 the previous month, which was the lowest reading in 23 months, beating market consensus of 49.3. The improvement came as production expanded for the third time in the past four months, new orders grew the most since last June, and buying activity continued to increase. Meanwhile, employment declined for the seventh consecutive month as the rate of decline eased. While the backlog increased amid staff shortages and increased demand. In terms of prices, the prices of both input and output cost have risen by the greatest amount in four months. Finally, confidence improved to its highest level since last June, on expectations of improving market conditions. "Policy makers should strengthen support policies to encourage employment, strengthen structural support for small and medium-sized enterprises, and reduce tax burdens and fundraising costs for companies," said Dr. Wang Zhe, chief economist at Caixin Insight Group.
Canada
GDP (MoM) (JAN) - Thursday (02:30 PM)
Canadian GDP stagnated in December of 2021 after six consecutive months of growth, defying market expectations for a 0.1% rise. Service-producing industries rose only 0.1%, as the rapid spread of the Omicron variant was mostly felt in customer-facing industries, specifically retail (-2.7%); Accommodation and food services (-1.5%) and arts, entertainment and recreation (-3.7%). At the same time, goods-producing industries contracted by 0.1%, led by mining, quarrying, oil and gas extraction (-2.2%) and construction (-0.6%). Meanwhile, according to preliminary data, Canada's January GDP is likely to grow 0.2%. Looking at the whole of 2021, the economy expanded by 4.6 percent, after contracting by 5.2 percent in 2020 with activity rising in 17 out of 20 industrial sectors.
Japan
Tankan Large Manufacturers Index (Q1) - Friday (1:50 am)
The Bank of Japan's index of major manufacturers' sentiment settled at 18 in the fourth quarter of 2021, matching a nearly 3-year high in the previous quarter but below market expectations of 19. Sentiment improved among companies producing petroleum, coal products, textiles, business-oriented machinery, ceramics, stone and clay. and production machines. However, sentiment declined among companies producing non-ferrous metals, iron and steel, timber and wood products, food and beverages, pulp and paper and multi-purpose machinery. The business outlook also saw conditions deteriorate going forward, underscoring the fragile nature of Japan's economic recovery.