The most important Economic events this week from the 3th to the 7th of Jan 2022
Wednesday, January 05, 2022 - 11:28
Point Trader Group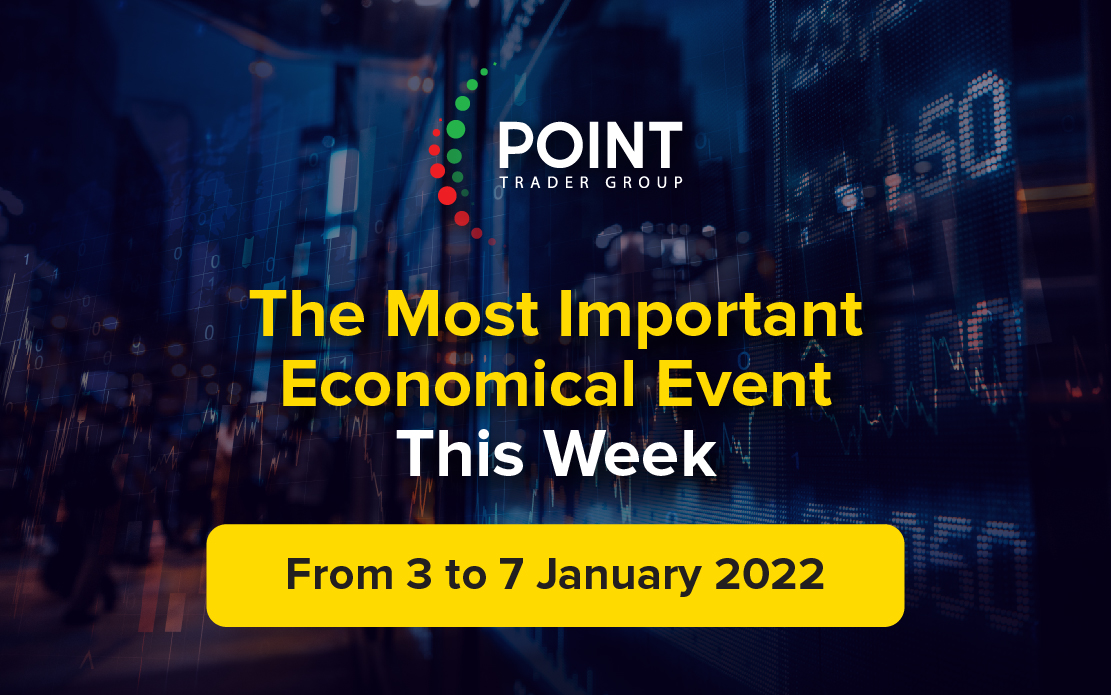 ---
The most important data expected this week
United State
Change in non-agricultural private sector jobs - Wednesday (30:15 pm GMT Egypt)
Private companies in the United States employed 534,000 workers in November 2021, compared to another handy 570,000 downwardly adjusted workers in October and outperformed market expectations of a defense rise of 525,000 workers, as the labor market continued signs of recovery amid the continuing economy Economic. recovery. Adding the service sector sector 424 thousand, on top of which is entertainment and hospitality (136 thousand), professional and commercial (110 thousand), commerce and utilities (78 thousand), and education and health (55 thousand). The production sector produced 110 thousand jobs, driven by construction (52 thousand) and industrial labor (50 thousand).
FOMC Meeting Minutes - Wednesday (9pm GMT)
The Federal Reserve announced at its December meeting, which led to a steady rate of recovery in the labor market. The central bank doubled the tapering pace to $30 billion per month, which appears on track to be completed in March 2022. However, the central bank indicated economic risks remain due to uncertainty around the coronavirus or Micron on the economy, however, prices have been Low for those looking for low prices. Officials revised up their 2022 inflation forecast to 2.6% from 2.2% in September, while the unemployment rate is expected to fall to 3.5%.
Unemployment rates - Thursday (3:50 pm Egypt time)
The oldest users who sent their services, and their appearance in the previous period, 8 thousand from the previous period of 2008, older than the previous cover of Europe. 208 F. Continue to show signs of recovery, and the air-to-work ratio is at work. Main worker since 4 weeks introductory, which has been running since 4 weeks. New Jersey (4.6 thousand), Pennsylvania (3.3 thousand), Michigan (2.8 thousand) and Ohio (2.5 thousand), and the largest decreases were calculated in California (-6.6 thousand), Texas (- 4.3 thousand) and Virginia (-2.1 thousand).
Non-commercial commercial sector managers index - Thursday (5 pm Egypt time)
The ISM Non-Commercial United Non-Manufacturing Managers' Index jumped to 69.1 in November 2021 from 66.7 the previous month, beating market expectations of 65 and easily pointing to the fastest pace of expansion in the service sector since the series began in 1997. Both business activity and an increase in new orders at record rates, in When the pace of job creation accelerated sharply. Meanwhile, supply chain problems in production growth and prices paid by service industries remained high.
Employment report in the private sector - Friday (3:30 pm Egypt time)
Australia achieved notable position in commercial and commercial services (90 thousand), business and storage (50 thousand), construction (31 thousand), and manufacturing (31 thousand, while employment in retail trade is 20 thousand. But it is still continuing 3.9 million, or 2.6 in cent, from the pre-pandemic level in February 2020.
Unemployment rate Friday (3:30 pm GMT Egypt)
Once the unemployment rate in the United States 0.4 percentage points to 4.2 percent in November 2021 and is the site of unemployment since February 2020, where the number of unemployed employees 542 thousand to 6.9 million. Home Previous Page 51.3 percent in April 2020 but down from 61.1 percent in February 2020.
Europe
Price Index - Friday (12 pm Egypt time).
High inflation in 1991 from 4.1% in the performance chart. The largest increases were in energy (27.5%) and (2.7%) and industrial goods related to energy (2.4%) and food, alcohol and alcohol (2.2%). Inflation rates have been recorded