The most important events of the week from May 02 to 06, 2022
Tuesday, May 03, 2022 - 04:11
Point Trader Group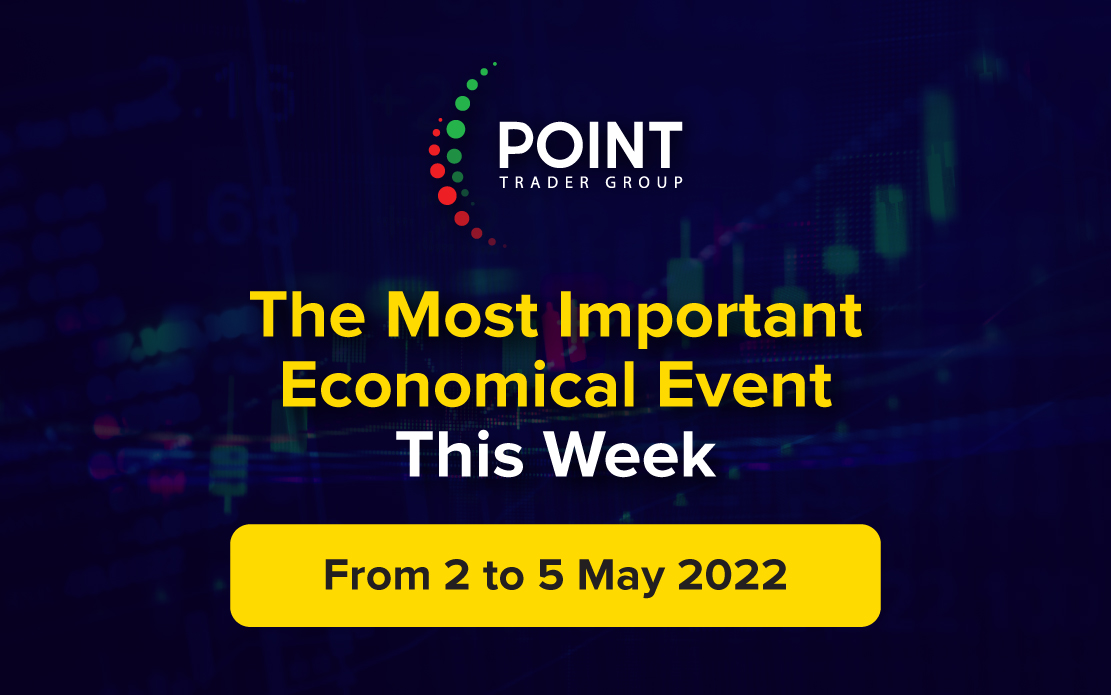 ---
The most important data expected this week
United State
Job Opportunities (JOLTs) (March) - Tue (4:00 p.m.)
The number of job vacancies in the United States was 11.266 million in February of 2022, little changed from the upwardly revised 11.283 million in January and compared to market expectations of 11 million. The number of jobs available remained near a record high of 11.448 million in December as companies continued to struggle to find scarce workers. Increasing employment opportunities in the fields of arts, entertainment and recreation (+32,000); educational services (+26000); and the federal government (+23000) and decreased in finance and insurance (-63000) and in manufacturing of non-durable goods (-39000). Job opportunities declined in the Midwest and increased in the Western. Meanwhile, 4.4 million Americans quit their jobs with the so-called quit rate rising to 2.9% and there were 1.8 jobs for every unemployed person.
ADP Nonfarm Private Sector Employment Change (April) - Wednesday (02:15pm)
Private companies in the US employed 455,000 workers in March of 2022, slightly above market expectations of 450 thousand and after adjusting for 486,000 upwards in February. Service-providing companies added 377 thousand jobs, led by the leisure and hospitality sector (161 thousand); Education and health (72 thousand) and professional and commercial services (61 thousand). Goods-producing firms created 79 thousand jobs, mostly manufacturing (54 thousand) and construction (15 thousand). By size, medium-sized companies employed 188 thousand people, large companies 177 thousand, and small companies 90 thousand. "Companies are hiring, specifically among service providers with the most compensation due to early pandemic losses. However, labor shortages remain an obstacle to continued growth in consumer-facing industries," said Nella Richardson, ADP's chief economist.
US Crude Oil Inventories - Wednesday (4:30 pm)
US crude oil inventories rose by 0.692 million barrels to 414.4 million barrels in the week ending April 22, recovering from a decline of 8.02 million in the previous period and below market expectations of an increase of 2 million barrels. Crude stocks in Cushing, Oklahoma rose by 1.298 million barrels. Meanwhile, gasoline stocks fell 1.573 million barrels to 230.8 million barrels, versus expectations for an increase of 0.808 million. Distillate stocks, which include diesel and heating oil, fell by 1.449 million barrels to 107.3 million barrels, more than forecasts for a decrease of 0.292 million barrels.
US Federal Reserve interest rate decision - Wednesday (08:00 pm)
Speaking as part of the IMF committee, Fed Chairman Jerome Powell made clear that the central bank remains committed to taming inflation, which is currently at its highest level in 40 years, while opening the door to a 50 basis point rate hike in May. Several Fed policymakers, including regional presidents Mary Daly of San Francisco, Charles Evans of Chicago and Raphael Bostick of Atlanta, echoed such a narrative this week. The outgoing was James Bullard, President of the Lewis Federal Reserve, who said that 75 basis point hikes may be necessary to tame hyperinflation. The Fed approved a 0.25 percentage point rate hike in March while already committed to reducing the size of its $9 trillion balance sheet.
Employment report in the private sector (April) - Friday (02:30 pm)
The US economy added 431,000 jobs in March of 2022, which is below market expectations of 490,000, but still indicates a tight labor market. Job gains continued in the field of entertainment and hospitality (112 thousand), that is, food services and drinking places (61 thousand); Professional and commercial services (102 thousand), mostly buildings and housing (22 thousand); retail trade (49 thousand), including general merchandise stores (20 thousand) and food and beverage stores (18 thousand); and manufacturing (38 thousand). The numbers for February were revised sharply higher to show an increase in the number of jobs by 750K from 678K, and the January figure was revised up by 23K to 504K. Overall, job growth averaged 562,000 per month in the first quarter of 2022, as the sharp drop in coronavirus infections and the lifting of restrictions along with strong consumer demand kept labor demand high. Employment is now 1.6 million, or 1%, below its pre-pandemic level in February 2020, but a full recovery could occur in the next several months if the current pace of job growth is maintained.
Unemployment Rate (April) - Fri (2:30 pm)
The US unemployment rate fell to 3.6% in March 2022 from 3.8% the previous month, the lowest level since February 2020 and below market expectations of 3.7%. The number of the unemployed decreased by 318 thousand to 5.952 million, while employment levels increased by 736 thousand to 158,458 million. Meanwhile, the labor force participation rate rose to 62.4% in March, the highest level since March 2020
United kingdom
Manufacturing PMI (April) - Tuesday (10:30 am)
The UK S&P Global/CIPS Flash Manufacturing PMI rose to 55.3 in April 2022 from a five-month low of 55.2 in March, and above market expectations of 54. Commodity producers suggested efforts to work through the backlog and reduce delays Suppliers were the main positive influences on production schedules. The latest extension of supplier lead times was the smallest since October 2020, despite widespread reports of war-related bottlenecks in Ukraine, and persistent port congestion and closures in China. Manufacturers have also faced headwinds for book demand from rising production fees, with the recent increase in factory gate prices the fastest ever. Meanwhile, business expectations slipped to their lowest level since May 2020, due to concerns about the war in Ukraine and the impact of the cost of living crisis.
BoE Rate Decision (May) - Thursday (1:00pm)
The Bank of England raised its key interest rate by 25 basis points to 0.75% during its March 2022 meeting, in line with expectations. It's the third straight rise in borrowing costs, bringing interest rates back to pre-Covid levels. Developments since the February report, in particular the invasion of Ukraine by Russia, are likely to add to peak inflation and negatively impact activity by intensifying pressure on household income. Inflation is expected to rise further in the coming months, to around 8% in the second quarter of 2022, and possibly higher later this year. Based on its current assessment of the economic situation, the committee considers that more modest monetary tightening may be appropriate in the coming months, but there are risks on both sides of this judgment depending on how the medium-term inflation outlook develops.
Construction PMI (April) - Friday (10:30 am)
The S&P Global/CIPS UK Construction PMI remained unchanged at 59.1 in March 2022, as it was in February, and continued to point to strong growth in the construction sector, supported by the fastest increase in new work in seven months. The business was the best performing part, with projects resuming amid the waning of pandemic restrictions. On the other hand, the pace of job creation has fallen to its weakest level so far this year amid persistent difficulties in filling vacancies and capacity constraints, lack of transportation availability and persistent logistical difficulties have led to another sharp downturn in supplier performance. At the same time, the imbalance between supply and demand, along with rising energy, fuel and commodity prices, led to the largest rise in average cost burdens for six months. Also, business confidence was the lowest since October 2020 amid mounting inflationary pressures and concerns about the economic impact of the war in Ukraine.
Australia
Reserve Bank of Australia Rate Decision - Tuesday (6:30 am)
The Reserve Bank of Australia kept the cash rate unchanged at a record low of 0.1% for the 16th consecutive month during its April 2022 meeting, as expected. While the board noted that Australian inflation has picked up and another acceleration is expected, the board said it wants to see actual evidence that the price level is sustainable within the 2-3% target range before it raises rates. However, policy makers were aware that growth in labor costs was below rates that would likely be consistent with the target's sustainable inflation. The committee stated that it will assess important additional evidence over the coming months and other information received and abandoned the "patient" pledge in its statement, as it sets its policy to support full employment and inflation in line with the target.
Retail Sales (MoM) (March) - Wednesday (03:30 PM)
Australia's retail sales rose 1.8% month over month in February 2022, unrevised from the preliminary figure and after a 1.6% rise the previous month. ABS director Ben James said the February result saw retail sales reach their second-highest level ever after November 2021, amid a decline in COVID-19 cases and further easing of restrictions. Sales at cafes and restaurants rose (9.7% vs -0.5% in January), as companies weathered staff shortages and shutdowns from months prior to returning to normal. Apparel and footwear sales (11.2% vs. -1.2%), department stores (11.1% vs. 3.4%) and home goods retail (2.3% vs. 0.9%) were also up. Meanwhile, food retail was down 2.6% (versus 2.1% in January) and other retail (-1.1% versus 3.8%). By state, sales grew in New South Wales (3.9%), Victoria (1.7%) and Queensland (1.5%) while the biggest declines were in Western Australia (-2.9%) due to flooding. Sales in the Northern Territory were also down 3.8%.
Canada
Employment Change (April) - Friday (2:30 pm)
Canada's unemployment rate fell to 5.3% in March 2022 from 5.5% in February, in line with market expectations. This was the lowest rate on record since comparable data became available in 1976, marking a strong labor market recovery from the Covid-19 pandemic. Employment increased for both industries producing goods and services, with gains concentrated in Ontario and Quebec. The number of unemployed decreased by 35,300 people (-3.1% to 1,102,000), while long-term unemployment was relatively unchanged (at 225,000). The youth unemployment rate fell to 9.8% in March from 10.9% the previous month. Meanwhile, the labor force participation rate held steady from the previous month at 65.4%.
Germany
German Unemployment Change (April) - Tuesday (9:30 am)
Germany's harmonized unemployment rate was 3.1% in February 2022, unchanged from the previous month. However, the last figure was the lowest unemployment rate ever. The number of the unemployed decreased by 1.5 percent to 1.34 million, while employment increased 0.3 percent to 42.11 million. The number of employed people was still below the pre-crisis level. The youth unemployment rate, which measures job seekers under the age of 25, fell to a record low of 5.7 percent from 5.8 percent in January.