The most important expected economic data for this week, from 05 to 09 December 2022
Tuesday, December 06, 2022 - 10:00
Point Trader Group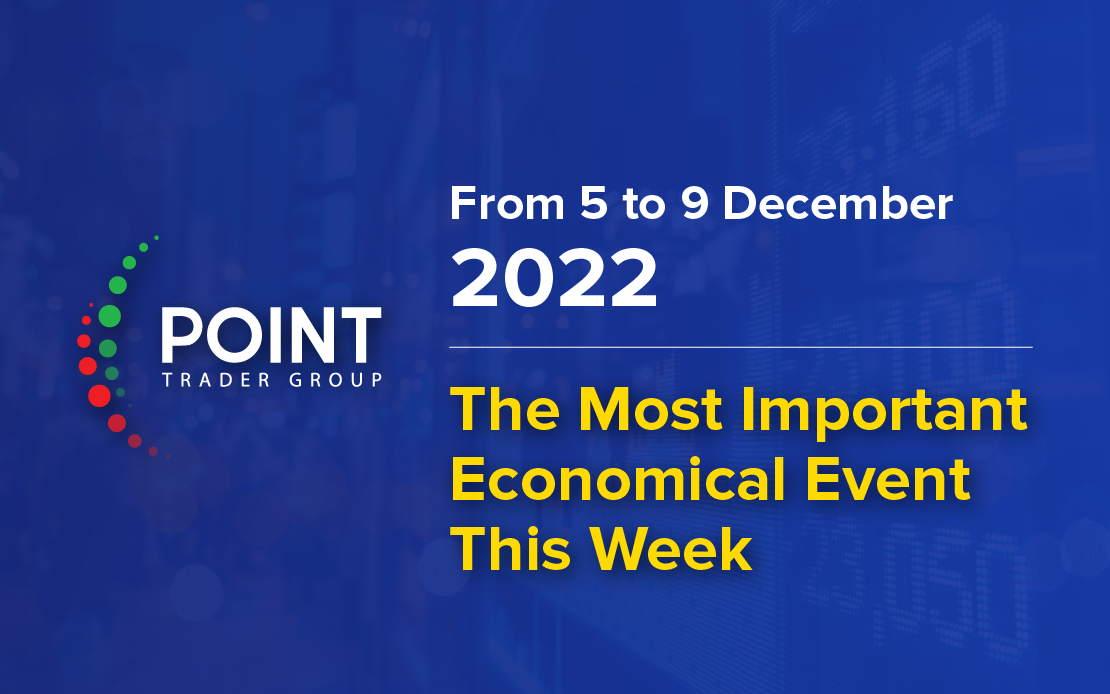 ---
The most important data expected this week
United State
US Crude Oil Inventories - Wednesday (05:30 PM)
The latest report from the US Energy Information Administration indicated that US crude oil inventories fell by 12.58 million barrels in the week ending November 25, the largest drop since June of 2019 and contrary to market expectations of a much smaller decline of 2.758 million. drums. Crude inventories in Cushing, Oklahoma, decreased by 415 thousand barrels, after a decrease of 887 thousand barrels. On the other hand, gasoline inventories increased by 2.769 million, more than expected 1.625 million, and distillate inventories, including diesel and heating oil, increased by 3.547 million, exceeding expectations by 1.457 million.
Unemployment Claims Rates - Thursday (03:30 PM)
The number of Americans filing new claims for unemployment benefits fell by 16,000 to 225,000 in the week ending November 26, compared to a consensus estimate of 235,000. The 4-week average was 228,750, an increase of 1,750 from the previous week. On a seasonally adjusted basis, initial claims decreased by 50,512 to 198,557.
PPI (MoM) (November) - Friday (03:30pm)
The PPI for final demand in the US increased by 0.2% in October of 2022, the same as the previously reported rise of 0.2% in September and less than the expected increase of 0.4%. Goods prices rose 0.6%, the largest increase since a 2.2% increase in June, with the majority of the increase coming from a 5.7% increase in the cost of gasoline. The cost of diesel fuel, fresh and dry vegetables, household electricity, chicken eggs, and oil and gas equipment also rose.
Britain
Construction PMI (November) - Tuesday (11:30 a.m.)
Britain's construction PMI fell to a three-month low of 50.4 in November of 2022, this was down from 53.2 recorded in October, indicating a decline in construction activity, attributed to lower demand and lower risk appetite among investors. The increase in interest rates and economic uncertainty also had an impact. All other sectors of the economy saw a decrease in business activity, but the only exception was the commercial sector, which saw an increase.
euro
ECB Governor Lagarde Speech - Thursday (2:00 p.m.)
The consensus of ECB policy makers is that the bank must continue to tighten monetary policy in order to control inflation even in a recession. As ECB policy makers note that inflation expectations have continued to decline, with the rate of inflation repeatedly increasing and exceeding expectations, there is an increasing likelihood that inflation will take hold and the possibility of secondary effects and price instability. However, the central bank has stated that it may want to stop the continued increase in interest rates if there is a severe and prolonged recession, which is likely to have a greater impact on inflation.
Canada
BoC Rate Decision - Wednesday (05:00 PM)
The Bank of Canada increased the overnight rate target by 50bps at its October 2022 meeting, which was below expectations for a larger increase of 75bps. However, it would mark the sixth consecutive increase in interest rates, adding a 350 basis point increase to the current path of tightening and raising borrowing costs to their highest levels since 2008. Policymakers also stated that interest rates need to increase further. The Bank's preferred measure of core inflation is showing no signs of abating. The Bureau of Labor Statistics expects the CPI to rise 3% by 2023 before returning to the 2% target by 2024. The Bank of Canada expects Canada's economy to grow at a slower rate of 3.25% this year and less. from 1%. In 2023, the central bank has also stated that it will continue to apply quantitative tightening.
Japan
GDP (QoQ) (Q3) - Thursday (01:50 AM)
Preliminary data indicated that the Japanese economy contracted by 0.3% on a quarterly basis in the three months through September 2022, this was below market expectations for growth of 0.3% and was revised up from 1.1% previously. It is the first drop in gross domestic product since the third quarter of 2021 amid global inflation and a weak yen. Personal consumption increased at a slower rate (0.3% instead of 1.2%), mainly due to another wave of coronavirus in August which caused a significant drop in consumer spending. Despite government efforts to increase support for households, personal consumption continues to decline. Meanwhile, business investment growth slowed significantly (1.5% vs. 2.4% in the second quarter), while government spending held steady after rising in the previous two quarters. Trade also had a negative impact on GDP, as exports increased by 1.9% and imports by 5.2%, the largest increase in seven quarters.
GMT +2