The most important economic data expected for this week from October 31 to November 4, 2022
Tuesday, November 01, 2022 - 12:06
Point Trader Group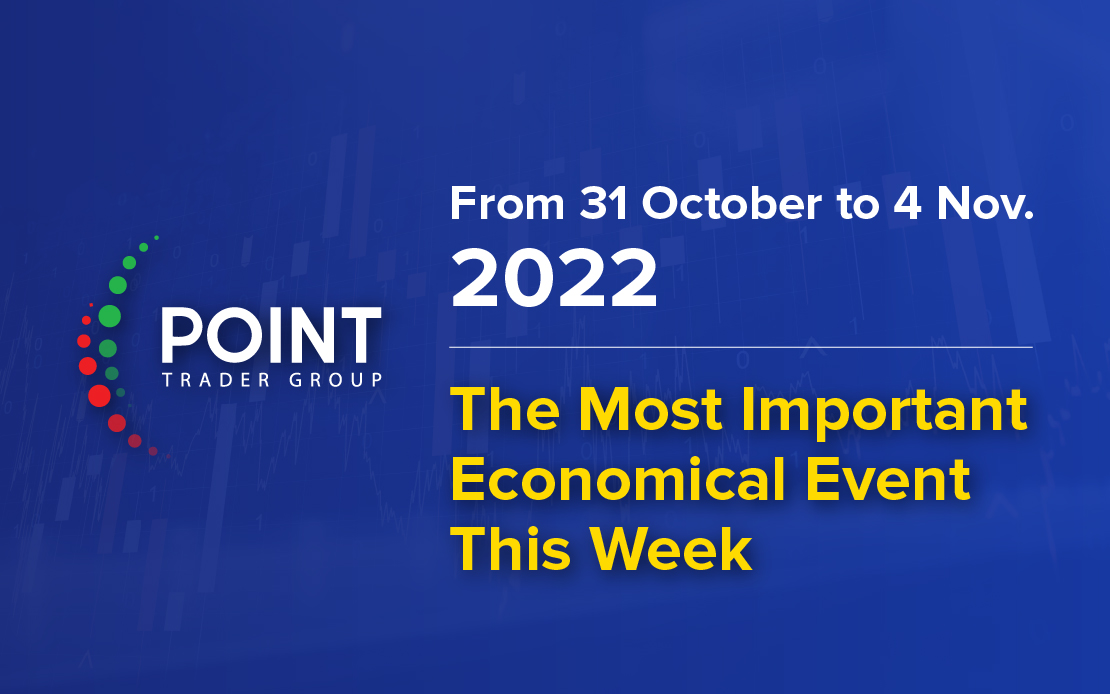 ---
The most important data expected this week
United State
Institute of Supply Management (ISM) Manufacturing PMI (October) - Tuesday (4:00 pm)
The ISM manufacturing PMI fell unexpectedly to 50.9 in September of 2022, indicating the slowest growth in factory activity since contractions in 2020. It compares with 52.8 in August and market expectations of 52.2. New orders (47.1 vs. 51.3 in August) and employment (48.7 vs. 54.2) are contracted and production increased only slightly (48.7 vs. 54.2). Meanwhile, price pressures continued to ease (51.7, lowest since June 2020 versus 52.5). "After four consecutive months of panel member firms reporting low rates of new orders, the September index reading reflects companies adjusting to potentially lower demand in the future. Several BISC member firms are now managing employee numbers by freezing hiring and attrition to lower levels. , with Fiore, the head of the ISM said that demand in the medium and long term is uncertain.
Job Opportunities (JOLTs) (September) - Tuesday (4:30 pm)
The number of job vacancies in the United States fell to 10.1 million in August of 2022, the lowest level since June 2021, from 11.2 million in July and a record high of 11.9 million in March. The numbers came in below market expectations of 10.775 million but still above pre-pandemic levels, indicating that demand for workers remained strong. The largest declines were in health care and social assistance (-236,000), other services (-183,000), and retail trade (-143,000). Meanwhile, 4.2 million Americans quit their jobs in August, little changed from the previous month, with the so-called quit rate unchanged at 2.7%. The job vacancy ratio for the jobless also fell by 1.7 jobs per unemployed person in August, down from about 2 in July.
ADP Nonfarm Private Sector Payroll Change (October) - Wednesday (02:15pm)
Private companies in the United States created 208 thousand jobs in September of 2022 compared to an upwardly revised 185,000 in August, as schools reopen and fears of the pandemic ease. The numbers came in slightly above market expectations of 200K. But while job growth is stable, it is still below the average of the last three months. The service delivery sector created 237 thousand jobs, led by trade / transport / utilities (147 thousand); professional/commercial (57k); Education/Health (38K); and leisure / hospitality (31 thousand). In contrast, the commodities sector lost 29 thousand jobs. "There are signs that people are returning to the labor market. We are in a temporary period where we will continue to see steady job gains. Employer demand remains strong and the supply of workers is improving at the moment," Nella Richardson, chief economist, ADP, said. Meanwhile, annual salary increased 7.8% year on year for those who stayed in the same job while wages increased by 15.7% for those who changed jobs.
US Crude Oil Inventories - Wednesday (4:30 pm)
The latest US Energy Information Administration report showed US crude oil inventories rose by 2.558 million barrels in the week ending October 21, compared to market expectations for an increase of 1.029 million barrels. Crude oil inventories in Cushing, Oklahoma, rose by 0.667 million barrels, after an increase of 0.583 million. Distillate stocks, which include diesel and heating oil, rose by 0.17 million, versus expectations for a decline of 1.138 million. On the other hand, gasoline stocks fell by 1.478 million, more than market expectations of 0.805 million.
US Federal Reserve interest rate decision - Wednesday (08:00 pm)
Fed policymakers saw that the Fed needed to act and then maintain a more restrictive policy stance in order to promote maximum employment and price stability, as the September FOMC meeting minutes showed. Officials also agreed that raising prices faster now would "prevent the greater economic pain associated with high, entrenched inflation, including the tighter policy and tighter restrictions on economic activity that would then be necessary to restore price stability." At the same time, it was noted that it will be important to calibrate the pace of further tightening to mitigate risks and once the policy price reaches a sufficiently restricted level, it will be appropriate to maintain this level for some time. The Fed raised the federal funds rate by 75 basis points to the 3%-3.25% range during its September meeting, its third consecutive increase of three-quarters of points, pushing borrowing costs to their highest levels since 2008.
Unemployment Claims Rates - Thursday (2:30 pm)
The number of Americans filing new claims for unemployment benefits rose by 3,000 to 217,000 in the week ending October 20, less than market expectations of 220,000. The results halted expectations of labor market slack that emerged with previous releases in October, defying recent statements about a dovish axis along with stronger-than-expected third-quarter GDP growth data. On a seasonally adjusted basis, initial claims increased by 4,512 to 183,301, with notable increases in New York (+1,914) and Georgia (+1,120). The four-week moving average, which removes weekly volatility, increased by 6,750 individuals to 219,000 individuals.
Employment report in the private sector (October) - Friday (02:30 pm)
The US economy added 263,000 jobs in September of 2022, the lowest since April of 2021 but higher than market expectations of 250 thousand. Notable job gains were made in leisure and hospitality (83 thousand), health care (60 thousand), professional and commercial services (46 thousand), and manufacturing (22 thousand). The reading is down from an average of 439K in the first eight months of the year, as higher interest rates and prices begin to weigh on the economy. However, the number still indicates a tight labor market with employment about 500,000 more than its pre-pandemic level.
Unemployment Rate (October) - Fri (2:30 pm)
The US unemployment rate fell to 3.5 percent in September 2022, matching a 29-month low in July and remaining below market expectations of 3.7 percent, in another sign that general labor market conditions in the world's largest economy remain tight. The number of the unemployed decreased by 261 thousand to 5.75 million in September, while the number of employed increased by 204 thousand to 158.9 million. The labor force participation rate decreased to 62.3% from 62.4%.
Euro-zone
ECB Governor Lagarde's Speech - Thursday (10:05 a.m.)
European Central Bank policymakers have worried about price hikes across the region, saying that inflation will likely remain above the central bank's target for an extended period and that growth concerns should not prevent the needed increase in interest rates, calculates the central bank's policy meeting in September. show up. Officials also said the central bank's response to upward deviations from the ECB's target should be as strong as it was when inflation was very low, as inflationary pressures from the depreciation of the euro could increase further, while lower exchange rates were limited. Supporting economic activity in an environment of bottlenecks and a persistent shortage of global supply. The European Central Bank raised interest rates by 75 basis points more than expected in September and indicated that more increases should be delivered in the coming months, with market rates already rising by another 75 basis points in October.
Unemployment - Thursday (12:00 pm)
The US unemployment rate fell to 3.5 percent in September 2022, matching a 29-month low in July and remaining below market expectations of 3.7 percent, in another sign that general labor market conditions in the world's largest economy remain tight. The number of the unemployed decreased by 261 thousand to 5.75 million in September, while the number of employed increased by 204 thousand to 158.9 million. The labor force participation rate decreased to 62.3% from 62.4%.
Britain
BoE Rate Decision (November) - Thursday (2:00 PM)
The European Central Bank raised key interest rates by 75 basis points during its October meeting, after a similar move in September, and raised borrowing costs to their highest levels since early 2009, as it battles high inflation and a looming recession. The decision came in line with expectations. The refinancing rate is now 2%, the deposit facility is 1.5%, and the margin lending rate is 2.25%. The central bank also expects to raise interest rates further and future increases will depend on inflation and the developing economy, based on the meeting-by-meeting approach. At the same time, the European Central Bank changed the terms and conditions of the TLTRO III Series, by adjusting the interest rates applicable from November 23, 2022, and giving banks optional additional early payment dates. It also sets the bonus for minimum reserves at the rate of the deposit facility with the European Central Bank. On the PEPP front, the ECB will reinvest principal payments from outstanding securities purchased under the program until at least the end of 2024.
Germany
German Manufacturing PMI (October) - Wednesday (10:55 am)
A preliminary estimate showed that the German S&P Global Manufacturing PMI fell to 45.7 in October of 2022 from 47.8 in September, marking the fifth consecutive month of declining factory activity and the worst since June 2020. Production shrank further as costs persisted Higher energy is influencing manufacturing activity, with higher interest rates and increasing hesitation among customers resulting in lower demand. New business flows experienced the weakest trend since May 2020, resulting in a steady decline in backlog. However, the pace of job creation increased in October. On the price front, input price inflation has remained well above its serial historical average but slower than in September. Output fees increased sharply but also remained below a three-month peak in September. Finally, German manufacturers remained very pessimistic about the outlook for activity for the coming year.
German Unemployment Change (October) - Wednesday (10:55 am)
The seasonally adjusted number of unemployed people in Germany rose by 14,000 to 2.51 million in September 2022, the fourth consecutive month of increase, as Ukrainian refugees continued to enter the system. Compared to market expectations of 20,000 advances.
Canada
Employment Change (October) - Friday (02:30 PM)
Canada's unemployment rate eased to 5.2% in September 2022 from 5.4% the previous month, beating market expectations of 5.4% and indicating that the Canadian labor market remains tight. The number of jobless fell by 41,400 to 1071,600 and long-term unemployment fell by 18,000 to offset the rise in August. Moreover, employment rose by 21,100 to 19,547,000, exceeding market estimates and breaking three consecutive months of declines. At the industry level, higher employment in education services (3.2% to 1.48 million), health care and social assistance (0.9% to 2.62 million) offset losses in manufacturing (-1.6% to 1.72 million), information, culture and entertainment (- 2.6% to 0.78 million) ). Employment in the public sector also increased (0.8% to 4.23 million), while the self-employed and the private sector did not change slightly. Meanwhile, the labor force participation rate fell 0.1 percentage point to 64.7%, matching its lowest level in 14 months in July.
Ivey PMI (October) - Friday (4:00 pm)
Canada's PMI fell to 59.5 in September 2022 from 60.9 the previous month. The pace of job creation decreased (52.5 vs. 66.3 in August), prices increased (68.1 vs. 64.4) while supplier delivery times lengthened (51.4 vs. 46.2). Meanwhile, inventories fell (57.4 vs. 57.8).
Australia
Reserve Bank of Australia rate decision - Tuesday (5:30 am)
The Reserve Bank of Australia is widely expected to raise its cash rate by just 25 basis points to 2.85%, during its meeting on November 1 as it tries to balance rising inflation against growth risks from lower consumption. However, this will be the seventh consecutive increase in the interest rate, which will raise the cost of borrowing to the highest level since April 2013. On the other hand, the possibility of raising the interest rate by half a point is still on the table after the inflation rate in the third quarter. 32-year highs came in at 7.3%, while retail sales and exports remained at a solid level. Although analysts expect the RBA to halt its 3.5% monetary rate tightening path, financial markets are currently pushing the central bank to continue rising until it reaches a 3.9% rate peak next year.
all times are +2gmt