The most important Economic events this week from the 10th to the 14th of Jan 2022
Tuesday, January 11, 2022 - 23:19
Point Trader Group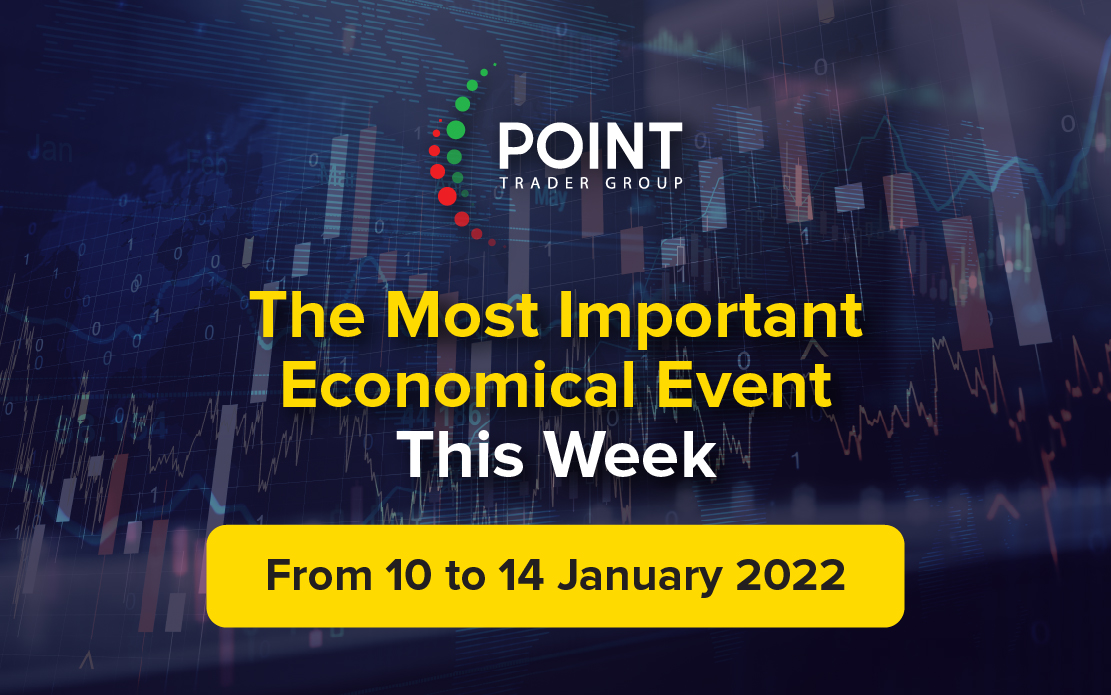 ---
The most important data expected this week
United State
Core CPI - Wednesday (30:15 pm Egypt time)
The CPI for all non-food and energy goods in the US jumped 4.9 percent from a year earlier in November 2021, accelerating from a 4.6 percent rise in October and matching market expectations. It was the largest annual increase in core consumer prices since June 1991.
Retail Sales - Friday (30:15 pm Egypt time)
The Federal Reserve announced at its December meeting that it would end its pandemic-era bond purchases in March, paving the way for three interest rate hikes by the end of 2022, as policymakers expressed fears that inflation will continue to rise on the back of a steady recovery in the labor market. The central bank doubled the taper pace to $30 billion per month, putting it on track for completion in March 2022. However, the US central bank indicated that risks to the economic outlook remain due to uncertainty around the coronavirus variable Omicron on the economy, with Confirmation that interest rates will remain at record low levels until maximum employment is achieved. Officials revised up their 2022 inflation forecast to 2.6% from the 2.2% forecast in September, while the unemployment rate is expected to fall to 3.5%.
Unemployment Complaints Rates - Thursday (3:50 pm Egypt time)
The number of Americans who filed new applications for unemployment benefits increased by 7,000 to 207,000 in the week ended Jan. 1 from 200,000 in the prior period, revised upwards compared to market expectations of 197,000. However, claims remained below levels seen before the Covid-19 pandemic, when the average claims were around 215,000. The four-week moving average of claims, which removes weekly volatility, rose to 204.5K, up 4.75K from the previous week's revised average of 199.75 thousand. On a non-seasonal basis, initial claims rose 57.6K to 315.47K with notable increases being recorded in New York (+8,922), Pennsylvania (+6,806), Connecticut (+5,992), Washington (+4, 578) and Michigan (+4,559).
United kingdom
Gross Domestic Product - Friday (9 am Egypt time).
The British economy expanded 0.1% month-on-month in October 2021, the lowest performance in 3 months and below market expectations of 0.4%. Services output grew by 0.4%, with the most significant contribution coming from human health activities, which grew by 3.5%, mainly due to the continued rise in face-to-face appointments in GP surgeries in England. Output in consumer-oriented services grew 0.3% mainly due to an 8.1% increase in wholesale and retail trade and repair of the motor vehicle and motorcycle segment. With that said, production output was down 0.6% with electricity and gas down 2.9% and mining and quarrying down 5%. Construction shrank 1.8 percent, the biggest drop since April 2020, and manufacturing came to a halt. UK GDP is now 0.5% below the pre-coronavirus pandemic level in February 2020.
Europe
Lagarde's speech - Friday (3:30 pm)
The European Central Bank announced at its December meeting that it will reduce the pace of its asset purchases under the 1.85 trillion euro PEPP in the next quarter and finish the plan next March, citing progress in the economic recovery and towards the medium-term inflation target. The bank also said it would ramp up bond purchases under its longer but more stringent implementation, aiming to make up for some of that lost stimulus. It will buy 40 billion euros of bonds under the APP in the second quarter, 30 billion euros in the third quarter, then from October onwards, purchases will be maintained at 20 billion euros, for as long as necessary to support the economy. European Central Bank officials also maintained their narrative that the recent rise in inflation was "temporary," even though recent data showed consumer prices rose in November by the most since July 1991.