The most important expected economic data for this week, from 21 to 25 November 2022
Sunday, November 20, 2022 - 23:27
Point Trader Group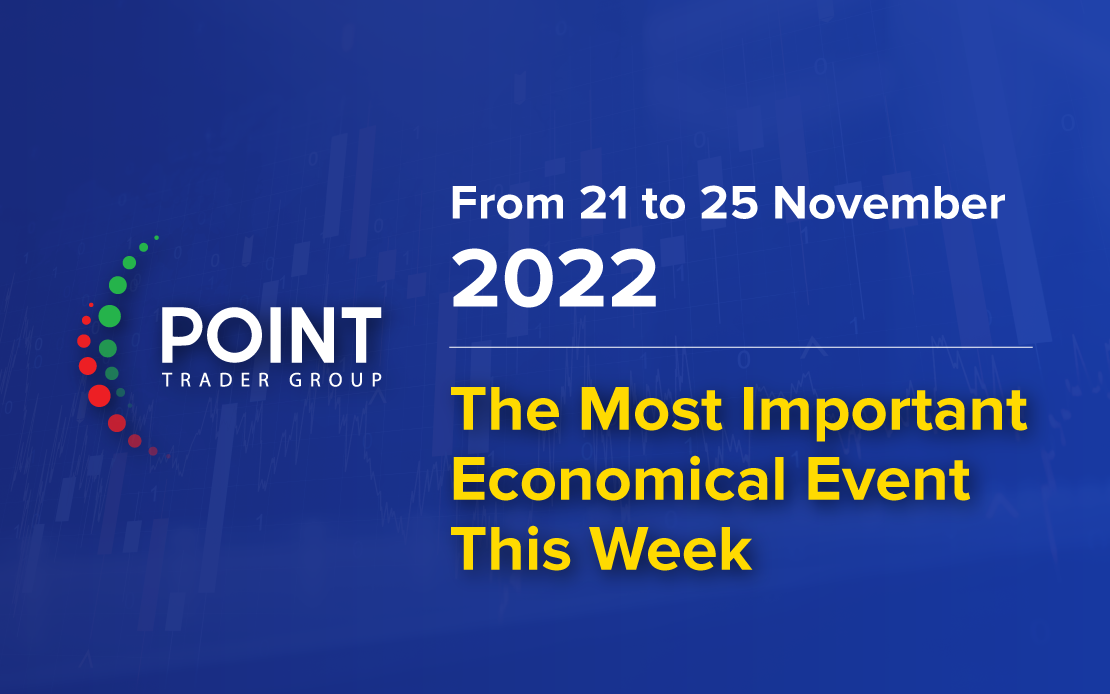 ---
United State
Building Permits - Wednesday (03:00 PM)
US building permits fell 2.4% m/m to a seasonally adjusted annual rate of 1.526 million in October 2022, the lowest level since August 2020, when the market had expected 1.512 million. Permits are dropping due to higher material prices and higher mortgage rates. Single-family permits fell 3.6% to 839,000, while unstable multi-sector permits fell 1.0% to 687,000.
Core Durable Goods Orders (MoM) (Oct) - Wednesday (03:00 PM)
In September 2022, new orders for US durable goods manufacturing rose 0.4% month over month, after a revised increase of 0.2% in August, beating market expectations for a 0.2% increase. New orders have risen in six of the past seven months. Excluding freight, new orders decreased 0.5%. New orders rose 1.4%. Transportation equipment rose in five of the past six months, leading to a gain of $1.9 billion, or 2.1%, to $95.4 billion.
Unemployment Claims Rates - Wednesday (03:00 PM)
US Initial Jobless Claims fell by 4,000 to 222,000 in the week ending November 12, below expectations of 225,000, indicating continued tightening in the labor market and allowing room for the Fed to tighten policy despite the increase in layoffs. On a non-seasonally adjusted basis, initial jobless claims decreased by 6,101 to 199,603, with notable declines in Kentucky (-3,322), Georgia (-1,902), and Texas (-1,498).
New Home Sales (Oct) - Wednesday (05:00 PM)
New home sales in the US showed a 10.9% decline to a seasonally adjusted annual rate of 603,000 units in September 2022, after a downwardly adjusted 24.7% increase in August, beating expectations of 585,000 units. Home demand in the US fell sharply as the Federal Reserve sharply raised interest rates in response to rising inflation.
US Crude Oil Inventories - Wednesday (05:00 PM)
The latest report from the US Energy Information Administration showed that US crude oil inventories fell by 5.4 million barrels in the week ending November 11, compared to market expectations for a decline of 440,000 barrels. Crude inventories in Cushing, Oklahoma fell by 1.624 million barrels, after declining by 923 thousand barrels earlier. Meanwhile, gasoline inventories rose by 2.207 million barrels, exceeding expectations for an increase of 310 thousand barrels, while distillate inventories, which include diesel and heating oil, rose by 1.12 million barrels, below expectations for a decrease of 513 thousand barrels.
FOMC Meeting Minutes - Wednesday (09:00 PM)
The Fed raised its target rate range by 75 basis points to 3.75%-4% during its meeting in November 2022. The sixth and fourth consecutive rate hike marks an increase of three-quarters of a basis point, pushing borrowing costs to their highest level since 2008. The decision came in line with market expectations. Policymakers also indicated that further upward revisions to the target range would be appropriate, and that they would consider the cumulative tightening of monetary policy, its impact on economic activity and inflation, and economic and financial developments in determining the amount of future hike. The news may point to a smaller rate hike in December, but Chairman Powell also said in a press conference that the final level of interest rates will be higher than previously expected. The Fed's goal is to adopt a monetary policy stance that is tight enough to bring inflation back to 2%, where current levels are the highest rates in 40 years.
Britain
Composite PMI - Wednesday (11:30 am)
The composite PMI for October 2022 fell to 48.2 from 49.1 in September, but was higher than the preliminary estimate of 47.2. The latest data indicates the fastest rate of decline since January 2021. Industrial production fell much faster than service sector activity. Input price inflation moderated in October in both the manufacturing and service sectors, although higher energy costs and worker wages weighed heavily on business spending. The overall cost burden of the UK private sector points to the lowest significant rate of inflation since September 2021. However, concerns about inflation and associated uncertainty and negative impact on customers' purchasing power have led to a sharp decline in business confidence since September. Looking ahead, the growth outlook for the private sector is the weakest since April 2020.
Germany
German Ifo Business Climate (November) - Thursday (11:00 AM)
The German business climate index fell to 84.3 in October 2022, the lowest level since May 2020, after an upward revision of 84.4 in September. However, the figure beat market expectations of 83.3. The IFO predicts a winter recession is looming, with Europe's largest economy contracting 0.6% in the fourth quarter. The institute also indicated that one in two companies still expects prices to rise in the next three months. Meanwhile, 63.8 percent of firms complained of supply bottlenecks, down from 65.8 percent in September, while the export outlook for the sector improved slightly. Meanwhile, the present situation index fell to 94.1 from 94.5, while expectations for the coming months were slightly higher (75.6 vs. 75.3).
Canada
Core Retail Sales Excluding Motor Vehicles (MoM) (September) - Tuesday (3:30pm)
Canadian retail sales excluding automobiles rose 0.7% month over month in August 2022 after falling 2.5% in July and below the consensus estimate of 0.4%. Excluding gas stations, auto and parts dealerships, core retail sales rose 0.9% in August, the largest increase since March, largely supported by sales at food and beverage stores.
Turkey
Turkey - Interest Rate - Thursday (01:00 PM)
Turkey's central bank cut interest rates by 150 basis points to 10.5% at its meeting in October 2022, exceeding expectations for a 100 basis point cut, and said it would take the same step at its next meeting to end the rate-cutting cycle. The decision represents an unconventional 850 basis point interest rate cut since September 2021, despite a weaker lira, higher consumer prices and current account imbalances. Inflation peaked at 83% in September, the highest level since 1998, largely due to higher costs of energy imports in an increasingly weaker currency. The lira has plunged 55 percent since the bank began cutting interest rates last year, to hover at record low levels. Meanwhile, the TCMB Board of Directors said that it will continue to take measures to stimulate the use of the lira in Turkey until inflation drops to the 5% level.
GMT +2